NANSEN Magazine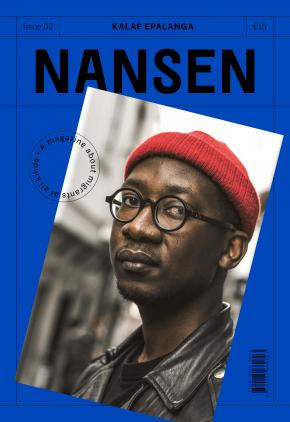 Issue 02 Kalaf Epalanga is best known as one of founding MCs of Buraka Som Sistema, a rambunctious music project that burst out of a Lisbon nightclub and onto the global stage in 2006. The group fused contemporary European electronic dance music with kuduro, a frantic Angolan dance beat developed when Kalaf was growing up there in the 1980s.
From his music career, which put kuduro on the global music map, Kalaf has transitioned into writing, becoming a prominent essayist and cultural critic in the Portuguese speaking world. This double-whammy has allowed him to cultivate the broad influence he enjoys in Portugal today, stretching from young club-goers to middle-aged newspaper readers. And this widespread appeal is fortuitous, as Kalaf is on a mission to unify the Portuguese-speaking world, crossing borders drawn up during colonisation to bring the people of his homeland and his chosen home (Portugal) together.
In this issue we:
introduce our readers to the Afro-Portuguese community debunk some myths around Portuguese colonialism
get to know the Angolan kuduro beat and its vast impact on global club music
experience Angola from the perspective of locals
judge a Worst Coloniser Contest
discuss parenting as a migrant, and learn how newcomers in Lisbon can help fight increasing gentrification in the city
Issue 02 features contributions from members of the Afro-Portuguese community (eg. Joacine Katar Moreira), as well as photographers from Angola, all recommended by Kalaf for their ability to represent their community.
More about NANSEN Magazine
NANSEN Magazine aims to connect and celebrate migrants of all kinds.
We do this by getting to know one migrant per issue, honing in on the minutiae of lives lived away from home – moments all migrants can relate to, and many non-migrants will, too.
For us all, the word "migrant" conjures up a particular image. We want to expand the way each of us see migrants and the way we, as migrants, see ourselves.
With 258 million migrants roaming the planet right now, we don't think we're ever going to run out of stories.
NANSEN is published in Berlin by Vanessa Ellingham, a journalist and editor from Aotearoa New Zealand who brings experience from her homeland's magazine industry, as well as from her communications work at the migrant-focused volunteer organisation Give Something Back to Berlin.
Design and art direction is by Eva Gonçalves, a Portuguese editorial designer who has worked on art books, NGO journals and magazines, including mono.kultur.
Media contact Vanessa Ellingham Publisher & Editor NANSEN Magazine vanessa@nansenmagazine.com