"SOUTH IS THE NEW NORTH" - african contemporary art' group show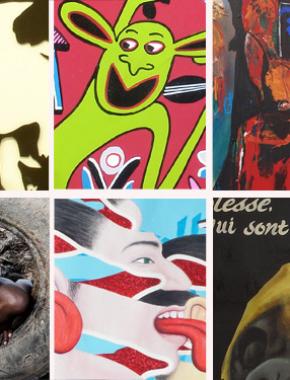 A geological theory called "The Shift" predicts that a shift on earth's polarity occurs every 65 million years. At the end of each period, earth's magnetic poles invert. North becomes South and South becomes North.
________________________________
'SOUTH IS THE NEW NORTH'
OECD (Organisation for Economic Co-operation and Development) was founded in 1961 and grouped high-income economies with a high 'Human Development Index', regarded as developed countries.
Since 2007 the organization has been trying to get five of the largest "peripheral" countries: Brazil, China, India, Indonesia and South Africa to join. From the 1960's perspective, it wouldn't be expected that any of these countries would ever be invited to join the organization. Interestingly, since 2007, none of them to want to.
None of the now called E-5 (enhanced engagement) countries has comparable income to the "rich countries". They did however grow enough to become important players in world's economy. In 2009, for the first time since 1880, OECD countries amount to less than 50% of the world's GNP. In the 80's they represented 60% of the world's economy and it is estimated that this share will continue to drop (44% in 2014 according to the IMF).
OECD now believes the organization simply "won't be relevant" without the participation of these countries.
AFRICAN CONTEMPORARY ART
Along with Asian and South American art, African Contemporary Art is 'hot' these days. With a growing middle class and successful corporations all over the continent, Africans have started to look into (their) art both as a symbol of status and as an investment. Increasing international exposure and circulation also placed African artists on the map for contemporary art collectors. But where did this all come from? Is contemporary art in Africa a recent phenomenon?
Focusing mainly on the 1990 - 2010 period, 'SOUTH IS THE NEW NORTH' aims to spark the discussion and to show that contemporary art from Africa has been in the news since (at least) the 90's.
'SOUTH IS THE NEW NORTH - african contemporary art' group show
PAINTING | SCULPTURE | PHOTOGRAPHY | VIDEO
17 September > 29 de October 2011
Thursday to Saturday, 14 h to 18 h
Galery Influx Contemporary Art
Rua Fernando Vaz, 20 B, 1750-108 Lisbon - Portugal
+ 351 91 850 1234
AFEDZI-HUGHES | ALMIGHTY | BODO | CHERIN | CISSÉ | IHOSVANNY | LILANGA | MACILAU | MASAMVU | MUCAVELE | SADIMBA | SAMBA | SEVEN-SEVEN | TCHALÉ | ZINKPÉ