Welcome to the City Lab Lisbon
Lisbon, treasure room of old grandeur as a former capital of globalization avant la lettre, always scoring high in the charts with most popular city trip destinations in Europe. But also a backdrop for plague and hunger, of earthquakes and tsunamis, nowadays one of the epicenters of the economic shockwaves that rock the continent. A pigg capital, a laboratory for new socio-economic realities. An ethnic melting pot in Southwest Europe -or was it North Africa, or maybe Northeast Latin America? - where racial and ethnic tensions seem less present (at least less visible) than in other western urban agglomerations. Where community perhaps still means something. A city of emigrants, immigrants and nomads, circumscribed by very volatile and porous borders: between nature and culture, between water and land, between modernity and tradition. A city of poets and surrealists, where the revolution bears the name of a flower, the cemetery is called 'Pleasures', where the walls speak -more eloquently than anywhere else perhaps - of agony and dreams of then and now.
Welcome to the City Lab Lisbon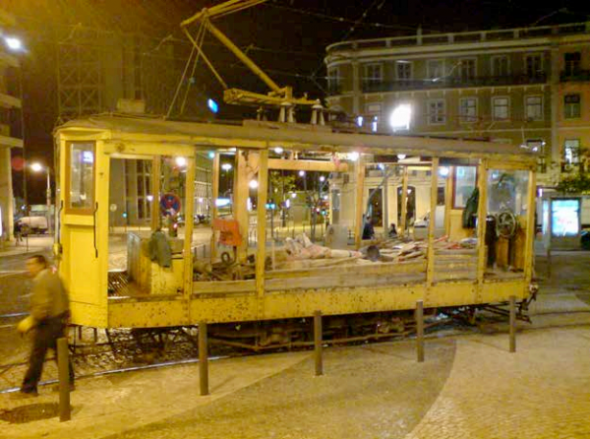 É este o preâmbulo que assinala a chegada do City Lab a Lisboa. É um projecto em rede, mobilizado peloFestivals in Transition que conta com a participação de várias estruturas e artistas de cidades europeias, e que dá conta da crescente importância do ambiente urbano e das cidades como espaço de manifestações do mundo contemporâneo.
Em cada City Lab, os artistas convidados propõem trabalhos baseados nas experiências vividas em cada cidade. Depois de Utrecht, Riga, Maribor, Munique e Derry-Londonderry; chega a vez de Experimentar em Lisboa com acolhimento do Alkantara.
Monday April 8 | The Insatiable Tourist. 07.30am
Meeting point at Metro Baixa-Chiado Breakfast, Lunch & Dinner together Sunrise and breakfast on the Castelo. Traveling via the highlights of touristic Lisbon through space and time. A relay race of guides, up to a point of touristic overdose, a sort of flip book of postcards. The full Lisbon in 12 hours, from the birth of a nation till the world expo 1998. Sunset on a boat crossing the river to have diner on the south bank.
Tuesday April 9 | Backyard silence. 11am
Meeting point at Metro Baixa-Chiado Lunch together in Bairro de Santa Filomena Night off. A walk through the hills on the backside of the city, starting with lunch in Santa Filomena, descending through the 'non-lieus' of suburban Lisbon to Amadora. The anti-tourist (or was it a slum tourist?), in a slow, strolling rhythm and no landmark in sight. We end the day in the late afternoon with a meeting with the company BERLIN. They already made a series of portraits of cities and are now working on a project about Lisbon.
Wednesday April 10 | City of Nomads. 10 am
Meeting point at the Parliament Off from 12pm to 6pm 6pm – Meeting point at Metro Baixa-Chiado Morning session in the fabulous Mãe d'Água water reserve with Urândia Aragão, a young artist working on the notation of movement, conceptual maps and scores, aiming to develop a 'cartography of an experience'. Afternoon off, followed by dinner in a community house in the Curraleira neighborhood, and a meeting with representatives of the gipsy community. Fado.
Thursday April 11 | Underpass. 09.30am
Meeting point at Metro Baixa-Chiado Lunch at Póvoa de Santa Iria dockside Dinner in the Casa do Alentejo In the morning a meeting with the inhabitants of Julio de Matos, a psychiatric hospital and a true city-within-the-city, with a special focus on how plants play an essential role in their quest for balance. Lunch and afternoon with the Avieiros fishing community in the estuary of the Tagus river, under the high tech Vasco da Gama Bridge.
Friday April 12
Presentations Day During the day, from 10 AM on, Artists project presentations, at the espaço alkantara. In the evening (from 9 PM) Open Doors. Lunch & Dinner together.
Who´s Who
alkantara (PT) | www.alkantara.pt
alkantara is a Lisbon based organization dedicated to contemporary performing arts. Its work is motivated by a worldview mindful of difference and a less Eurocentric vision of contemporary artistic creation. Known until 2005 as Danças na Cidade, the association focused its efforts on the promotion of contemporary dance and the work of young Portuguese choreographers. In 2005, the association changed its name to alkantara. The alkantara festival, a biennial international festival in close collaboration with the cultural institutions of the city, had its first edition in 2006. Besides the festival alkantara runs an extensive program in it's espaço alkantara, including international meetings, a residency program, and presentations. A member of various international networks, alkantara intervenes as a co-producer for national and international creations.
Urândia Aragão (PT)
Urândia Aragão studied graphic and multimedia interface design before starting her training in performing arts, dance research and choreographic creation. Currently collaborates in the project "TKB-A Transmedia Knowledge Base for Performing Arts" on the development of new models of annotation and documentation for contemporary dance; collaborates with Vera Mantero as creation assistant; and nowadays is engaged in a creation process based on a "cartography of an experience" focus on subject translation "memory, writing and body". As an interpreter worked with Carlota Lagido in "Monster" and Martine Pisani in "One-More-Ti-me". As a creator highlights the projects: "Interface" I e II (2007/09), "O tempo das coisas" with Cátia Leitão (2010), "Sobre quatro pés, um plano horizontal" with the collective MESA (2011), Slight Evidence of Something with Maria Varbanova (2011) and "as unidades mínimas do sensível" with Alina Bilokon e Léa Rault (2012/13). From the professionals with whom she has learned highlights Platoniq, Hye Young Yu, area3, Sílvia Real, Carlota Lagido, Martine Pisani and Theo Kooijman, João Fiadeiro, Luïc Touzé, Jeremy Nelson, Vera Mantero, Lisa Nelson, Meg Stuart, Jennifer Lacey, Xavier Le Roy and André Lepecki.
António Guterres (PT)
Management of territorial development projects, among others: the Coordination of the Center for Artistic Experimentation in Vale da Amoreira and Director of the Critical Neighborhoods Iniciative. Consultant for several organizations and urban areas, and also a researcher in urban studies. Makes conferences and workshops on urban studies in several contexts.
Eduardo Ascensão (PT)
Eduardo Ascensão has a PhD in Geography from King's College London, with a thesis on the architecture of shanty town dwellings in Lisbon, Portugal. After graduating in Anthropology from Lisbon's Universidade Nova, he worked in Museology, Contemporary Art and as a Sociology researcher. At present he is a postdoctoral researcher at Centro de Estudos Geográficos, University of Lisbon. His research interests are cities and urban theory, the geographies of architecture, migration and postcolonialism, with a special focus on the informal city in Portuguese-speaking countries.
BERLIN [B, Antwerp] |
Started in 2003 the series Holocene [the Holocene is the current geological era]. The starting point of each project in Holocene is always located in a city or a region somewhere on the planet. Berlin does a profound research and then selects a medium or a combination of media on the basis of that study. Berlin works with many others in both artistic and academic domains, resulting in a series of intriguing city portraits. Berlin likes to perform its productions in different circuits: theatres, exhibition spaces, festivals, special locations… The number of projects is not defined but the cycle will end in Berlin for the creation of a fiction–docu project with different inhabitants of the former cities of the cycle. After Jerusalem [holocene 1, 2004] Iqaluit [holocene 2, 2005/2009] Bonanza [holocene 3, 2006] and Moscow [holocene 4, 2009] . Berlin started a new cycle Horror Vacui [the fear of emptiness], a series of portraits at the table, composed encounters. Tagfish [horror vacui 1, 2010] and Land's End [horror vacui 2, 20011] are the first two episodes of this new cycle.
Avieiros (PT)
The Avieiros are a fishing community originally from Vieira de Leiria, a seaside area in the north of Portugal. There is no precise register of when this mans and their families start their migration process, but when thousands of them start sailing to the south waters of Portugal, the geography and history of Póvoa de Santa Iria, in the east of Lisbon, start to change. Chasing a calm and abundant river to fish, for many years the Avieiros lived as nomads, back and forward between the river and the sea. Tagus River cost was desired for many others communities, so rivalry and waters occupation were always a condition to survive."Saveiros" in reference to Sável, the most commom fish in Tagus River, where the name of Avieiros' first boats, where they slept many times before they were able to build their first wood houses, between 1920 and 1940: houses that were " small, to not be seen; shy to not be destroyed. Or small and shy due to materials and time conditions". The Avieiros culture is very intricate and unite, and for many years it places itself apart from the rest of the population, a barrier that slowly dissipate throught fishermans' children that were in school with others children outside the community. This contact were also important to get the Avieiros culture known and had permited for instance that a woman from the community get married with an outsider man. In 1989, the fishermans in Póvoa de Santa Iria, founded a clandestine group in order to preserve their culture and their work. In 2012, from that organization raises The Avieiros da Póvoa Cultural Assocation (ACAPSI). They are now recognized by the Municipality, and are truly committed to embrace and promote the Avieira culture. Nowadays, the Avieiros culture has applied to become National Patrimónium by UNESCO.
Maria Manuel Ferreira (PT)
Maria Manuel Ferreira has studied landscape architecture at Universidade de Évora. In 2011 she started work at Green Spaces Maintenance at the Mental Health Hospital Júlio de Matos, Lisboa, along with Tiliascoop, a social solidarity cooperative with limited liability which was created by a group of voluntary health professionals from the Department of Psycho-social Rehabilitation. She is interested in urban spaces and their heterotopian character as a possibility. She owns 'Conserveira de Lisboa', a 80 years small business dedicated to fish in can.
The Labs:http://theatrefit.org
The Lisbon Programme:http://theatrefit.org/perch/resources/city-lab-lisbon.pdf