African? I Guess, Nástio Mosquito, BERLIM
A última apresentação de Nástio Mosquito na Europa, este ano, será transmitida ao vivo na Internet; Live Stream. Hoje às 23H (hora Alemã) Nástio apresenta "African? I Guess.", pela útima vez, na HAUS DER KULTUREN DER WELT em Berlim, Alemanha.
A DZZZZ ArtWork convida aqueles que não estão em Berlim a juntarem-se a nós e, quem tem amigos, família, cães, gatos e pássaros em Berlim enviem-nos na nossa direcção!!
http://www.formerwest.org/Front
[Trabalhos feitos em colaboração com BOFA DA CARA, Jorge Palma, Kennedy Ribeiro, Pedro Rocha, Gabi Ngcobo entre outros farão parte da performance.]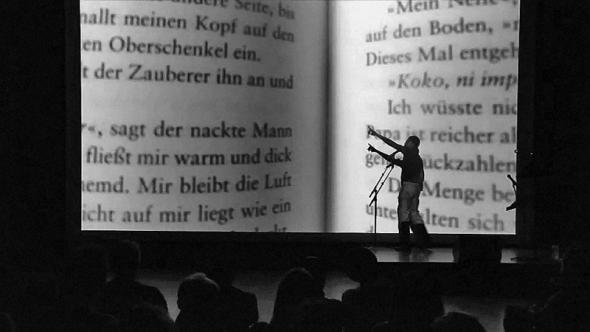 ************
DZzzz - less a name than a sound – Cucumber Slice, African, conqueror, philosopher, businessman. Whoever dwells a while in the universe of Angolan artist Nástio Mosqutio, finds himself without ground under his feet: a plethora of names, voices and possible identities. Mosquito's form is the monologue, subtle spoken word poetry, as surreal as it is ironic. "My mother calls me António Nástio da Silva Mosquito always followed up by 'I've warned you!'" he introduces himself.
At the beginning of his performance African? I Guess in Karlsruhe Mosquito talks, whispers, yells invisibly from the darkness. As I watch the show, I can't help thinking of the words of art critic and curator Colin Richards on the work of Moshekwa Langa: "You're unsettled, you're undone, because you can't place him and consequently you don't know where your place is". And yet, unlike Langa, Mosquito is not primarily interested in questions of identity. With the symbolic withdrawal of the person, positions appear in the foreground. "I am here to question the information you have", says his alter ego Nástia in the video work Nástia answers Gabi. And thus his voice asks from the Off: "What are you going to do with your education?".