Exposição de Yonamine, 18 de julho, Salzburgo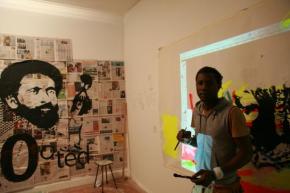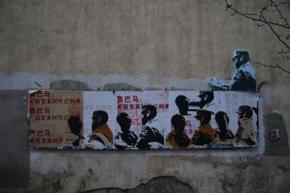 Yonamine works with painting, drawing, graffiti, photography, video, and other media such as tattooing and brings them together in installations that fill entire rooms. As a whole, we might describe Yonamine's works as diaries or even archeological research. He unites a series of situations that oscillate between the past, the present, and a possible future, offering a concept of time that escapes limitation. Like the language of a Reggae DJ, his work brings to mind the concept of rewinding, of a close tie to the past, while being based in the present.
The way he constructs his works (like a puzzle) and their process of random accumulation and fragmentation can tell us a great deal about our own situation, how we all have fragmented identities, like broken mirrors. Constantly versatile, fragile identities that are subjected to many different types of violence.
Yonamine is presenting a selection of his most important pieces from recent years at the Salzburger Kunstverein for the first time in Austria. He is also developing a large-scale installation for the Salzburger Kunstverein's Main Hall.
Yonamine was born in Luanda, Angola, in 1975. He lives and works between Lisbon and Luanda. Initially due to the Angolan war, and nowadays according to his own will, Yonamine lived in constant move between Zaire (present Democratic Republic of Congo), Brazil, Angola, Portugal and the United Kingdom. He has participated in several international exhibitions, among them the 29ª Bienal de São Paulo, 2010; the 9. Sharjah Biennial, 2009; the 10. Havana Biennial, Kuba, 2009; "Transverse", Centro Atlantico de Arte Moderno (CAAM), Las Palmas, 2008; "Check List Luanda Pop", 52. Biennale di Venezia Biennale, Afrikanischer Pavillon, 2007; "Replica and Rebellion", Museum of Modern Art of Bahia, Salvador, 2006.
Inauguração 18 de Julho, 20h.
SALZBURGER KUNSTVEREIN Künstlerhaushellbrunner StraBe 3, Salzburg, Austria.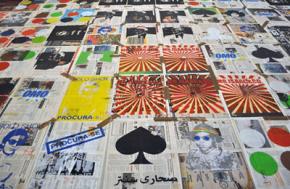 Imprensa | Press preview
Quarta, 18 Julho, 11hWednesday, July 18, 11am
Inauguração | Opening
Quarta, 18 Julho, 20hWednesday, July 18, 8pm
Conversa com o artista | Artist talk
Quarta, 19 Julho, 20hThursday, July 19, 8pm