Doadoa – East African Performing Arts Market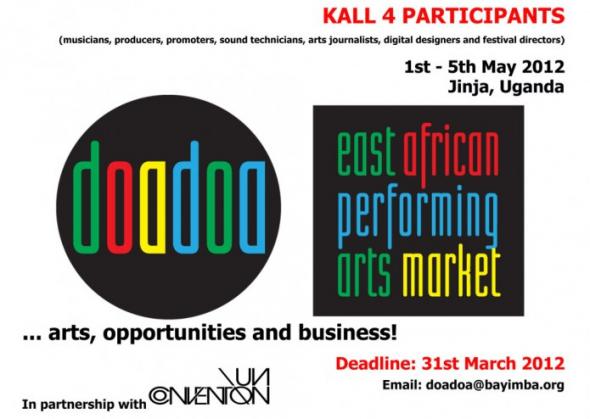 Bayimba Cultural Foundation in partnership with Un-conventional UK, is proud to announce the firstDOADOA "East African Performing Arts Market" that is scheduled for 1st – 5th May 2012 in Jinja, Uganda and now calls for participants.
DOADOA, as an East African performing arts market will provide a platform for professional networking and joint learning, bringing together various stakeholders and link people, organizations, businesses, knowledge and technology with a view to create demand and develop a market for the performing arts and unlock the potential of the East African creative industry, making it an important factor for economic, social and cultural development throughout the region.
The first DOADOA will focus on giving opportunities to stakeholders in the music industry (i.e. musicians, music producers, music promoters, managers and music festivals), but also provide a window for other performing arts in the region like (Theatre, Dance, Literature, Film and Fashion).
DOADOA Programme
There will be a variety of activities for stakeholders in East African music industry that aim at stimulating exchange, encounters, networking and mutual learning. In addition, there will be presentations by experts both from the region and international music industry, music education seminars, discussion panels, practical training workshops, showcase events (in conjunction with the Bayimba Regional Festival of the Arts), network meetings (both formal and informal) and speed matching sessions for mentorship.
Register now
To participate in the first DOADOA, please register by selecting from the following activities;
As a musician –
Please complete the attached application form
As a performing/showcasing artist –
Please complete the attached application form
As a panellist –
Please complete the attached application form
We look forward to meeting you at the first DOADOA in Jinja, May 2012.