WI Project
O WI Project (WI – amigo em calão angolano) é uma dupla musical fundada pelo angolano Wilder Amado (voz, violão, baixo) e o israelita Ilia Kushner (saxofone, flauta, limba). Os jovens músicos encontraram-se pela primeira vez em 2012 em Luanda, Angola, onde começou a trajetória de colaboração artística e projetos de carácter variado, nomeadamente acompanhamento de artistas angolanos, internacionais, produção, trabalhos individuais e, ao longo da partilha conjunta nasce a ideia do "WI Project".
Nem Wilder nem Ilia se definem pelo local de nascimento, simplesmente como seres humanos - afropolitanos e cidadãos do mundo. Assim, a sonoridade do duo é abrangente, e assenta no afro jazz, MPB, reggae, funk, música latina, fusão de estilos alternativos de raiz africana, e angolana em particular, como Kilapanga ternária e Massemba. Richard Bona, André Mingas, Djavan, Ed Motta, Filipe Mukenga, Boy Gé Mendes, Sara Tavares, Stevie Wonder, Toto ST, Fela Kuti, Clube da Esquina, Jimmy Dludlu e Sting são alguns dos artistas que inspiram a dupla. O seu repertório é composto quer por músicas originais como por covers de temas em português, inglês, espanhol, crioulo cabo-verdiano e antilhano, línguas regionais angolanas (kimbundu, umbundu, tchokwe), lingala (RD Congo), douala (Camarões) e hebraico.
WI Project foi apresentado em vários lugares de Angola, bem como na África do Sul (2014) e São Tomé (2016). Em 2018 realizaram a "Europe Kudissanga Tour", atuando em Portugal, Espanha, Alemanha, Inglaterra e Holanda como finalidade colaborar com músicos locais e angariação de fundos para o "Project WI for África" na África Austral, dentro do mesmo conceito usando a plataforma musical tendo como objetivo: propagação da cultura e mensagens de educação e paz em lugares remotos da África Austral e futuramente noutras partes do mundo.
O álbum de estreia Kudissanga é produzido e gravado de forma independente. O disco conta com a participação de artistas angolanos, bem como de músicos de renome de Israel, África do Sul, Botswana e RD Congo.
Shows de Lançamento:
17 de Outubro - Apresentação e lançamento Kudissanga em Miami Beach (Ilha do Luanda)
2 de Novembro – Show WI Proejct e amigos na nova Fundação Arte e Cultura (Ilha de Luanda, junto ao Centro Médico e à Escola Primária 120
Mais música e informações nas redes sociais:
Facebook: https://www.facebook.com/WIProjectWI
Instagram: https://www.instagram.com/wiprojectmusic
YouTube: https://tinyurl.com/ycujfsfw
Sound Cloud: https://soundcloud.com/wiproject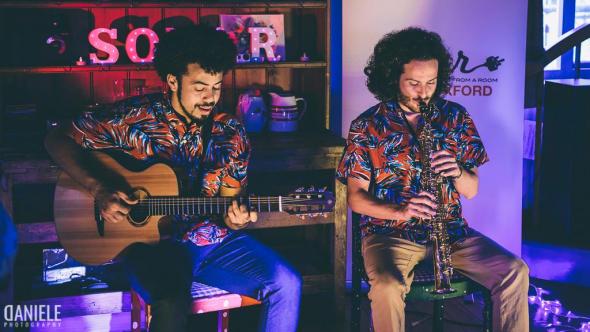 WI Project (WI – friend, in Angolan slang) was founded by Angolan Wilder Amado (lead vocals, guitar) and Israeli Ilia Kushner (saxophone, flute, limba). The young musicians met in Luanda, Angola´s capital, in 2012 where they began an artistic collaboration across different projects, including the accompaniment of national and international artists, production, individual works, ultimately creating the "WI Project".
The two are not defined by their place of birth, but simply as human beings, Afropolitanos and World Citizens. Duo´s sound ranges from Afrojazz, MPB (Brazilian popular music), Reggae, Funk, and Latin, merged with alternative styles of African and Angolan traditional rhythms such as ternary Kilapanga, and Massemba. Richard Bona, André Mingas, Djavan, Ed Motta, Filipe Mukenga, Boy Gé Mendes, Sara Tavares, Stevie Wonder, Toto ST, Fela Kuti, Clube da Esquina, Jimmy Dludlu and Sting are some of pair´s inspiration. Their repertoire consists of both original songs and interpretations of themes and rhythms in Portuguese, English, Spanish, Cape Verde and Antilles Creole, Angolan regional languages (Kimbundu, Umbundu, Tchokwe), Lingala (Congo), Douala (Cameroon) and Hebrew.
WI Project presented in Angola, as well as in South Africa (2014) and São Tomé (2016). In 2018 they made the "Europe Kudissanga Tour", playing in Portugal, Spain, Germany, England and The Netherlands in order to collaborate with local musicians and fundraise for "Project WI for Africa". Wilder and Ilia would like to use their musical platform spread culture, education and peace messages across remote parts of Southern Africa and other parts of the world thereafter.
The debut album, Kudissanga, has produced and recorded independently. This CD includes original compositions and participation of musicians from Angola, Israel, South Africa, Botswana and RD Congo.
Release concerts:
17 October - Kudissanga apresentation and concert in Miami Beach (Ilha do Luanda)
2 Novembr –WI Proejct e amigos concert in the new Fundação Arte e Cultura (Ilha de Luanda, junto ao Centro Médico e à Escola Primária 120