LANÇAMENTO Atlantica: Contemporary art from Angola and its diaspora
LANÇAMENTO Atlantica: Contemporary art from Angola and its diaspora
Data: 9 de Março de 2019 Hora: 16:00 Locais: MAAT: Museu de Arte, Arquitetura e Tecnologia, Sala dos Geradores & Espaço Espelho d'Água
LANÇAMENTO, MESA-REDONDA, PERFORMANCE
Local: MAAT: MUSEU DE ARTE, ARQUITETURA E TECNOLOGIA
16:00 | Mesa-redonda e apresentação do livro moderada por Paul Goodwin com Ana Balona de Oliveira, André Cunha, Afonso Ramos, Marissa J. Moorman, Nadine Siegert e Paula Nascimento
19:00 | Performance de Nástio Mosquito: "O Que a Minha Avó Me Deu"
> 5€ bilhete entrada museu | 50% desconto estudantes, desempregados, seniores
JANTAR E FESTA DE LANÇAMENTO
Local: Espaço Espelho d'Água
21:00 | Jantar tradicional Angolano
23:00 | Live Act PONGO
00:00 – 02:00 | DJ Set Rádio Cacheu
> Jantar & Festa: €25 pré-venda: hangarcia.production@gmail.com
€30 no dia do evento
> Festa (a partir das 23:00): €10
Menu:
- Pães, húmus e zaalouk
- Tabule de trigo e couscous marroquino
- Sigá de Frango à moda da Guiné com arroz ou Calulu de peixe fresco e seco ou Muamba de tofu
- Pudim de mandioca com Cremoso de Tangerina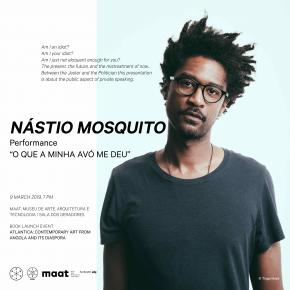 Nástio Mosquito é um artista conhecido pelas performances, vídeos, música e poesia que mostram um compromisso intenso com o potencial aberto da linguagem. Facilmente mal interpretado como uma espécie de cansaço, é a expressão extraordinária de um desejo urgente de se envolver com a realidade a todos os níveis.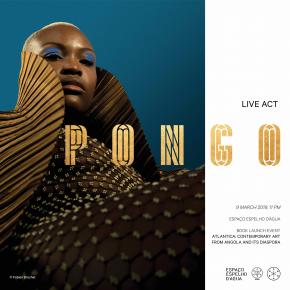 PONGO encarna a renovação do kuduro, misturando a mistura das suas raízes africanas, langa, zaïco, com EDM, bass music, dancehall e pop melódica. A sua voz poderosa, ritmada, mas igualmente frágil e sensível, arrasta-nos para o seu universo envolvente, aos confins da dança e da saudade – lá onde ninguém nos tinha levado antes.
A Rádio Cacheu sintoniza dois kambas que rolam em Stéreo por Lisboa. Com Portugal, Guiné-Bissau e Angola a correr pelas veias, backgrounds e percursos de vida diferentes, cresceram com a constante presença da música, do mundo, e sobretudo africana, PALOP. Convictos de que a cura do mundo passa pela música, optam por sons orgânicos, embebidos em batidas provenientes de diversos tempos e géneros. Desde o Soul ao Funky do Steide, ao Samba Rock Zuca, passando pelo Semba, Kuduro e Funaná da Mamã África, não fosse a Música Negra o fio pavio dos seus explosivos Sets.
O livro Atlantica: Contemporary art from Angola and its diaspora assinala o início da editora Hangar Books, especializada em publicações no contexto das artes contemporâneas, com foco nas epistemologias do sul. É uma co-edição HANGAR – CEC e conta com o apoio da FCT, Orfeu Negro e FAS. Organizado pelo HANGAR.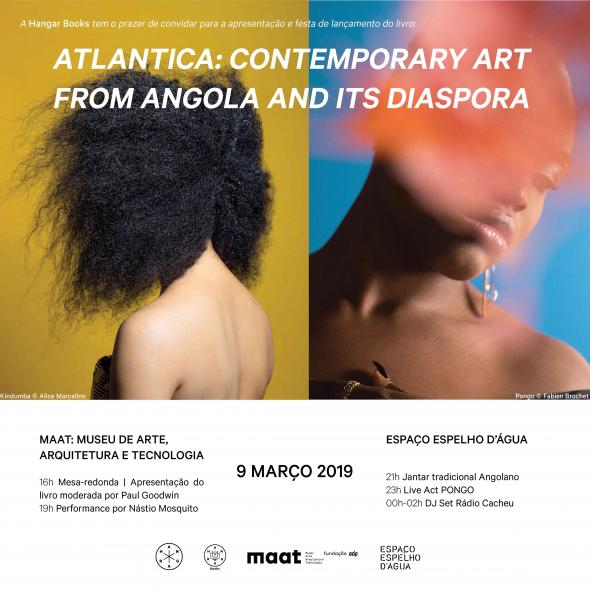 Artistas: Alice Marcelino, Alida Rodrigues, Ana Silva, Binelde Hyrcan, Délio Jasse, Edson Chagas, Francisco Vidal, Grada Kilomba, Ihosvanny, Januário Jano, Keyezua, Kiluanji Kia Henda, Mónica de Miranda e Yonamine
Ensaios: Adriano Mixingue, Afonso Dias Ramos, Ana Balona de Oliveira, Ana Cristina Cachola, Ashleigh M. Barice, Bruno Leitão, Delinda Collier, Denise Ferreira da Silva, Gabi Ngcobo, Maria-Gracia Latedjou, Marissa J. Moorman, Marta Jecu, Nancy Dantas, Nadine Siegert, Negarra A. Kudumu, Paul Goodwin, Paula Nascimento, Pontus Kyander e Raquel Schefer.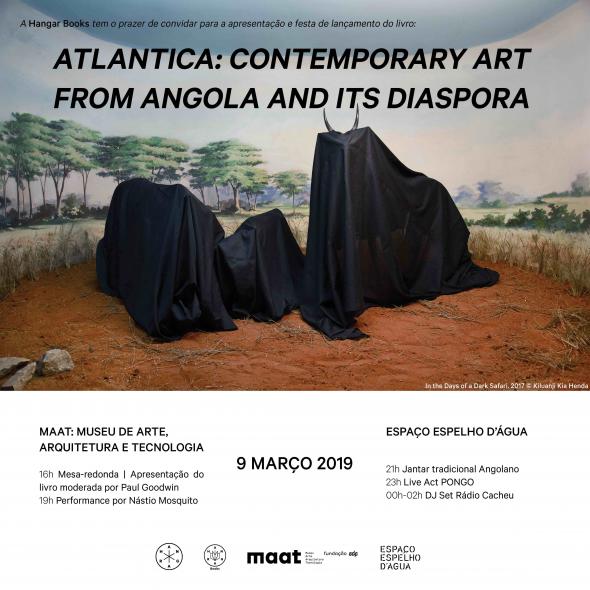 In the Days of a Dark Safari, 2017 © Kiluanji Kia Henda
**
Book Launch Atlantica: Contemporary art from Angola and its diaspora
Date: 9 March 2019
Time: 4:00 PM
Venues: MAAT: Museu de Arte, Arquitetura e Tecnologia, Sala dos Geradores & Espaço Espelho d'Água
BOOK LAUNCH, ROUND TABLE, PERFORMANCE
Local: MAAT: MUSEUM OF ART, ARCHITECTURE AND TECHNOLOGY
4.00PM | Round table and presentation of the book moderated by Paul Goodwin with Ana Balona de Oliveira, André Cunha, Afonso Ramos, Marissa J. Moorman, Nadine Siegert e Paula Nascimento
7.00PM | Performance by Nástio Mosquito: "What My Grandmother Gave Me"
> 5€ museum admission | 50% discount for students, jobseekers, seniors
DINNER AND LAUNCH PARTY
Local: Espaço Espelho d'Água
9:00PM | Angolan traditional dinner
11:00PM | Live Act PONGO
00:00AM – 02:00AM | DJ Set Radio Cacheu
> Dinner & Party: €25 pre-sale: hangarcia.production@gmail.com
€30 in the day of the event
> Party (from 11:00PM): €10
Menu:
- Bread, humus and zaalouk
- Wheat tabule and Moroccan couscous
- Guinea chicken sigá with rice or Calulu of fresh and dry fish or Tofu Muamba
- Cassava pudding with creamy tangerine
Nástio Mosquito is a multimedia artist known for performances, videos, music and poetry that show an intense commitment to the open-ended potential of language. Easily misread as a kind of world weariness, it is the extraordinary expression of an urgent desire to engage with reality at all levels.
PONGO embodies the renewal of kuduro, mixing the mixture of its African roots, langa, zaïco, with EDM, bass music, dancehall and melodic pop. Her powerful, rhythmic but equally fragile and sensitive voice draws us into his surrounding universe, the confines of dance and longing – where no one had taken us before.
Rádio Cacheu tunes to two kambas that roll in Stéreo through Lisbon. With Portugal, Guinea-Bissau and Angola running through the veins, different backgrounds and life paths, they grew with the constant presence of music, the world, and especially Africa, PALOP. Convinced that the healing of the world passes through music, they opt for organic sounds, soaked in beats from different times and genres. From Soul to Funky Steide, to Samba Rock Zuca, to Semba, Kuduro and Funaná from Mamã Africa, were not Black Music the thread of their explosive Sets.
The book Atlantica: Contemporary art from Angola and its diaspora marks the start of publisher Hangar Books, specialising in publications within the context of contemporary arts, with particular incidence on southern epistemology.
It is co-edited by HANGAR – CEC and has the support of FCT, Orfeu Negro and FAS. Organized by HANGAR.
Artists: Alice Marcelino, Alida Rodrigues, Ana Silva, Binelde Hyrcan, Délio Jasse, Edson Chagas, Francisco Vidal, Grada Kilomba, Ihosvanny, Januário Jano, Keyezua, Kiluanji Kia Henda, Mónica de Miranda and Yonamine
Essays: Adriano Mixingue, Afonso Dias Ramos, Ana Balona de Oliveira, Ana Cristina Cachola, Ashleigh M. Barice, Bruno Leitão, Delinda Collier, Denise Ferreira da Silva, Gabi Ngcobo, Maria-Gracia Latedjou, Marissa J. Moorman, Marta Jecu, Nancy Dantas, Nadine Siegert, Negarra A. Kudumu, Paul Goodwin, Paula Nascimento, Pontus Kyander and Raquel Schefer