Contemporary Black Female Sexualities, Call for Papers
For a collection on "Contemporary Black Female Sexualities," the editors invite essays that explore black women's sexualities—and representations or manifestations of black female sexual desires—marked by agency and empowerment, as well as instances wherein black women's sexual intimacies are regulated by them. Given the degree to which black female sexuality has historically been mediated by politics of respectability or silence, as well as hindered by and constructed in opposition to Western paradigms of womanhood and "normative" female sexuality, this volume seeks contribution—both disciplinary and interdisciplinary and from a range of theoretical, ideological, methodological, socio-political, and critical frameworks—that address and illuminate contemporary black female sexualities. Contributing essays might explore 20th and 21st century
representations and black sexual politics, particularly post-sexual revolution, that challenge earlier paradigms governing intimacy and the "cartographies" of black female desire. This volume seeks, then, to be a collection of essays that does not bifurcate but rather complicate black female sexuality by exploring it along a continuum: including, but not limited to, abstinence, asexuality, celibacy, LGBTQI (Lesbian, Gay, Bisexual, Transgender, Questioning, and Intersex) sexualities and identities, "straight" or compulsory heterosexuality, same-sex desire, same-gender loving, "sexual self satisfaction," transgressive sexualities, etc.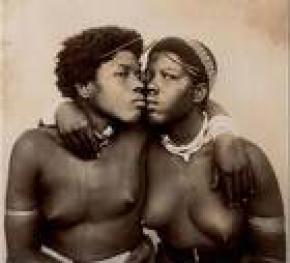 In light of recent cinematic adaptations of feminist texts by male directors, such as Precious (based on Sapphire's novel Push) and For Colored Girls (based on Ntozake Shange's choreopoem For Colored Girls Who Considered Suicide When the Rainbow is Enuf), contributing essays might also examine the ways black women's sexualities have been mediated and depicted by men and/or media, as well as portrayed in popular and visual culture; experienced and represented beyond a rigid conservatism of sexual puritanism or Victorianism; have been influenced by or intersects with religion, "the black church," fundamentalist religious doctrines and liberation theology; or have been informed by or in opposition to nationalist, Western, militaristic, or racialized gendered constructs, such as the "cult of true womanhood" or "don't ask, don't tell." Other trajectories of exploration might include black women's bodies, sexual wellness, and gynecological health care, as well as sexuality and the politics of the intimate in the U.S. or black diaspora broadly construed.
Audre Lorde makes a distinction between "the erotic" and the "pornographic," whereby the latter operates as "a direct denial of the power of the erotic, for it represents the suppression of true feeling. Pornography emphasizes sensation without feeling." In what ways do black women, via their sexualities, experience and express sensation with feeling that is not characterized by violence, marked by suffering or punitive measures, regulated by men or the state, pathologized, or encumbered by restrictive practices or models?
While essays that engage any of these topics are solicited, other considerations of black female sexualities are welcome, as are email inquiries to the editors.
Please send abstracts of 250-500 words, along with a CV or full list of credentials, to blackfemalesexualities@gmail.com by October 1, 2012. Editors will invite contributors to submit completed essays of 4000-7500 words, which will be due by January 15, 2013. As we have already received strong interest in the collection from a reputable academic press, review of materials and requests for revisions will proceed in a timely and efficient fashion, as we are eager to submit the collection for publication review in April 2013.
Trimiko Melancon and Joanne M. Braxton
Loyola University/College of William and Mary