Tracks and Traces of Violence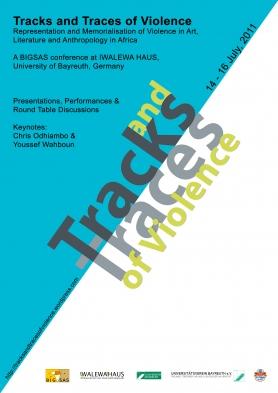 Representation and Memorialisation of Violence in Africa in Art, Literature and Anthropology
The BIGSAS conference 'Tracks and Traces of Violence – Representation and Memorialisation of Violence in Africa in Art, Literature and Anthropology' takes place at Iwalewa-House, the Africa Centre of the University of Bayreuth (Germany) from 14th – 16th July 2011.
This conference zooms in on a specific phenomenon: violence. Cultural, social and individual medialization of lived experiences are often shaped and inspired by those violent events. Visual artists and writers from Africa have come to deal with these violent events of the recent past and the present.
By means of artistic practice they, often as both representatives and witnesses, struggle to find ways to engage with the traumas and atrocities of conflict and war of post-colonial African states and attempts towards reconciliation.
This conference discusses and explores tracks and traces of violence in – but not restrictively- artistic and literary practices as well as in anthropological works.
Keynotes:
Chris Odhiambo (Eldoret) and Youssef Wahboun (Rabat)
Reading by:
Ungalani Ba Ka Khosa (Maputo)
Further papers & performances by:
Joao Paulo Coelho (Maputo), Rachid El Adouani (Mohammedi), Sandra
Boerngen (Frankfurt), Sélom Komlan Gbanou (Calgary), Susanne Gehrmann
(Berlin), Antoine Hounhouenou (Abomey-Calavi), Johan Jacobs (Durban),
Christopher John (Durban), David Ngoran (Cocody-Abidjan, Strasbourg), Otobong
Nkanga (Kano, Antwerp), Metje Postma (Leiden), Detlev Quintern (Bremen),
Jo Ractliffe (Johannesburg), Corinne Sandwith (Durban), Busolo
Wegesa (Eldoret), Antje Ziethen (Kassel), Samuel Ndogo (Bayreuth)

Organized by BIGSAS-Workgroup Tracks and Traces of Violence:
Viviane Azarian, Katharina Fink, Amber Gemmeke, Moulay Driss El Maarouf, Maroua El Naggare, Samuel Ndogo, Duncan Omanga, Nadine Siegert
Questions can be addressed to: tracks.traces@googlemail.com