Seun Kuti and Egypt 80 From Africa With Fury : Rise
saiu em Paris a 4 de Abril o novo Cd do SEUN ANIKULAPO KUTI (filho do Fela Kuti) & The Egypt 80.O álbum chama-se "From Africa with Fury: RISE".
"L'une des meilleures formations de scène du moment, l'une des plus puissantes et des plus barrées", commente à propos de Seun Kuti et son groupe, Brian Eno, coproducteur de cet album. C'est le deuxième, pour le fils cadet de Fela, musicien d'envergure du continent noir, mort en 1997. Un disque puissant. Le passage de la scène au studio d'enregistrement ne gomme rien de l'énergie bouillonnante du garçon et de ses musiciens, qui sont, à quelques changements près, ceux de la dernière formation de son père, Egypt 80. Portée par des cuivres et des rythmes avançant en rangs serrés, la voix guerrière de Seun Kuti tire sur tout ce qui était déjà la cible de son père. Les dirigeants politiques et les multinationales en prennent pour leur grade. Le jeune chanteur et musicien (saxophone), né au Nigeria, en 1983, a le verbe vif et amène dans sa musique un irrésistible effet de transe.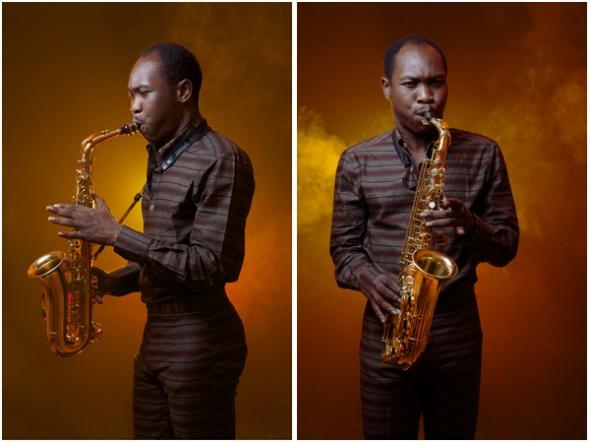 Youngest son of Afrobeat firebrand Fela, Seun Kuti has succeeded where most celebrity offspring fail, succesfully updating his father's musical legacy. It helps he inherited a brilliant band, Egypt 80, but Seun has added his own generational voice. On his second album, Afrobeat's loping rhythms are tautened for the digital age, while staccato guitars and intricate horns are laced with electronica (courtesy Brian Eno among others). Seun is a gruffer, less persuasive singer than Fela, but his songs sting just as strongly. Decrying Nigeria's plight, he sings of "Monsanto and Halliburton [which] use their food to make my people hungry". Protest music for modern times.
more info