OUT OFF NATURE
This screening is a side programme to my solo exhibition "Paradox of Plenty" at Künstlerhaus Bethanien (24.05 to 16.06.2019) as part of the International Studio Programme, Grantee of Calouste Gulbenkian Foundation and supported by Camões Berlin.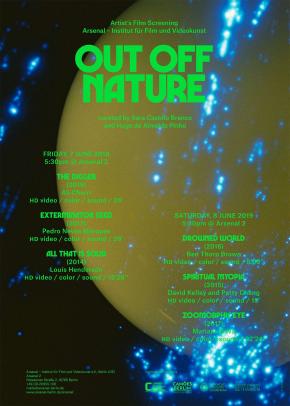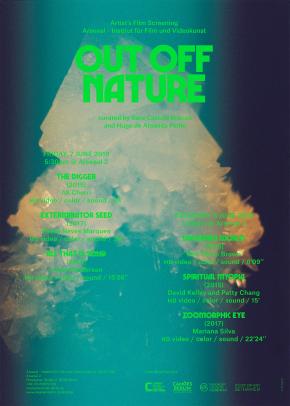 According to the philosopher Jean-Luc Nancy, the technological dominion over the organic life has become the operational motif of Mankind in a process of "supplantation" and "supplementation": a system where technology is built from raw material found in nature, while at the same time it changes severely the natural world. The screening sessions OUT OFF NATURE tackle this reality by asking two questions that – facing movements of endogenous or exogenous order – have become relevant in understanding our natural and technological contemporary condition: how does Earth's geological materiality define the technical culture of media by the integration of mineral matter in some of its main devices?; And, how these same devices have been shaping our contemporary ways of seeing by raising new visualities and modes of representation brought about by the anthropocene? By focusing on some contemporary emergencies arising from the massive use of technology and its impact on the metabolic cycles of planet, this film selection addresses the environmental impact of the new media and its use of natural resources; the links between land resources, value systems created with European colonization and sociological, economic and political models of hypercapitalism; the historical and perceptive construction of gaze in a visual landscape dominated by the screen; the mass extinction of animal species in relation to image-capturing practices and scientific systems of visual depicting natural habitats; or, the relations between preservation, heritage, time, ecology and labour.
Design:ATLAS Projectos
Institutional Partners:
Camões Berlin
Calouste Gulbenkian Foundation
Künstlerhaus Bethanien
Acknowledges:The artists, Galerie Imane Farès, Ana Patrícia Severino, Valeria Schulte-Fischdick, Christina Sickert, Künstlerhaus Bethanien, Margarida Abecassis, Fundação Calouste Gulbenkian, Curtas Metragens CRL (Portugal), Cláudia Pinto, Gonçalo Sena.