Afrikplay 20 de Junho no ISCTE-IUL, LISBOA
HOLY HUSTLERS (Richard Werbner. 53', 2009)

Com Ruy Blanes (ICS-IUL)
ISCTE-IUL, Ala Autónoma, Auditório A. Barros, 18 horas.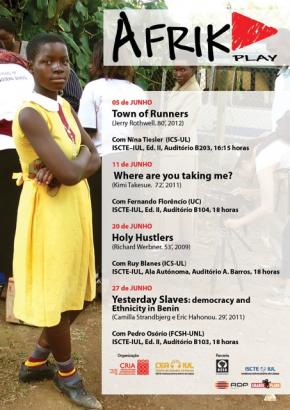 "As práticas proféticas da igreja Apostólica Eloyi, igreja de cura pela fé, são dominadas por jovens adultos carismáticos que vivem em Gabarone, capital do Botswana. Acusações duras e graves dividem dois arcebispos da igreja Eloyi, um deles actuando no meio rural e o outro, seu filho, na cidade. A própria igreja parece estar 'em destruição' e divisão.
Inspirados pelo Espírito Santo, os profetas são filmados enquanto estão em transe, rodopiando em êxtase, rezando, praticando exorcismos e sentindo no próprio corpo a dor dos seus pacientes. Mas, para além da empatia e compaixão, os profetas agitam-se e chocam".
"Charismatic, street-wise young men, living in Botswana's capital, command the prophetic domain in Eloyi, their Apostolic faith-healing church, at a time of escalating crisis. Bitter, sinful accusations divide Eloyi's village-based archbishop and his son, the city based bishop. The church itself, seen to be 'under destruction', splits.
Inspired by the Holy Spirit, prophets are seen in trance, whirling in ecstasy, praying, running wild in exorcism and feeling patients' pain in their own bodies. But beyond empathy and avowed compassion, prophets hustle and shock."
http://www.therai.org.uk/fs/film-sales/holy-hustlers/
http://afrikplay.wordpress.com/