3rd Edition of SAVVY Journal for Critical Texts on Contemporary African Art
SAVVY | art.contemporary.african. (ISSN 2191-4362)
Title: Art and politics – An inseparable couple? The fire behind the smoke called political art.
Talking about politics and Africa is always crackling. Talking about politics and art is always a guarantee for a hot debate. Then of course talking about art, politics and Africa is a recipe for an electrifying discourse. An objective and constructive critique without pledging any predetermined allegiance to a specific school of thought is an important ingredient in this recipe.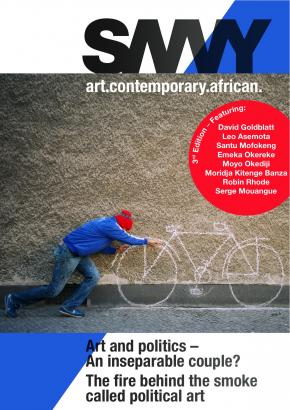 What is for certain is, arts and politics are not of different planets. They share the same playground, they are not antagonistic but complementary to each other and usually co-exist in a symbiotic relationship… and that was evident in many of the texts we received. Surprisingly, we received no article claiming the independence of art from politics or propagating "l'art pour l'art". Is art for art sake a blunt imagination or is it just not an African issue? Art is known to be able to reflect, in one way or the other – consciously or unconsciously, the socio-political, physical or psychological context in which an artist finds him-/herself. Art and the so-called "Schaffensdrang" have to do with a need to create, and often this need stems from a reaction to one's immediate or extended surrounding.
The authors in this edition tackled the issue from diverse perspectives, ranging from the economics of politics to humour as a tool for political expression. While Emeka Okereke contemplates the usage of the terminology "Contemporary African Art", Kangsen Wakai investigates the myth of the trans-atlantic Afro-Diasporic constellation Otabenga Jones and Associates, Sebastian Weier ironises in his reflection on African art as a class struggle and the poet Ezeiyoke Chukwunonso gives a philosophical background to arts and politics. This edition also features enquiries into the works of Moridja Kitenge Banza, Robin Rhode, Steve Bandoma, Uche Okeke and Guy Woueté's politico-economic quest. Apart from interviews with designer Serge Mouangue and photographer Dimitri Fagbohoun you can also read reviews on exhibitions by David Goldblatt, Leo Asemota, Jürgen Schadeberg, Temitayo Ogunbiyi and many more.
Even though socio-political issues play a vital role in Contemporary African Art it would be an enormous mistake for any one to limit Contemporary African Art to political and social frames, thus neglecting the profound aesthetic value, twist of irony and emotionality many do possess.
www.savvy-journal.com
SAVVY Online Journal offers a limited print version for collectors (50 copies) – acquirable for 50€/journal.
The bike is in your court, ride it!
Bonaventure Soh Bejeng Ndikung (PhD) | Editor-in-chief
Andrea Heister (M.A.) | Deputy editor-in-chief
Contributors: Kangsen Feka Wakai, Emeka Okereke, Sebastian Weier, Ezeiyoke Chukwononso, Fenneken Veldkamp, Bhavisha Panchia, Salvatore Falci, Patrick Tankama, Guy Woueté, Moyo Okediji, Prune Helfter, Yves Chatap, M. Neelika Jayawardane, Simon Raven, Dietrich Heißenbüttel, Daniele G. Daude | Nina Wichmann (proofreading) | Johanna Ndikung, Ioana Muntenescu, Ekpenyong Ani (translation)
Graphic Design - Guy Dollman | Web Design - Alice Motanga
Acknowledgements: Marc-André Schmachtel, Nina Tsonkidou and Clara Giacalone
Support: Goethe Institute Lagos
CALL FOR CONTRIBUTIONS | 4th EDITION SAVVY JOURNAL
Title: Curating - Expectations and Challenges
You are invited to submit papers on curatorial theories and practices in the context of Contemporary African Art. Which curatorial concepts (past or current) do you consider seminal and which improvable? Where and how do artists position themselves in exhibitions authored by curators and can artistic knowledge be implemented as method of curating? What are the relations between artists, curators, public and institutions? How different are Contemporary African Art exhibitions done by curators from the West from those by curators of African origin… is there a cognizable methodology? How do non-governmental art project spaces on and beyond the continent influence and revolutionize the trajectories of curatorial practices?
Submissions on this topic or other interesting subjects: editorial@savvy-journal.com until 01.07.2012.