Opening Festival Africa is/in the future + Invitation Exposition Hamedine Kane
Dear friends, chers amis,
Please join us for the opening of the festival, venez découvrir la première exposition solo de Hamedine Kane à Bruxelles, artiste vidéaste! More info below.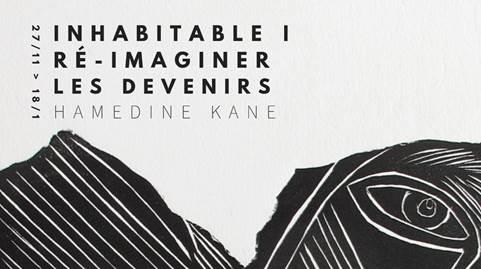 Participez à la riche programmation de concerts, conférences et ateliers… dirigée par Dany Ben Félix dans le cadre du Festival Africa is/in the future :
https://www.pointculture.be/agenda/evenements/africa-2019/
https://www.facebook.com/events/2464282037162503/
Come an see an unprecedented programming of films at cinema nova, they are almost all PREMIERE in Brussels!!!Atlantiques / first short film by Mati DiopCore Dump / a serie of 4 short films by François KnoetzeZombies / a video by Baloji, and many more videos…
https://www.nova-cinema.org/seances
SEE YOU TONIGHT!
Vernissage / Exposition / Concert
Mer. 27/11, dès 18h
PointCulture Bruxelles expose les œuvres d'Hamedine Kane : Inhabitable | Ré-imaginer les devenirs.
Hamedine Kane est un artiste et réalisateur sénégalais et mauritanien qui vit et travaille entre Bruxelles et Dakar. A travers sa pratique, Kane fréquente les frontières, non pas comme signes et facteurs de l'impossible, mais comme lieux de passage et de transformation, comme élément central de la conception de l'identité itinérante.
Après dix ans d'exil en Europe, sa pratique se concentre désormais sur les sujets de la mémoire et de l'héritage. Dans ses œuvres, ces thèmes s'entrelacent avec le passé et le futur, transgressant et irriguant aussi bien les frontières de l'espace que du temps. Partant de contextes spécifiques et en collaboration constante, Kane explore l'espace public comme champ d'interaction et de rencontre et transforme les frontières des murs hermétiques en points de passage. Ses œuvres invitent à transcender et à transformer les frontières physiques et imaginaires, pour, aux dires de Édouard Glissant, relier librement une vivacité du réel à une autre.
Curatrice de l'exposition : Aude Tournaye
Avec le soutien d'Africalia et de la Fédération Wallonie-Bruxelles
Avec le concert d'Aboubakar Traoré & Balima Foly.
Plus d'infos sur pointculture.be
PointCulture Bruxelles| Rue Royale 145 - 1000 Bruxelles
NL
Inhabitable l Ré-imaginer les devenirs verzamelt recent werk van kunstenaar Hamedine Kane.
Poreuze grenzen worden doorkruist, zwervende identiteiten en wispelturige toekomsten hertekend.
Te zien in Pointculture Brussel van 27 november tot 18 januari.
ENG
Re-tracing the porose borders of itinerant identities and fluctuating futures,
Inhabitable l Ré-imaginer les devenirs features recent works by artist Hamedine Kane.
On view at Pointculture Brussels from November, 27 through January, 18.