OPEN CALL - DECOLONIZING ARCHITECTURE RESIDENCY
Para uma residência na Palestina em Fevereiro e Março de 2010.Dirigido a artistas ou arquitectos que vivem no Reino Unido.Deadline: Applications should reach us no later than 15 August 2010, 5pm.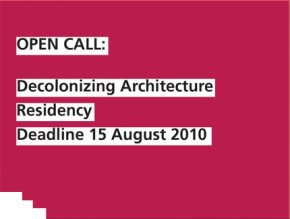 DECOLONIZING ARCHITECTURE RESIDENCY
The Delfina Foundation and decolonizing.ps (Alessandro Petti, Sandi Hilal, Eyal Weizman) are collaborating on a residency in Bethlehem, Palestine, at the Decolonizing Architecture studio.(…) We are seeking applications from UK-based artists and architects whose work involves critical spatial practice and who wish to carry out independent research and/or urban/territorial interventions. Applicants should have an inclination for collaborative work and the capacity of materializing ideas in a relatively short period time.
+ informação: