Lisbon shows off its African roots
by Anja Mutic
It's a quiet night at En'Clave. As I savour a hearty meal of kalulu — a fish and spinach stew from the island nation of Sao Tome and Principe — and slowly sip on a shot of grog — potent rum from Cape Verde — a hefty man sings a soulful morna ballad with a backdrop of two guitars. It could be a tropical night on an African square, but instead I am at an African basement restaurant in Portugal's capital city.
It was perhaps my own immigrant experience that made me decide to look for Africa in Lisbon. The story reaches as far back as the 15th century, when Prince Henry the Navigator sailed out into the Atlantic to explore the outlying islands and the coast of Africa. What followed was an epoch of trading in spices, gold and slaves.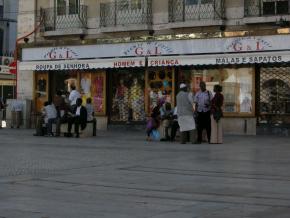 By the early 19th century, Portugal ruled several African outposts and only released its harsh grip with the collapse of the Salazar dictatorship in 1974. Soon after, immigrants from the newly independent nations of Lusophone (Portuguese-speaking) Africa — Mozambique, Angola, Sao Tome and Principe, Cape Verde and Guinea-Bissau — flooded Lisbon, looking for a better life. Entire African suburbs were born, like Buraka in Amadora and Vale da Amoreira in Moita, and Lisbon's cultural and ethnic tapestry changed.
A few decades later, I am strolling through Largo de Sao Domingos, a small square at the heart of Lisbon where the city's mainly male African population stands around chatting. I walk up Calcada do Garcia then Rua do Arco da Graca, and among the African stores and barbershops, I stumble upon a restaurant advertising African food. I sit down with my Slovak friend — the only other white European in the house — to a delicious plate of fish with fried bananas and rice. If I had to guess where I was, I'd say — Maputo? Luanda? Praia?
Near the river in Alcantara, the city's stylish African restaurant-bar Casa da Morna draws a more mixed crowd. Owned by famous singer-songwriter Tito Paris from Cape Verde, this dimly lit space serves up live music and Europeanized versions of African dishes. Paris was away the night I visited, so my prawn moqueca, an Afro-Brazilian seafood stew, was paired with sad-tinged morna songs performed by a duet of voice and guitar.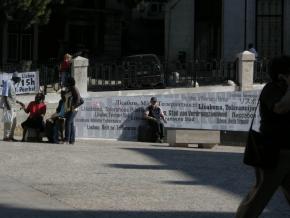 Rumour has it Paris, who performs here regularly, is a treat to catch, as are other Afro-Portuguese performers who play anything from upbeat funana dance songs to drum-heavy batuku popularized by the young Cape Verdean Lisbon-born singer Lura.
Perhaps it is the music that echoes Africa most strongly through Lisbon's streets. Take kuduro, an up-tempo Angolan style of music made known by Buraka Som Sistema, a small collective of Angolan musicians from the Amadora suburb of Lisbon who threw elements of house, techno and hip-hop into the kuduro mix. Catch them live if you can; otherwise, head to Mussulo, an African club where young pretty things strut their stuff to the sound of kuduro and tarrachinha (the latest, particularly intimate version of Angolan partner boogie).
To see couples embracing in sensual kizomba, a more classic dance from Angola that's recently become all the rage, check out Nell's, where patrons are generally older and the style of fun less outrageous. I spent a fun Friday night at Nell's, watching a spectrum of variations on the kizomba theme, and time just flew.
At Lisbon's other African clubs, like Luanda and Lontra, you can hear traditional Angolan semba, Brazilian samba and other musical treats.
Food, like music, featured highly on this journey. One lunchtime at Moamba, a restaurant frequented by the Angolan consulate workers across the street, my taste buds were seriously challenged by a spicy piri-piri sauce I naively poured over my chicken moamba.
At another Sunday lunch with an Angolan family, we gathered over funge de peixe — fish stew — and talked of Angola's natural riches and socialism. In all the Lisbon-based Africans I met, there was a love-and-hate relationship with the motherland. Some talked of returning promptly. Others said they'd never go back … perhaps they found the Africa I looked for in Lisbon.