Exposição Crosswords
Exposição Crosswords, que exibe obras de Alfredo Jaar, Augusto de Campos, Detanico e Lain, Fernanda Fragateiro, Kiluanji Kia Henda, León Ferrari, Milumbe Haimbe, Paulo Nazareth, Reynier Leyva Novo, Zineb Sedira. A curadoria é de Gabriela Salgado. No Hangar, Centro de Investigação Artística, Lisboa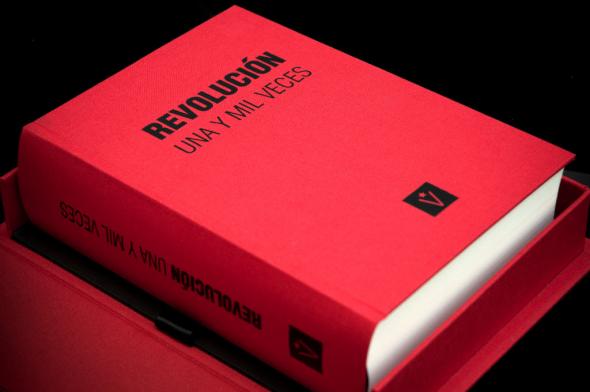 A thousand and One Times Revolution, 2011 Reynier Leyva Novo Book containing the word Revolution, printed 239 940 times on 1000 pages, with the same typography, spacing and interlining. Monument on pages Edition of 5 and 2AP
Tanto encruzilhadas como palavras cruzadas são formas de encontro: facilitam fusões entre pessoas e palavras gerando assim novos significados através da sua colisão. No tradicional jogo de palavras cruzadas, a amálgama das palavras cria possibilidades e conotações que enriquecem e transformam a língua ao gerar associações inesperadas. De maneira similar, as imagens e as palavras têm-se combinado nos trabalhos de artistas visuais e escritores ao longo da história.
A exposição Palavras Cruzadas abrange períodos diversos de produção artística com a inclusão de figuras históricas como León Ferrari e Augusto de Campos bem como artistas jovens em plena actividade que trabalham em África, América Latina e Europa.