Behind the lines screening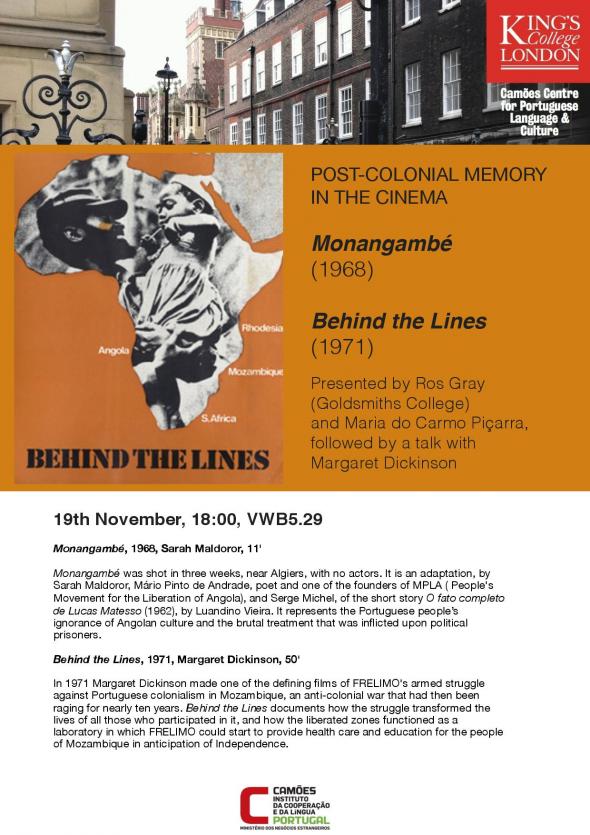 19th November, 18:00, VWB5.29
Monangambé, 1968, Sarah Maldoror, 11'
Monangambé was shot in three weeks, near Algiers, with no actors. It is an adaptation, by Sarah Maldoror, Mário Pinto de Andrade, poet and one of the founders of MPLA ( People's Movement for the Liberation of Angola), and Serge Michel, of the short story O fato completo de Lucas Matesso (1962), by Luandino Vieira. It represents the Portuguese people's ignorance of Angolan culture and the brutal treatment that was inflicted upon political prisoners.
Behind the Lines, 1971, Margaret Dickinson, 50'
In 1971 Margaret Dickinson made one of the defining films of FRELIMO's armed struggle
against Portuguese colonialism in Mozambique, an anti-colonial war that had then been
raging for nearly ten years. Behind the Lines documents how the struggle transformed the lives of all those who participated in it, and how the liberated zones functioned as a
laboratory in which FRELIMO could start to provide health care and education for the people of Mozambique in anticipation of Independence.