No.One.Gives.A.Mosquito's.Ass.About.Trabalho.De.Preto Nástio Mosquito
Inauguração / Opening 20 de novembro, 20h / November 20, Wednesday, 8pm

21 de novembro de 2019 a 15 de fevereiro de 2020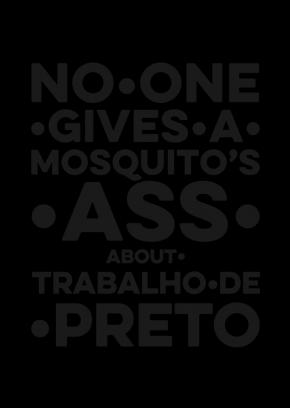 "No.One.Gives.A.Mosquito's.Ass.About.Trabalho.De.Preto" é uma exposição expandida que integra uma instalação audiovisual composta por nove soundscapes, um programa semanal de sessões áudio intitulado "No.One.Gives.A.Mosquito's.Ass.About.Visions", distribuição de autocolantes e folhetos, performances e colaborações que podem acontecer de forma mais ou menos espontânea, num projeto que Nástio Mosquito mantém aberto à participação de outros artistas, performers e músicos.
No HANGAR em Lisboa, mas que poderia ser em Luanda ou Brasília, o título surge como uma provocação e confronta-nos com as conotações negativas da expressão "trabalho de preto" - racista, esclavagista, estereótipo étnico depreciativo, entre outras -, e, paralelamente, agencia-a fator de unificação. Porque, como expõe Nástio Mosquito, o desafio é "falar com todos os pretos loiros, pretos morenos, pretos acromáticos, pretos das redes sociais, pretos com suposta representatividade, pretos que todos os dias acordam com a vontade interior de serem resoluções de problemas…".
O atual projeto prossegue "No.One.Gives.A.Mosquito's.Ass.About.Us", o universo de trabalho que o artista estreou em maio de 2019, com uma série de performances ao vivo que foi apresentada no âmbito do programa de abertura oficial da 58ª Bienal de Arte de Veneza, então com a derivação "No.One.Gives.A.Mosquito's.Ass.About.Our.Performance".
A partir da palavra "mosquito", o artista encetou uma pesquisa de base autobiográfica que explora perceções sobre o inseto com que partilha o sobrenome, identificando as valorações e impactos mais nefastos que este pode ter como: "não são uma preocupação Europeia". O universo de Mosquito toma a forma de performances, instalações, podcasts, exposições ou de qualquer outra experiência multissensorial que apoie a "exploração política dos nossos sonhos" e a sua pesquisa sobre o que realmente preocupa as pessoas. Criar "oportunidades de encontro" e "entendimentos sobre capacidades que são interdependentes", constituem condições prioritárias para o que Mosquito descreve como a "necessidade de cuidar" (to care), expressa no manifesto que expande agora até Lisboa: "Não é possível comprometermo-nos com algo que nos preocupa sem impactar o mundo. Vamos impactar o mundo porque nos preocupamos".
"No.One.Gives.A.Mosquito's.Ass.About.Trabalho.De.Preto" is an expanded exhibition featuring an audio-visual installation with nine soundscapes, a weekly program of audio sessions entitled "No.One.Gives.A.Mosquito's.Ass.About.Visions", distribution of stickers and leaflets, performances and collaborations that can occur more or less spontaneously, in a project that Nástio Mosquito keeps open to contributions by other artists, performers and musicians.
At HANGAR in Lisbon, but it could be also in Luanda or Brasilia, the project's title comes as a provocation and confronts the negative connotations of the Portuguese expression "trabalho de preto" ("black labour") - racist, enslaver, derogatory ethnic stereotype, among others -, and, at the same time, it acts as a unifying factor. Because, as Nástio Mosquito puts it, the challenge is to "talk to all the blond blacks, dark blacks, achromatic blacks, blacks from social networks, blacks with supposed representativeness, blacks that wake up every day with the inner will to be problem solving… "
The current project continues "No.One.Gives.A.Mosquito's.Ass.About.Us", a universe of work that the artist debuted in May 2019, with a series of live performances presented during the official opening of the 58th International Art Exhibition La Biennale di Venezia, then and there with the derivation "No.One.Gives.A.Mosquito's.Ass.About.Our.Performance".
From the word "mosquito" the artist embarked on an autobiographical research that explores common perceptions about the insect with which he shares the surname, identifying its most harmful assessments and impacts as: "they are not a European concern". Mosquito's universe takes the form of performances, installations, podcasts, exhibitions or any other multisensory experience that supports the "political exploration of our dreams" and his research on what people really care about. Promote opportunities "to come together" and the "understanding of our interdependent capacities", define Mosquito's priorities in what he describes as the "need for care", also expressed in the manifesto that he now expands to Lisbon: "There's no way for you to commit to what you care about, and not impact the world. Let's impact the world by caring".______________
No.One.Gives.A.Mosquito's.Ass.About.Trabalho.De.Preto
Exposição / Exhibition
21 de novembro de 2019 a 15 de fevereiro de 2020 / November 21st 2019 - February 15th 2020
Quarta a sábado, 15h às 19h / Wednesday to Saturday, 3 pm – 7 pm
_____________________________________
No.One.Gives.A.Mosquito's.Ass.About.Visions
Sessões áudio / Audio sessions (45")
NOV 20, 28 | 21h / 9pm
DEZ 6, 10, 17 | 21h / 9 pm
JAN 8, 15, 24, 30 | 21h / 9pm
FEV 7, 15 | 21h / 9pm
Nástio Mosquito artista multimedia, conhecido por performances, vídeos, música e poesia que revelam um forte compromisso com o potencial sempre em aberto da linguagem. O seu trabalho é facilmente mal interpretado como uma forma de saturação com o mundo, porém, e em oposição, é a extraordinária expressão de um desejo urgente de envolver-se com a realidade a todos os níveis. **
Multimedia artist Nástio Mosquito is known for performances, videos, music and poetry that show an intense commitment to the open-ended potential of language. Easily misread as a kind of world weariness, it is the extraordinary expression of an urgent desire to engage with reality at all levels.