Brenna Bhandar, Colonial Lives of Property: Law, Land, and Racial Regimes of Ownership
05.07 | 19h00 Colonial Lives of Property: Law, Land, and Racial Regimes of Ownership (Duke University Press, 2018). Lançamento de livro e conversa com Brenna Bhandar e Rafeef Ziadah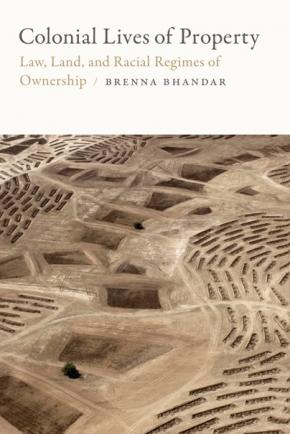 No seu recente livro, "Colonial Lives of Property: Law, Land, and Racial Regimes of Ownership" (Duke University Press, 2018), Brenna Bhandar traça ligações entre a ocupação colonial de terras, a racialização das populações indígenas e as hierarquias coloniais, aquilo que ela define como "regimes raciais de propriedade". Criadas durante o período colonial, as ligações insidiosas entre propriedade, posse, cidadania e raça estendem-se pelas antigas e atuais colónias, bem como pelas suas metrópoles. Ao traçar as leis contemporâneas de propriedade até às suas origens coloniais, Bhandar defende a sua centralidade nas atuais lutas antirracistas e descolonizadoras a nível internacional. A autora examina as "lógicas partilhadas de subjetividade racial e direitos de propriedade privada, que têm sido centrais para o desenvolvimento do capitalismo racial" em estudos que abrangem países como a Palestina, a Austrália, o Canadá e a África do Sul.
Brenna Bhandar é Professora Associada de Direito na SOAS, University of London. É coeditora de "Plastic Materialities: Politics, Legality, and Metamorphosis in the Work of Catherine Malabou" (Duke University Press, 2015, com Jon Goldberg-Hiller) e de "Reflections on Dispossession: Critical Feminisms" (Darkmatter Journal, 2016, com Davina Bhandar).
Rafeef Ziadah é Professora Auxiliar de Políticas Comparatistas do Médio Oriente na SOAS, University of London. Anterior- mente, foi bolseira do Programa de Pós-Doutoramento no Departamento de Políticas e Estudos Internacionais na SOAS com o projeto "Military Mobilities and Mobilising Movements in the Middle East". Os seus interesses de investigação incluem: economia política, política contenciosa, movimentos trabalhistas e políticas de humanitarismo, especialmente focadas no Médio Oriente.
Para mais informações, por favor contactar:
Carlos Alberto Carrilho | Tel + 351 21 352 11 55 | carlos.carrilho@maumaus.org | www.maumaus.org
Lumiar Cité, Rua Tomás del Negro, 8A
1750-105 Lisboa, Portugal
Carris: 798 paragem Rua Helena Vaz da Silva, 717 paragem Av. Carlos Paredes
Metro: Lumiar (saída Estrada da Torre)
Lumiar Cité é um espaço da Maumaus.