Thank you, Mamadou Ba!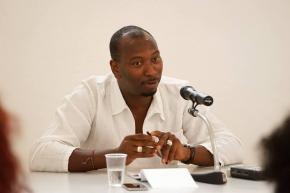 Mamadou Ba has long been known for his tireless struggle against racism, inequality and all forms of discrimination in Portugal.
His involvement and integrity in these struggles mean he has become nationally and internationally recognisable as one of the most prominent and consistent faces of the black movement in Portugal.
This brings with it both political and civic responsibilities. That recognition is the result of his consistent and persistent work - but so too are insults, persecution, death threats, constant attempts to mock and undermine him, more racism, more violence and more discrimination directed towards him, on an almost daily basis.
The rights of the black and gypsy communities are continuously violated in Portugal, where they also endure fear, social exclusion, and abandonment by the State - particularly when it comes to matters of justice. For a long time, even in cases of assassinations at the hands of the police, it has been difficult for these communities to prove the racist nature of police violence. Acts of violence against their bodies have always been socially accepted, politically justifiable, and economically insignificant. Police brutality has been denounced internationally in reports by the likes of the European Committee against Torture, in complaints against the police, and in demonstrations by anti-racist collectives and Afro-descendent movements in Portugal.
On 21st January, young protestors from the peripheries of Lisbon occupied the centre of Lisbon in a spontaneous and peaceful protest following aggressions the previous day against a family in Bairro da Jamaica, Seixal, at the hands of the local PSP police force. The circulation of a video in which the police can be seen beating, pushing and dragging men and women indiscriminately, has left the country perplexed. The youth - the prime target of racism and police violence - were afraid, but this time they would not stay put at home. Their protest was dispersed, yet again, and videos now circulating on social media show excessive use of force by the police, shooting rubber bullets, attacking and threatening protestors, and resulting in the detention of four black people present.
These latest events strip bare the racist system in which we live, enforced by the police and through normalised acts of violence against black people of all ages and sexes, and with the continued impunity of those responsible, reaching a level that can no longer be tolerated.
We are grateful for Mamadou Ba's persistence and for never having given up the struggle. For this reason, he deserves our support, our solidarity, our love!
Thank you, Mamadou Ba!
Signatories
Abel Djassi Amado, Ackssana R. da Silva, Adamares Ernesto S. da Silva, Adriana Ferreira, Adriana Lopera, Aida Tavares, Alda Sousa, Alesa Herero, Alberta Costa, Alexander Neto, Alexandra Correia, Alexandra Lucas Coelho, Alexandra Sofia dos Santos Brandão Freire, Albertina Delgado, Albertina Pena, Alexandre Abreu, Alex Araújo, Alexander Kpatue Kweh, Alfredo Ireneu Mota, Alfredo Rosas, Alice Gomes, Aline Frazão, Alistair Grant, Almerindo Adriano Chiquete, Almerindo Romão Prudêncio, Amália Espiridião Oliveira, Amana Mattos, Amarílis Felizes, Ambra Formenti, Ana Balona de Oliveira, Ana Beatriz Rodrigues, Anabela Lopes da Veiga, Ana António, Ana Bárbara Pedrosa, Ana Bigotte Vieira, Ana Bragança, Ana Brito, Ana Cabral Martins, Ana Carapinha, Ana Carina Tavares Varela, Ana Catarino, Ana Catarina Pinto, Ana Costa, Ana Cristina Cachola, Ana Cristina Pinto Ribeiro, Ana Cruz, Ana Espírito Santo, Ana Estevens, Ana Felizardo, Ana Fernandes, Ana Ferreira, Ana Filipa Oliveira, Ana Furtado, Ana Gandum, Ana Isabel Brum, Ana Isabel Strindberg, Ana Lúcia Sá, Ana Luísa Correia da Costa, Ana Margarida Esteves, Ana Margarida Leitão Ferreira, Ana Luísa Luz, Ana Marques, Ana Matos Pires, Ana Maria Brito Jorge, Ana Naomi de Sousa, Ana Paula Tavares, Ana Rita Alves, Ana Rita de Faria Antonio, Ana Rita Rodrigues, Ana Rita Veleda Oliveira, Ana Stela Cunha, André Leal, Anderson Ribeiro Oliva, André do Amaral Carapinha, Andrea Peniche, Andreia Alves, Andreia Cunha, Andreia Gomes Ferreira, Andreia Navarro, Andreia Quartau, Andreia Meijinho, Andreia Ruivo, Andredina Cardoso, André Dias, André Teodósio, André Castro Soares, André Studer Ferreira, Ângela Cunha, Ângella Graça, Ângelo Monteiro Rodrigues, Anil Samarth, Anithe de Carvalho, Anna Lina Signorello, Annimari Juvonen, Antónia Gomes, Antoine Pimentel, António Alves, António Brito Guterres, António Couvinha, António Gouveia Vieira Alves, António Manuel Gomes Fernandes, António Maurício, António Pedro Lopes, António Manuel Lourenço Subtil, António Pacheco, António Rodrigues, António Sequeira, António Silva, Anze Persin, Apolo de Carvalho, Armando Mesquita, Ariana Furtado, Augusto Santana de Brito, Aurora Gonçalves, Associação Coice de Mula, Avelino Correia, Bárbara Góis, Beatriz Barros Martins, Beatriz Cantinho, Beatriz Carvalho, Beatriz Gomes Dias, Beatrice Sacchetto, Beatriz Santana, Beatriz vicente, Begoña Dorronsoro, Belmira Coutinho, Benjamim Barão, Bernardo Amaral, Bernardino Aranda, Brayton Correia, Brígida José, Bruna Correia, Bruno Andrade, Bruno Braz, Bruno Caracol, Bruno Cabral, Bruno Cochat, Bruno Ferro, Bruno Gonçalves, Bruno Martins, Bruno Moreira, Bruno Lamas, Bruno Leitão, Bruno Neto, Bruno Prudêncio, Bruno Sena Martins, Cadija Cassamá, Camille Bourdeau, Carine Soelli Carvalho, Carla Fernandes, Carla Isidoro, Carla Rodrigues, Carla Ruela, Carla Sofia Cabral, Carlos Alberto Alves, Carlos Alberto Alão Baptista, Carlos Alvarenga, CArlos Carujo, Carlos Dias, Carlos Dumbi, Carlos Guedes, Carlos Leite, Carlos Manuel Borges de Sousa, Carlos Mendes, Carlos Pio, Carlos Solposto, Carlos Valério Kangoma, Carlos Vieira, Carlos Vasconcelos Matias, Carmo Gonçalves Pereira, Carolina Moreira, Casa do Brasil, Catarina Barata, Catarina Larajeiro, Catarina Leitão, Catarina Limão, Catarina Marcelino,Catarina Martins, Catarina Miranda, Catarina Pinina, Catarina Príncipe, Catarina Sampaio, Catarina Simões, Cátia Ferreira, Cátia Fortes, Cátia Montes, Cátia Pinheiro, Cátia Severino, Celeste Fortes, Célia Costa, Célia de Sousa Neto, César Madeira, César Schofield Cardoso, Cheila Prata, Cheila Varela, Chiara Pussetti, Chloé Dias, Christine Aue, Chullage, Cíntia Lopes, Clara Justino, Claudette Bonfim, Cláudia Belchior, Cláudia Jardim, Cláudia Gomes Oliveira, Cláudia Leal, Cláudia Ribeiro, Cláudia Santamarina, Cláudia Sofia Vinhas Elias, Cláudia Varejão, Clotilde Fava, Coletivo Femininjas, Coletivo Tropicáustia, Cris Fernández Andrada, Crista Alfaiate, Cristiana Bastos, Cristiana do Vale Pires, Cristiano Lange dos Santos, Cristina Correia, Cristina Moura, Cristina Portella, Cristina Roldão, Cristina Paquete Paixão, Cristina Santinho, Cultra - Cooperativa Culturas do Trabalho e Socialismo, C. S, Pinto, Dalila Teixeira, Daniela Ribeiro, Daniel Barroca, Daniel Martinho, Danilo Cardoso, Dara Ramos, Dary Neves de Carvalho, Davide Santos, Davide José Borges da Costa, Débora Bernardino, Débora Dias, Deise Araújo, Deolinda Martins, Denise Laranjeira, Denise Veríssimo, Denise Viana, Diana Andringa, Diana Dias, Diana Policarpo, Dília Fraguito Samarth, Dina Nunes, Dino D'Santiago, Diógenes Parzianello, Diogo Araújo, Diogo Varela Silva, Diogo Vaz Pinto, Djamila Gonçalves, Djahcarlitos, Domicília da Costa, Domingos da Horta Semedo, Dora Filipa Matos, Dora Guennes, Dori Nigro: Coletivo Tuia de Artifícios e Núcleo Anti-Racista do Porto, Dulcelina Lopes Martins, Dulce Semedo, Edenildo Sanches, Edna Tavares, Eduarda Rovisco, Eduardo Cabeçadas, Eduardo Cabral, Eduardo Pereira, Eduardo Viana, Eliane Patricia Moniz Tavares, Elisa Santos, Elisabete Furtado, Elisabete Martins, Elsa Pegado, Elsa Lechner, Elton Lma(Bilan), Ema Shaw Evangelista, Emiliana Silva, ENAR – Rede Europeia Contra o Racismo, Eneida Voss, Érica Almeida Postiço, Érica Sequeira, Ery Claver, Ethel Maria feldman da Silva, Eugénia García Nemocon, Eugénia Mussa, Eunice Lopes, Eunice Vieira, Eviline Fernandes, Fado Bicha, Fátima Santos, Fátima Vale, Fay Correia, Fátima Silva, Frederico Mira George, Feliciano Tavares, Fernanda Bandos, Fernanda Fragateiro, Fernanda Queirós, Filipa Nunes, Filipa Teixeira, Filipa Alvim, Filipa César, Filipa Moreira, Filipe Gaspar, Filipe Cravo, Filipe Teles, Filipe Vargas, Filipe Vidal, Filipe Zau, Flávio Almada, Flávio Ferreira, Flávio Silva, Flávio Trindade, Francisca Bagulho, Francisca Guedes de Carvalho, Francisca Sousa, Francisco Frazão, Francisco Couto, Francesca Esposito, Francesco Vacchiano, Francisco Noronha, Francisco Vidal, Frente Unitária Antifascista e do Núcleo Antifascista de Braga, Gabriela Mota Vieira, Gael Martins, Geizy Fernandes, Gessica Borges, Gil Garcia, Gisela Casimiro, Gisele Fernandes, Gitelles Ferreira, Gonçalo Amorim, Gonçalo Russo, Gonçalo Salvaterra, Guiomar Sousa, Guilherme Narciso Galiano, Heide de Jesus Damasceno, Heitor Fonseca, Helena Dias, Helena Ferreira, Helena Figueiredo, Helena Moscoso, Helena Romão, Helena Valente, Helena Vicente, Hélder Gomes, Hélder Silva, Hélia Santos, Henrique Guerreiro, Henrique Marques, Hugo Curado, Hugo Lopes, Igor Constantino, Inês Barbosa, Inês Beleza Barreiros, Inês David, Inês Dias, Inês Duarte Martins, Inês Espírito Santo, Inês Galvão, Inês Meneses, Inês Morales Bernardos, Inês Oliveira, Inês Paulo Cordeiro Brasão, Inês Pereira, Inês Soares, Inês Vieira, Inocência Mata, Iolanda Évora, Irina Gomes, Iris Kantor, Isabel Faria, Isabel Ferreira Gould, Isabel Louçã, Isabel Maria Luciano, Isabel Maria Pereira Moreira, Isabel Moreira, Isabel Patrício Sauane, Isabel Soares, Isio Pereira, Iva Lima, Ivo André Braz, Ivone Ralha, Ivone Rodrigues, Izaura Solipa, Jaime Pastor, Jakilson Pereira, Jandira Barros, Jaquelina Varela, Jesse James, Jethro Soutar, Joacine Katar Moreira, Joana Albino, Joana Areosa Feio, Joana Bárbara Fonseca, Joana Cruz, Joana Gonçalves de Sá, Joana Gusmão, Joana Cabral, Joana Figueiredo, Joana Louçã, Joana Lopes, Joana Lucas, Joana Matos Albino, Joana Moraes Cabral, Joana Mouta, Joana Neto, Joana Ramos Brito, Joana Sales, Joana Saraiva, Joana Semedo, Joana Sousa, Joana Topa, João Afonso Jantarada, João Bacelo, João Baía, João Barbosa, João Bernardo, João Branco, João Bragança, João Cabacinha, João Camargo, João Couto C., João Delgado, João dos Santos Martins, João Figueiredo, João Fonte Santa, João Fontes, João Freitas, João Gaspar, João Lopes, João Louçã, João Manso, João M Almeida, João Manuel de Oliveira, João Mendes, João Miguel Viegas Gaspar, João Miller Guerra, João Mineiro, João Nuno Paulo, João Pascoal, João Paulo Dias, João Patrocínio, João Paulo Caio, João Pedro Gomes Carvalho, João Pedro Vale, João Peixoto, João Pinho, João Rapazote, João Rodrigues, João Romão, João Salavisa, João Vasconcelos, Joaquim Meireles, Joé Silva, Joel C., John Kalagary, Jorge Carvalho, Jorge Falcato Simões, Jorge Fonseca de Almeida, Jorge Louraço Figueira, Jornal MAPA, José António Guerra, José António Tavares Correia, José Barahona, José Barreto, José Carlos Teixeira, José Falcão, José Gusmão, José Luís Oliveira, José Luís Pissarro, José Maria Moura, José Maria Vieira Mendes, José Manuel Pureza, José Marto, José Mapril, José Nunes, José Pereira, José Pina, José Rui Rosário, José Semedo, José Semedo Fernandes, José Soeiro, José Vargas Smith, José Viana, Josina Almeida, Jota Mombaça, Jovita dos Santos Pinto, Judite Canha Fernandes, Júlia Nunes Carolino, Juliana Gomes Sambu, Juliana Santos Wahlgren, Kale Amenge, Kanil Lopes, Karin Gomes, Katiana Silva, Katiza Tavares, Killú Santos, Kitty Furtado, Kleisy Barretxfo, Laidy Vieira, Lara Longle, Leonardo Silva, Leonardo Silva, Lesses Ulisses Fernandes Cardoso, Lewis Dias, Lia Branco, Lia Vainer Schucman, Lídia Fernandes, Lígia Afonso, Lígia Kellerman, Liliana Coutinho, Lina Medeiros Silva, Linda Cerdeira, Lívia Apa, Lívia Sampaio, Lívio de Morais, Lorenzo Bordonaro, Luana Cunha Ferreira, Luca Onesti, Lucas Reis, Lúcia Furtado, Luciana Mendonça, Luciana Pina, Lúcia Marques,Luísa Semedo,Luís André Sá, Luís Carlos Baéssa De Pina, Luís Branco, Luís Brás, Luís F. Simões, Luís Gomes, Luís Graça, Luís Leiria, Luís Miguel Santos, Luís Moreno, Luís Mah, Luís Miguel dos Santos Gomes, Luís Moreira, Luís Nhames Morais, Luís Passos, Luís Tavares Cabral, Luís Trindade, Luísa Acabado, Luísa Candeias, Luísa Homem, Luísa Serôdio, Luzia Oca González, Mafalda Aido, Madalena Ávila, Madalena Lobo Antunes, Mafalda Brilhante, Maíra Zenun, Magda Burity da Silva, Makeda Cardiff, Malique Mandela Seide, Manuel Afonso, Manuel Bivar, Manuel Dias Afonso, Manuel L.D. Santos, Manuel Jesus Delgado, Manuel Moreira, Manuela Ribeiro Sanches, Manuela Tenreiro, Mara Sé, Marcela Uchoa, Márcia Alexandra Mendes Borges, Márcia Mota Fernandes, Marco Cosme, Marco Neves Marques, Marcos Cardão, Marcus Veiga (Scúru Fitchádo), Maria Armanda Gonçalves, Maria da Paz Campos Lima, Maria das Dores, Maria Gil, Maria Mire, Maria da Conceição Nogueiro Gomes, Maria do Carmo Piçarra, Maria João de Carvalho Marques, Maria João Berhan, Maria João Cantinho, Maria João Ferrer, Maria João Guardão, Maria José Vitorino, Maria José Trigoso, Maria José Vitorino, Maria Júlia Monteiro Jaleco, Maria Helena Figueiredo, Maria Louro Pissarra, Maria do Mar Fazenda, Maria Magdala, Maria Odete Rosa Cruz, Maria Rola, Maria Vlachou, Margot Figueiredo, Margarida Botelho, Margarida Paredes, Margarida Rendeiro, Margarida Santos, Margarida Tavares, Maria de Lurdes Sanches Mendes, Maria Manuela Leitão, Maria Monteiro, Maria Prata, Maria Sequeira Mendes, Mariana Amorim, Mariana Avelãs, Mariana Carneiro, Maribel Mendes Sobreira, Marília Gonçalves, Mário Caneira Martins, Mário Évora, Mário Jerónimo Fernandes da Silva, Mário Rui Pinto, Marina Sofia Parente, Margarida Carvalho, Mariana Espada Guerra, Mariana Gomes, Mariana Yunes, Mariana Pinto dos Santos, Mariana Seara, Mário Carvalho, Mário Soares, Mário Vieira, Marta Borges, Marta Espiridião, Marta Filipe Mendes, Maria Gabriela Có, Marta Araújo, Marta Bernaerdes, Marta Guerreiro, Marta Lança, Marta Mateus, Marta Mestre, Marta Rema, Marta Ribeiro Santos, Marta Rivera Bargues, Marta Vidal, Matamba Joaquim, Matias Gomes, Mateus Sadock, Mayra Andrade, Mikael Guerreiro, Max Ruben Ramos, Mbate Pedro, Melissa Carnoto, Melissa Pereira, Melissa Judite, Melissa Valadas Lopes, Meno Júlio, Merita Pina, Michelle Sales, Miguel Barrantes, Miguel de Barros, Miguel Brito, Miguel Cardina, Miguel Cardoso, Miguel Ferreira, Miguel Fonseca Dores, Miguel Januário, Miguel Jesus, Miguel Graça, Miguel Lucas Mendes, Miguel Nunes, Miguel Nuno Rodrigues, Miguel Ribeiro, Miguel Soares, Miguel Sousa Ribeiro, Miguel Vale de Almeida, Mize Vaz, Moisés Adão Santos Pascoal, Mónica de Miranda, Mónica Baptista, Mónica Furtado, Mónica Martins Nunes, Monique Fereira, Miriam Steffen Vieira, Myriam Taylor, Myriam Zaluar, Nádia Moreira, Nádia Yracema, Namalimba Coelho, Nancy Raisa Cardoso, Natália Maria Fialho Correia, Natália Gomes, Natacha Pereira Ribeiro, Nelson dos Santos, Neusa Trovoada, Ndira Cabral Embaló, Neide Cristina Baessa Moreira, Nicole Soares, Nigel Randsley, Nilton Mascarenhas, Nina Amelung, Nina Vigon Manso, Noemi Alfieri, Noé João, Nuno Barros, Nuno C. R. O. Costa, Nuno Coelho, Nuno Dias, Nuno de Avelar Pinheiro, Nuno Domingos, Nuno Filipe Brito, Nuno Marques, Nuno Mora, Nuno Miguel Faria, Nuno Milagre, Nuno Miranda, Nuno Moniz, Nuno Serrano, Nuno Salvado, Nuno Silva, Nuno Tourita, Nuno Veludo, Ofélia Janeiro, Olivier Blanc, Olivier Guiot, Oriana Alves, Orlando Garcia, Osvaldo Oyaneder, Otávio Raposo, Panteras Rosa - Frente de Combate à LesBiGayTransfobia, Paola Prandini, Patrícia Barreira, Patrícia Branco, Patrícia Martins Marcos, Patrícia Pereira Paixão, Patrícia Pina, Patrícia Santos Pedrosa, Patrícia Schor, Paula Brito, Paula Canotilho, Paula Godinho, Paula Loura Batista, Paula Machava, Paula Maurício, Paula Miranda, Paula Nascimento, Paula Sebastião, Paula Sequeiros, Paula Sá Nogueira, Paulo Cardoso, Paulo Coimbra, Paulo Guimarães, Paulo Inglês, Paulo Jorge Andrade Veiga, Paulo Maia, Paulo Maurício Dias, Paulo Moreira, Paulo Sérgio Rodrigues, Paulo Velez Muacho, Pedro Bacelar de Vasconcelos, Pedro Baicarã Delgado, Pedro Castanheira, Pedro Coelho, Pedro AH Paixão, Pedro Faro, Paulo Jorge Vieira, Pedro Gonçalves / Núcleo Antifa de Braga, Pedro Lourenço, Pedro Mendonça, Pedro Neves Marques, Pedro Luís de Oliveira, Pedro Pinho, Pedro Pousada, Pedro Santos Costa, Pedro Schact, Pedro Vieira, Pedro Miguel Moreira Rodrigues, Pedro Santos Costa, Pedro Varela, Pedro Vilão Silva, Piménio Ferreira, Pooja Gokaldas, Quintino Fortes, Rafael Bicho Andrade, Rahiz, Rahul Kumar,Rapentista Mossoró, Raquel Fernandes, Raquel Freire, Raquel Lima, Raquel Matias, Raquel Nobre Guerra, Raquel Saune, Raquel Ribeiro, Rachel Korman, Rebeca Moore, Redy Wilson Lima, Renaldo Vaz de Pina, Ricardo Abreu, Ricardo António Alves, Ricardo A. Freitas, Ricardo Ayala, Ricardo Cabral, Ricardo Cabral Fernandes, Ricardo Cardoso, Ricardo Falcão, Ricardo Góis, Ricardo Gouveia, Ricardo Moreira, Ricardo Noronha, Ricardo Petinga, Ricardo Robles, Rita Areosa Rocha Soares, Rita Ávila Cachado, Rita Brás, Rita Cássia, Rita Costa, Rita José Raposo, Rita GT, Rita Joana Pinheiro Maia, Rita Margarida Basílio Cardoso, Rita Natálio, Rita Nóbrega Gomes, Rita Oliveira Dias, Rita Veloso, Roberto Falanga, Rodrigo Lacerda, Rodrigo Rivera, Rodrigo Sousa, Rodrigo Vaiapraia, Romana Sousa, Romão Ramos, Rosa Albuquerque, Rosa Paula Rocha Pinto, Rosa Vieira de Almeida, Rosana Albuquerque, Rosário Severo, Rose Mara Silva, Rosilda Benrós, Rita Martins Duarte, Rui Almeida, Rui Costa Santos, Rui Duarte, Rui Gomes Coelho, Rui Maurício Dinis, Rui M. Pereira, Rui Mourão, Rui Santos, Rui Tavares, Rui Teigão, Rui Vicente, Rute Gomes, S_BA, Sacha Montfort, Sachondel Joffre Gouveia, Sadiq S. Habib, Sambala de Medina, Samira Pereira, Sandra Baldé, Sandra Bernardo, Sandra Costa, Sandra Mateus, Sandra Oliveira, Sandra Palma Saleiro, Sandra Ribeiro, Sandra Urceira, Sara Alexandre da Palma Soares, Sara Anjo, Sara Fernandes, Sara Gamito, Sara Goulart de Medeiros, Sara Marina Barbosa, Sara Martins, Sara Mendonça de Sousa Dias de Brito, Sara Morais, Sara Neves, Sara Saraiva, Sara Serpa, Sara Simões, Sedrick de Carvalho, Sérgio Duarte, Selma Uamusse, Sérgio Louçã Martins, Sérgio Manuel Dundão Sérgio Marques, Sérgio Vitorino, Shenia Karlsson, Sílvia Escórcio, Sílvia Franklim, Sílvia Jorge, Sílvia Maeso, Sílvia Roque, Sílvia Lazary de Matos, Simão Wiliamo Malenga, Simone Frangella, Simone Tulumello, Silvia Roque, Sofia Carolina Botelho, Sofia Castro Pereira, Sofia Miranda, Sofia Roque, Sofia Sá, Sofia Santos, Sónia Araújo, Sonia Monteiro, Sónia Prudêncio, Sónia Sousa, Sónia Vaz Borges, Sónia Vespeira de Almeida, Soraia Simões, Stéphanie Delgado, Stella Gaspar, Susana Boletas, Susana Gaudêncio, Susana Gomes, Susana Mourão, Susana Santos, Susana Valadas, Suzana Djiba, Tânia Duarte, Tânia Veríssimo Figueiredo, Tatiana Gomes, Tatiana Mendes, Tatiana Moutinho, Teresa Câmara Pestana, Teresa Coutinho, Teresa Fabião, Teresa Fernandes, Teresa Fradique, Teresa Isabel Paulo Tavares, Teresa Joaquim, Teresa Mamede, Teresa Martins, Teresa Morais Silva, Teresa Pina, Teresa Silva, Tiago Baptista, Tiago Braga, Tiago Castellano, Tiago Jácome, Tiago Mena Abrantes, Tiago Mendes, Tiago Mota Saraiva, Tiago Santos, Tiamo Veloso, Timóteo Macedo, Txema Abaigar, Ulício Cardoso, Ulisses Freire, Valdemar Veiga, Valdemir Eric Fernandes, Vanda Baltazar, Vanessa Fernandes, Vanessa Fernandes, Vanessa Pereira, Vânia Mendes, Vasco Araújo, Vasco Belo Agostinho, Vera Cristina Monteiro Pereira, Vera Marques Alves, Vera Rocha, Vera Rodrigues, Vera Tavares, Verónica Leite de Castro, Vicente Ferreira, Vicente Mertz, Virginie Duhamel, Vitalina Vieira Fernandes, Victor Hugo Lopes, Vitor Garcia, Vítor Sanches, Vlademiro Duarte, Welket Bungué, Wilman Silva, Yara Monteiro, Yavor Hadzhiev, Yolanda Picazo Ramírez, Youri Paiva, Zeze Nguelleka.
Translation:
Ana Naomi de Sousa