"Virgem Margarida", the insurgent spirit of women
photos by João Costa (Funcho)
In 1999, veteran documentarian Licínio Azevedo made The Last Prostitute, a documentary on the "re-education camps" established by the Mozambican government shortly after the country won its independence after five hundred years of Portuguese colonial rule. The purpose of these camps was to develop the proper "revolutionary spirit" in the hearts and minds of women of ill-repute (that is, sex workers) through a harsh program of ideological indoctrination. The astonishing testimonies that Azevedo collected haunted him for years, and led directly to the script for Virgin Margarida (co-authored with Jacques Akchoti).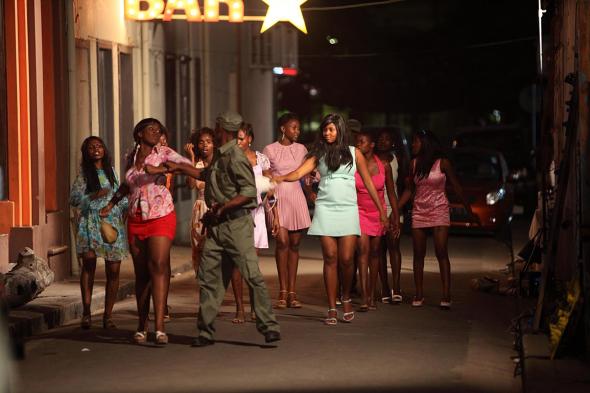 indiscriminately load women into a truck at gunpoint
In the dead of night, soldiers barge into the "entertainment" district of the city and indiscriminately load women into a truck at gunpoint. Without a word as to their fate, the women are driven to the far north of the country and forced to walk through a deep forest to a re-education camp. Here they will undergo corrective training and ideological instruction on how to become "new women": they will be forced to acquire new skills (how to cook, build homes, fabricate tools and till the land) and they will be subjected to a rigorous indoctrination program that preaches moral discipline, obedience, and the principle of national service. The film focuses on Margarida (Sumeia Maculuva), an earnest sixteen-year-old country girl picked up because she did not have identification papers; Rosa (Iva Mugalela), a feisty prostitute; Susana (Rosa Mario), a cabaret dancer and single mother; and Maria João (Hermelinda Cimela), the camp's commander, who fought in the war for independence and is eager to return home, marry her fiancé and start a family.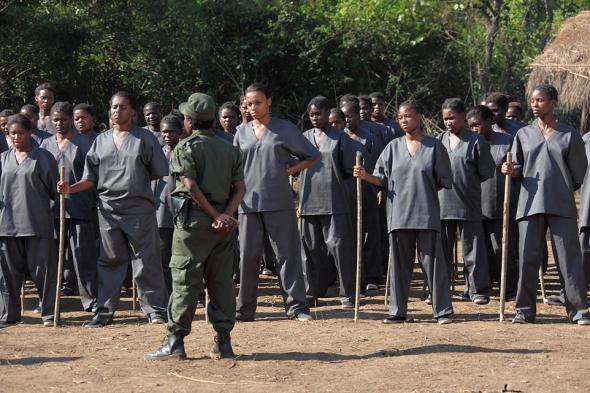 the disciplinarity camp
As the film progresses, these women find that they are captive to the self-righteousness of a creed that scorns individuality and subjectivity, and makes male domination an ideological prerogative. This spurs the women to defiantly band together to undertake a real revolutionary action and assert their independence from their "liberators." An evocative exposé of a little-known chapter in the contemporary history of Mozambique, Virgin Margarida is a dramatic and inspiring elegy to the insurgent spirit of women across nations, histories and cultures.
Rasha Salti

Director Biography
Licínio Azevedo was born in Porto Alegre, Brazil. In 1977, he was invited by filmmaker Rui Guerra to join the National Institute of Cinema (INC) in Mozambique, and soon after embarked on a prolific career as a documentary filmmaker. His feature films are Disobedience (02) andVirgin Margarida (12).
TIFF Festival (Toronto International Film Festival)
Sunday September 9
Cineplex Yonge & Dundas 9
3:30 PM
Monday September 10
Scotiabank 5
11:45 AM
Tuesday September 11
Cineplex Yonge & Dundas 8
8:30 PM
Thursday September 13
Scotiabank 6
9:30 AM
Sunday September 16
Cineplex Yonge & Dundas 10
12:00 PM