Synne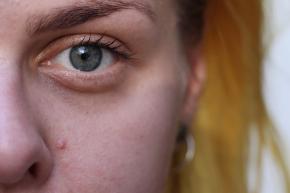 Synne"I think the best feminist I ever met was my father. While I was growing up, he never tried to dress me a 'robe'. He was aware that I wasn't quite a feminine girl, and he didn't treat me like I should be a 'princess'. Me and my father even dressed alike. We used to wear jeans from top to toe. It would be the same, from t-shirt to pants, even down to our hats. Now when I look at the photographs, I say to myself "What beautiful memories."
Synne is 27 years old. Norwegian. Lives in Oslo.
"We are three sisters. My father used to teach us how to fix things that have broken at home instead of fixing them for us. Was the toilet flush not working? He would show us how to open the siphon cover and repair the broken bits. While I was living with my housemates in years to come, I could fix all the things that broke down at home. Being well-versed in repairs and not waiting for someone else to sort it out would make me feel strong and fulfilled. I have repaired as many as four dishwashers in the houses where I lived.
In the movies, the father says his daughter's lover 'If you hurt my daughter, I will find you and I will shoot you! ". My father's words to us were "I am sure that you will go with your instincts, I don't believe you will not let someone hurt you. You are able to separate the wheat from the caff. Trust your instincts"
Synne is a storyteller. She studied drama in the theater department and has been telling stories for the past few years. Synne and her friends have a group called StorySquad. Both solo and as a group, they make narrations.
"When I was little, I was mesmerized listening to the stories told by my grandparents. My grandfather was a sailor. He travelled to the poles for exploration and when he returned he would tell us a lot of stories. It is a very special thing for me to tell my family's stories. What about my grandmother! My grandmother had an incredible imagination. She made up stories. My favorite story was 'Kai Hai'. It was the name of a shark, Kai. The shark was my friend. Our house was by the sea. Then we moved from there. According to the story, Kai came out of the sea to find me because he missed me. Then my grandmother used to explain our adventure to return Kai back to the sea. "
"These stories are very important. Telling them is a kind of responsibility … Because stories teach us a lot. Stories contain lessons about good and evil… Even if people are no longer alive or things aren't there, they will continue to exist within the stories are being told.''
https://www.instagram.com/mykaabaishuman/
https://www.facebook.com/My-Kaaba-is-HUMAN-Benim-K%C3%A2bem-%C4%B0NSAN-238051790472665/