People-Centred Processes: Performances in the Everyday.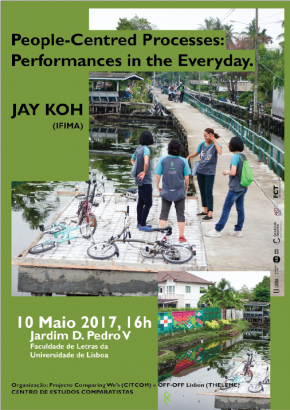 The forms of dialogue, participation and performances in the everyday are processes to create new meanings within interactions and reveal intersubjectivity in positions of the self and different others. These are part of Art-Led Participative Processes (ALPP), a methodology to discuss and respond to working in real world situations.
Convidado confirmado
Jay Koh (iFIMA)
Jay Koh, Doctor of Fine Arts, is a cross-disciplinary artist-curator, educator and consultant focused on public participative and socially-engaged art. He has practiced and lectured in over 40 countries in Europe, Asia and elsewhere.
In 1995, he founded international Forum for InterMedia Arts (iFIMA) and in 2000 was joined by Chu Yuan to initiate public, participative and socially engaged art projects, such as the Open Academy program in Hanoi, Hue, Ulaanbaatar and Yangon.
Jay's book Art-Led Participative Processes: Dialogue & Subjectivity within Performances in the Everyday(University of the Arts Helsinki, 2015; SRID/Gerakbudaya, 2016) discusses holistic and ethical art processes in building relationships and seeking affirmation across sectors and disciplines. Currently, he is based in Southeast Asia and working on his forthcoming books, Performing Politics: Arts & Society and A Reader on Praxis/es: People-Centred and Public Engagement Processes.
Recently, he convened the conference "People-Centred Processes: Arts, Education and Cross-Sector Collaboration" at the Asia Centre in Bangkok and lectures at King Mongkut's University of Technology (Thonburi Bangkok), Glasgow Sculpture Studios (Scotland), Zurich University of Applied Art and Lucerne School of Art and Design. Presently, Jay Koh collaborates with centers for art and health, art and pedagogy and arts education at Bangkok, Hong Kong, Kuala Lumpur, and Singapore.
Comissão Organizadora
Carlos Garrido Castellano (CEC-FLUL)
Manuela Carvalho (CEC-FLUL)
Marta Traquino (FBAUL)
10 de Maio, 2017 16:00 – 19:00Faculdade de Letras da Universidade de Lisboa (Jardim D. Pedro V)
Atividade conjunta entre os projectos Comparing We's / CITCOM e OFF-OFF Lisbon / THELEME do Centro de Estudos Comparatistas.