BODY in review . New project
For 2013, all BUALA team will be working on a specific technique for the first time, without giving up on the work that has led us here. We've decided to think about the BODY.
As a result of the collective work put together we will be publishing updates on the subject, for our goal is to supplement the digital world with BUALA objects, per say. In order to keep an independent and vastly spread editorial line we need the appraisal from our followers to add to the cost of our goal. You only have to donate to our crowdfunding at Massivemove platform which will be online from 10th to 20th of December. Our aim is to attain the necessary funds for such project, allowing us to pay any collaboration, translation, graphic work, editorial and creative work. It's an ambitious but necessary goal to give credit to the people that make it all happen.
Thinking about the BODY is a strategic requirement, a way to discuss the normative processes of exclusion, naturalization and production, setting new ways to be in the world, new affections, to expand the horizon of the reasoning about the body. The idea is to insist less in the identity politics nor the identity pretensions (and its deceiver subversion) and more on precariousness and the way it deals with difference as well as the way the maps of power are exploited.
Every three month we will be working on the four areas from which we'll start to build the project on, such as: the body, life and death, excluded bodies (sexuality, class, cultural differences, diseases, age, and disablement); bodies: space and dynamics (urbanism and migration); body; poetics and technology.
Some of the articles will be published on the web page and a strict selection will be published on BUALA – "Body in Review" (provisional title).
To give way to the meditation and the subject of the body, we've previously published on BUALA website Zanele Muholi's work, on the Gallery section, South-African photography.
We've assembled a group of people to discuss, on an interdisciplinary basis, the subject on which we will be working. The debates are taking place next year and anyone willing to take part on it will be able to do so physically or virtually. An excerpt of the first meeting can be listened on the promo video for the crowd funding campaign initiative.
You are all invited to add something to the project so that it can be accomplished and for the BUALA project to keep going. Any donor, individual or collective, will be rewarded with copies of the book, free access to articles and BUALA initiatives, published in all our means of communication, especially on our web page and social networks.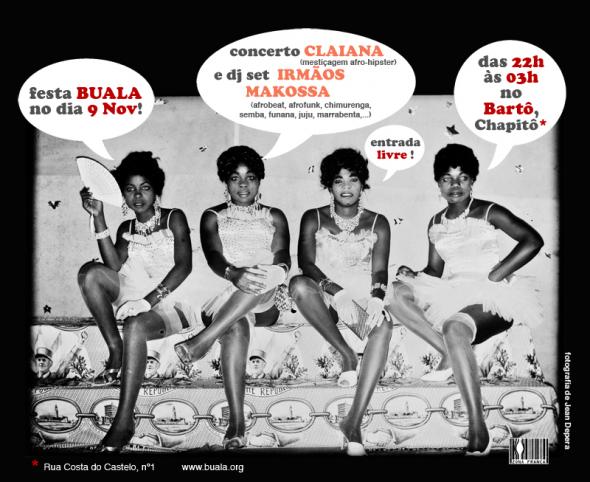 Attention, the campaign starts on the 9th of November of 2012 with hot a BUALA PARTY at Zona Franca, inside Bartô | FREE ADMISSION
A party full of rhythm: Claiana + DJs Irmãos Makossa
Claiana are coming from Porto to toast the afro-hipster diverse audience, a band of the less expectable mix of people, and "had the singer and frontman been born in Cape Verde, then he would be Bruce Dickinson himself." It was Gui's father who named the band "Claiana", out of someone's incomprehensible speech, which is something matching the band's own vocal technique.
It will be a dancing night, with the vigorous Irmãos Makossa keeping the party going, and though they set their sound base recurring from Afrobeat, Afrofunk, Highlife, Chimurenga, Soukous, Semba, Samba, Funana, Juju, Marrabenta are also part of the playlist and they won't allow anyone to stop dancing except for a drink.
For those yet to know, this is a Buala website party - it reflects on contemporary African culture and it's been compiling the biggest cultural topics from an open point of view of a post-colonial Africa, which regards us all. We believe on the publication of critical awareness tools, that people should practice thought sharing, and the resistance to discuss stereotype and identity fixing. More than words, it's the relevance of two and half years of hard work. There are more than 500 articles to be found on the website www.buala.org, covering an array of themes and fields, linking academic, journalistic and artistic reviews, new authors and established ones, 14 galleries of amazing artists, plus posts on daily cultural activities. There are several highly attended literary meetings and presentations happening in African and European cities. There are spontaneous collaborations coming from different parts of the world and an ever increasing number of visitors and commentary on the website, revealing the urgency of the project. We are aware of anything that might be new as an artistic expression, not the news.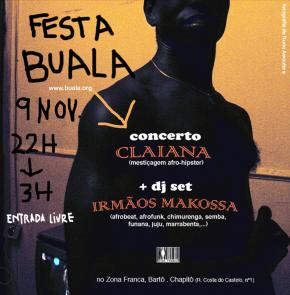 We want to be able to publish those who won't be published on a growing limited press and to avoid corporate groups. We've been catching up with what have been made in the so called peripheral places, which are part of the same contemporaneity that we all share at different times. We guide ourselves by sheer enthusiasm, rather than obligation or to serve any corporate will. It's only editorial freedom that enables us this experience.
more info: buala@buala.org I info@buala.org