Dialogues on Contemporary Dance, interview with Kepha Oiro
Kepha Oiro is a contemporary dancer and choreographer from Nairobi – Kenya, informally trained in traditional dance, Afrofusion and contemporary dance techniques, between 2001-9, through residencies and workshops occasionally held in Kenya and South Africa. He also mentored into social work for the "Njia Yetu project", a street children rehabilitation organization (2003-4), followed by active involvement into social justice activities regarding rights and welfare for children in the society (2005-6). He co-founded three contemporary dance groups in Nairobi: Kunja Dance Theatre, Alama Dance Group and Tuchangamke group (2005-8). Kepha Oiro has collaborated in and co-choreographed contemporary pieces such as Loud Silence with Alama Dance Company and Urbanite with Kunja Dance Theatre, and participated in the African choreographic encounters in Paris and Tunisia in 2006 and 2008. He performed and conducted workshops in several festivals in Africa, Europe and South-American countries. Currently, he is artistic director of a new contemporary performing group Tuchangamke, wich conducts research into movement fusion in ethnic African communities, based at the Kenya National Theatre, Nairobi, and is the artistic director of the Dance Marathon initiative.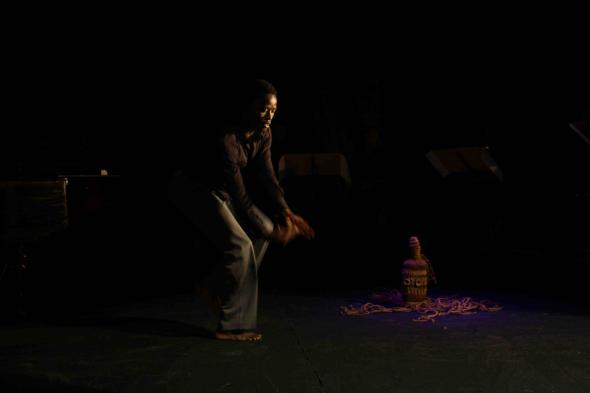 Kepha Oiro
Today I reread the article you send to me by this Kenyan journalist Muchemi Mwendwa, and I found it very interesting how he reacted on the first critical comments on his text. At least he realized that it is good to talk and to discuss things, and not only to write his opinion.
Yes, I think he also did it for his benefit, listening to other's views, to get to know their reactions. I think if he would write another article, it would be different. He is now informed, maybe in the method of collecting information. If it is so, then it succeeded. Now, before writing something he can research effectively, before putting something down and mentioning people's names. Especially, when you mention someone's name, you have to have done your research; try to make an interview with that person. As a journalist you need to be very much informed.
Work - here and there
What brought you to Germany?
My main driving point is what I saw in 2008. I was sort of in need to find new forms of expression. And I thought of looking beyond movement, trying to use a different form, a different media, which is different from the body and can also relate to the body – and this is when I saw multimedia, how video is interwoven with the dancer on the stage, with a team on stage, the team in video get to be interwoven, to be as one conversation and dialogue. That was something interesting, and I thought I could transfer some of my thoughts and ideas from my physical reality on stage and be able to get it to the virtual stage which is the video. I would play with these two kinds of stages, the virtual and the real one.
That stimulated and got me the urge to learn more and get some of the knowledge behind the work of Stephanie Thiersch, who fortunately happens to be working with intermediary disciplines. By seeing her works through her website, I thought it to myself to be interesting. Luckily we got invited with James Mweu to perform the duet "Urbanite" at the Globalize Cologne Festival. Within this period, I talked to her and she suggested that I come back and work with her on a production. I agreed, and specifically requesting to work with her on her processes of intermediary disciplines and how she functions with it. Sort of a mentorship and also an opportunity for me to work on my solo too, which I hoped that through her coaching, we might get some intermediary aspects to it, Seeing how we can work on lights, music, text and have that recorded for use in the video as a reference point. Always having this as a kind of a reservoir, an archive, through which, we of course get to talk and to reflect.
That was one point, but the other one was also to meet artists and dancers, independent artists whose works are what you can call 'underground' than mainstream, and also choreographers, who are well supported, through major dance institutions like Tanzhaus Köln and Pact Zollverein in Essen. I tried to make contact with them all, and also trying to see possibility of linking Berlin with its school for contemporary dance there, as a good network for the Dance Montage Training Program. The idea is to try to link the training program in Nairobi because one of our aim and goal is to create an institution, a school, try to link it through programs with institutions of training that already have their own structures, and their own developed philosophy. It is about to connecting and facilitating some kind of exchange. It has been interesting and so far things look good, I have identified institutions that might be of help. It is just a matter of dialogue now, the initial point is talking.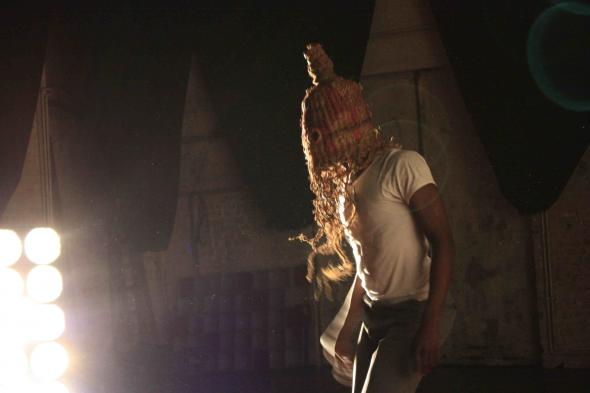 Kepha Oiro
Would you say that your residency in Germany was successful in these two lines? Having a mentorship on these intermedia practices?
I don't want to use the word successful, I would say it was a start, because it is really a long process. This is part of me building up for a production that I'm going to work on, and I like to work with many people on stage. I haven't had the opportunity to do that, I did it in the past as part of a small pilot production, which turned out to be difficult, it was not funded, but now I would like to do something strong and more structured on stage with ten people and intermediary will be a part of that. So this is a start of understanding how these things can work. In my own context I will and need to make it some sort of relevance, giving it the theme it deserves, so that I am not merely translating five months into a copy and paste, but more in the orientation and understanding, that will prove useful later on. So it continues in that sense, Stephanie will be invited to come to Nairobi and continue this relationship of work with local artists, who I might identify as future collaborators. So it is a start, and this start has been successful. We are in good relationship with her. I say we in the context of Tuchangamke. I try not to disassociate myself from Tuchangamke, because anything artistic I venture, starts with Tuchangamke.
Contemporary Dance in East Africa.
Let me just try to clarify how structures are in Nairobi. Tuchangamke is one of 6 contemporary/groups working in Nairobi as its base, the group comprises of artists from different background, which is traditional, a little bit of Hip Hop, Contemporary, Afrofusion, and occasionally, part time members from other disciplines unrelated to dance. It is has a consistent number of six persons, meeting and based at Kenya National Theatre, you could say, we are a projects based group, that allows  flexibility of more than 20 members at any given time-depending on project. Nevertheless, we are focusing more on structure now. And if they want to stay, they can stay, if they want to leave, they can leave, but the doors are always open. What is the history of that group?
It came about when I left Kunja Dance theatre which is led by James Mweu. Then I started my own evening classes at the Kenyan National Theatre, it is within these classes that I met different dancers and none dancers. We developed a bond by rotating and sharing teaching time for the classes, these helped immensely the consistency and sustainability of the classes. At one time, after the evening sessions, the group's future name popped out as we sat at a café, coming out of the inspiration of the classes. We artists, 'let's do something, let's reenergize and do something', was always the common motto. Tuchangamke is about getting up and being enthusiastic about doing something. That's why I said "Tuchangamke is not exclusive but inclusive" -  thus the pronoun, "tu", which is Swahili for "we".
That's how the group started, with that kind of spirit. I like it how it started, because people gave it that spirit, it was based on people want to do something. And this is how it is been building up ever since. That was 2008. It is very fresh, it is still new. We started to also partner with other groups and companies, who deal with contemporary art forms, specifically dance. One of these groups is Alama Dance, which is led by Laila Masiga and the other one is Ukenia Dance Theatre led by Kebaya Moturi, the other one is Jokajok, which is led by Juliet Omollo, together we initiated Dance Forum Nairobi. This was within the spirit of the moment, a concerted effort as groups and companies, with the need of building something for its artists. One of the things we collaborated as these five members was the organization of the solo- and duets festival in 2007.
All these groups belong to the contemporary dance scene in Nairobi?
All of them, yes. We also have Kunja Dance Theatre and Dance into Space which is led by Matthew Ondiege and James Mweu respectively. Those are the people who you can correctly say, are part of the second generation, except for Ondiego, who has been there longer. The second generation of contemporary dancers (most of them) in Nairobi, Kenya, came from the trainings of Opiyo Okach, through his Generations project.
So, there was a group of dancers who worked with him, and after that they spread up to develop own projects and institutions?
They have been already somewhere. But within these trainings with Opiyo, they got into travel, they got inspiration to do something of their own. Some projects or initiatives that came out of this period were Kunja Dance Theatre, Ukenia Dance, Alama Dance. I would say that Tuchangamke came out of this period but sort of in a distance. That is because Tuchangamke was not just driven by me. It was driven by people who have never been in Opiyos workshops. I am the only one who has been closely associated with Opiyo within the membership.
This process of splitting up, does it hurt, or is it just the way it goes?
It is development, it is growth. It is like if you have your family, you have your parents, you have sisters and brothers, they grow, later on they go and make their house, their own families outside, some marry, the family spreads, growths, becomes an extended family. It is the same thing with dance. You need it to grow, people are going to grow with you, they need to go out, try to do something. It is an indicator of success. You need it, you need such kind of structures and organization, where something starts with you, then it goes beyond you and spread out. And more people, that didn't have an opportunity to do it with you have the opportunity to do it somewhere else. This is the spread effect. This is good, it is good for the industry, not yet an industry, but it's good for the field. There is access to this dance, it is the only way for this thing to grow. Otherwise it would be very selfish, if people didn't want that it grows, and remain as one group and never let it out.
Are all these groups aiming for international awareness, or are some more focused on the local level?
We came to call ourselves Dance Forum Nairobi to give a platform for the solo- and duet festival. In the context of that festival we saw the need and the hunger of the people to know more about what this is all about. From there the idea of training came out. Training for a new and different generation of dancers, And since we live in Nairobi, we could do it better, because we have the advantage of proximity. Dance Montage Training Program came as a result of this. Everything leads to another thing. An event makes another event of itself. We developed these programs on a local as well as on an international level. We recognize that there are things we need to do to develop the program, the training, technique-wise, material-wise, facilities-wise, for this we need a number of collaborations to do it. International collaborations make sense, because there are institutions that are there for quite a long time. They could collaborate to teach us, to mix, to give something that they are specifically trained for. They could give us something depending on the philosophy we are developing for the program. This is where the international aspect starts to come in. International students could come also and get to learn what is there in this training program. This is the kind of development we are doing for the program.
How is the organizational structure going to be?
It should be a full curricula. You graduate after three years. Within these three years you come from an intermediate to an advanced level to a point where you can make your own choreographies or be assimilated by a company. In parallels I will work on the idea that after three years I have a fully working company. The curriculum entails teaching by the people who initiated the program, as well as teachers coming from outside, it doesn't matter, depending on the aim of the project itself we get to identify which teacher we are going to work with through workshops. And by the end of each year the participants get to showcase on the festival what they have as a repertoire. They also get to be involved in the organization and administration of the festival, as a part mentorship for them. The festival is also an opportunity to meet different artists from different countries and an opportunity for choreographers to showcase their works. It is also a marketing point where we get to invite program directors to see works that are interesting. I know that Globalize Cologne is interested to have this kind of relationship, more on a technical partnership. This is the kind of organizing we are looking for within the Dance Forum and the Training Program. Another future structure is to have our own land, our own structure, our own building, to have hostels there for the international visitors as well as our own students, to have a fully functioning self sufficient institution. Like what you see at École des Sables in Senegal. We are trying to develop something in East Africa. That is the goal and road we are heading to. Right now we are based at the GoDown Art Centre, they provide us space, they provide the per diems for the teachers. They are the major partner for this project. Right now our target is Kenya, we have to see how first we can fit in our own shoes, before we can try to fit into other shoes. Visa to Dance in Tanzania is doing a remarkable job, they are developing their own training program. What we could do is to develop partnership through laboratories, workshops, platforms. These are the main areas we can develop. The same goes with Dance Week in Uganda. We will see if we can come together as a common network, how we can minimize and share costs in transporting and distributing pieces and also have a inflow and outflow of artists within the region. The more we work together as partners, the more we are able to make this materialize.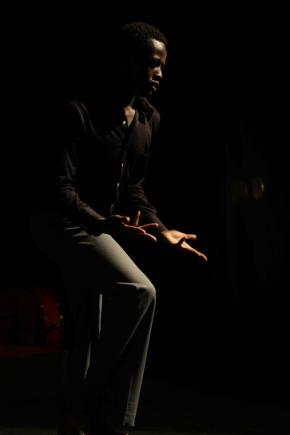 Kepha Oiro
The Dance Montage Training Program
What should the students learn, what will be taught in the program?
First we have to identify ourselves. We identify ourselves through mistakes, trial and errors. What is important for me, and this is what Tuchangamke is all about, is to develop from your own environment and history. And that environment could be also the urban environment. I am going into research trying to understand the happenings to certain circumstances and situations. I think it is important for them to have information about their history and its knowledge. We need to sediment a structure, where the content is very local and it harmonizes and transforms into something else, you can call it contemporary, with these kinds of relationships where you have different techniques, like the Flying Low on the floor, Release techniques or something of the sort. Traditional movements that have been there for a long time are a very important point of research. They will be taught, they have an existing body-given structure and with the structure the students will get information and knowledge around it. Followed with the freedom to adopt and develop own personal languages. The first year we were doing more of the traditional dances, the formations, more and more we see that this is really not necessary. The idea is not to teach these series of steps, the idea is to have the student understand the movement and it's relationship with the sound, the melody, the drum, It is important for them to be able to recognize beats, to be able to compose the beats themselves to have this relationship between the musician and the dance and to be able to walk around the whole atmosphere of the history and environment. Understanding is quite critical, exploring the core of it, how it works, the jumps, shakes, vibrations. Looking at these specific subjects and going even profound. You will not be limited to the superficial look but towards the nature of understanding, developing a philosophy out of that. We need to look at it as a technique and not just giving it broadly 'traditional dance'. We need to have it as technique within educational structure, when we have defined it and structured and properly researched. The first three years is more in developing this kind of approach, so that the next second number of participants will find something already established. This is a process.
Everybody should also develop his/her own philosophy during the three years? What do you mean by philosophy? Is that also an embodied philosophy?
Culture is diminishing in the urban settings. Trying to restore and recapture the values has become part of my everyday life. If you have an institution that recommends the value of history and culture, and it embodies such, into its program, then you are maintaining a certain philosophy. When the participants get into this program, they will have this sense of values with them when they leave. They might come completely unaware of what is, but they might come out being educated and rediscovered. They get to know the importance of this thing, the sense of it. An institution always propagated its own agenda, but we need to install a certain kind of value and for us is to reclaim what we are losing all the time: the music, the movement. It becomes a battle qualifying the two, but it shouldn't be a battle. We need to put it at the same level. I can have a structured "Flying Low Technique" being very well explained, we can have the same, too, for traditional dance. I know it is an event, it happens during certain occasions, our life has always been integrated, always one package, but now we face the necessity to separate things, to break things down for people to understand, because we are at this point in culture. There are a lot of subcultures, so you need to break things down for people to understand. It is no longer integrated as it was. The urbanization has brought in that sense. If you come from the rural areas it is different. The rural to urban migration is increasing, the centers are overpopulated and less youth are staying in the rural areas. So the sense of reinstalling  becomes even more important, the urban centre is a multicultural centre, and it is really hard to find this sense of identity. As an institution we are not becoming this museum, but we are becoming this archive of knowledge. This is what we aim to, it is not easy, but we try to keep this in focus.
Research in / through Dance
If research is part of it, how do you realize it? Are you going to the rural areas?
First of all it has to come from a point of interest. I would not say that I am researching traditional dance. It is a very broad term. I would say, I am researching vibrations and how they have been connected to sounds and rhythms and how they have been connected in the past with certain cultures. So I start at looking how different cultures have used vibration in different senses. For example I try to see how vibration is used in Botswana, in the modern culture in Lagos, Nigeria or in Ethiopia. I try to identify this community, try to understand the sense, where it comes from, because I need to look at it in a deeper sense, I need to see if it is leading to trance or not, what it is connected to, how it is resounding to music. I like to ask myself these questions. Then, with these collections I am able to come to conclusions on the basic of this vibration. I collect information around it that can be presented, and be given to an institution to be able to use. You have information that is there, I definitely like to work with vibrations. When I work with shakes, I use the same method to go into it. Other strange areas, is the medicine men, or the Sangomas, whatever different names given by the civilization, the voodoo etc. They are still connected to the nature; they are tuned and communicate with the environment. The rhythms and patterns, how they translate it and interpret it is very different then we do. Their use of healing method is different. This is how I would realize my research around it. If it means that I get this information in a different country, then I have to prepare myself with a budget and a schedule and be able to realize that.
Vibration is the focal point of your research interest?
There is vibration and others, there is also sound, there is running. Running and how it works into rhythm, to include arms and the eventual dance, Also looking at simplicity of movements. It's like a simple seed, this seed planted into the ground, eventuality transforms to tree. I like to start from these simple points, the running, the shakings and jumps. The more I look into it, I see the importance of raw natural movement. Everything is so much related to the environment. This is why the environment is always a big deal to me. This is why contemporary dance is also developing its own texture and color right now, because it is in Nairobi. The environment determines a lot. For what I do, I require research, and for what I need to develop I require the environment that I am in.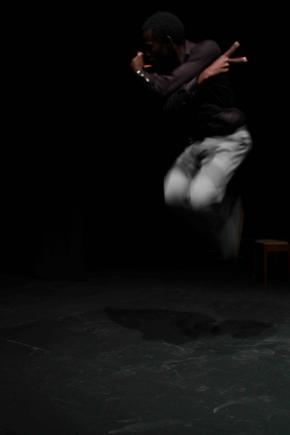 Kepha Oiro
How did these focal points come to you?
I was at crossroads in South Africa 2006. I was doing a musical "Sing Africa Dance", and it was more of a combination of different traditions and cultural practices from Africa, trying to put them on one global stage. South Africa is known for its flamboyant musicals, and it offered the opportunity to bring all these cultures and all these wonderful talents on one stage. During this I met a Ghanian drummer/dancer, a Malian singer and dancer, a Cameroonian, a Zimbabwean, a Botswanean, a South-African, and we the Kenyans. We had different nationalities in the whole project. The consequence is that you have a great influence out of this. I know that my point of puzzle came when I befriended this Botswanean dancer, who to my opinion had a unique, very controlled way of moving, that I was amazed by. As soon I learned his way of moving, I got even more interested in all others – I saw the sense of everything. I developed also the fascination of having one common voice, having the sense of community. That's why I like to work with many people on stage; the numbers bringing out a voice, a message. I saw this as something that I want to work with in the future, I put it a sort of photographic memory. The voice, the people, the number, this is something. The voice of the people always wanting to be heard, this became more and more important to me. The cultural revolutions always come with the people. The voice and the sense of community come with the people. And if you bring them together to inspire this process you have something strong. I became less interested in solos and duets, but more on how to develop something big on stage. Then came this idea, of work on a production basis, need of working with people from different backgrounds, different cultures on stage to develop something.
We are in a world where trends change all the time, so we always need to reflect. I need to be caught up in this, giving different propositions, touching different subject matters. In Kenya the subject matter for me right now is politics, the political impact in my life as artist, the political impact of our society as a whole. Politics is becoming more of a cancer than that of a developing agenda. It is ripping our values and cultures, our sense of value in brotherhood and sisterhood. We are becoming more and more divided, looking in different lines. The practice of politics is facilitating all this, and I see how this affects me, and I say that this is an agenda for me. I need to look at it from my own point of view and from other's point of view, And to sort of speak something out from an artistic voice. The artist has the responsibility for the community, the social responsibility, the political responsibility.
There is no art without this responsibility? It cannot be free from it?
In Kenya it is difficult, but it is also possible. It is possible to do this, to work in total isolation and ignore it. But I think art and culture remain as one of salvation point for Kenya, it brings it to its core of its identity. We can develop back the cultural consciousness that has been lost. More and more, in the urban centers the people can't identify who they are, they are so polarized in their ethnic politics, that they are always seeing the tribe in front. They don't see the tribe as a tribe; they see the tribe as a survival point, as their own survival. "If I am my tribe, I am safe to live the next day, because we are secure when we have somebody there leading us". So the sense of leadership is also lost, because you have to use a tool, the division by the tribe, which the politicians always use. This is an area that I am looking into - its development, its impact. I try to see what I can develop on stage with that.
Dance Marathon
When you were talking about the Dance Marathon to me, I had the impression, that it is also a very political thing? Bringing together the leaders of the dance groups even if they are not interested in talking with each other – one can compare it to the situation in Kenya or other countries.
There are tones and undertones. It is not an obvious political statement. I realized the need for it. The impact we can have as a society when we are together, the impact we can have as artists, when we are together. We are not putting walls for the sake of competition. If we as artists develop one voice and get to know each other and speak over a coffee, then we get to see the possibilities that there are. The need I saw for the dance marathon was to bridge, not even bridge, destroy the bridges and bring the river even closer. We have done bridging already. It is to bring the artists where there is no bridge anymore, you can go in and you can go out. Develop a sense of community within the artistic community. The art is a community, but they are not a community. Developing this kind of relationship develops one voice. Once you have a strong voice it is easy to go to the next agenda. The next agenda is getting to harmonize with the community. How do the artists and the community get together? The Dance Marathon would address this. Bringing a minimum of 500 people and gather around 40 artists who would do the mobilization. And then try to work for six hours on a marathon session, where the musicians are involved, the drummers are involved, the dancers are involved, volunteers are involved, the CBOs (community based organizations), the different generations are involved. With this you start to develop a culture – the culture of community. The theme of the 2009 marathon was erasing boundaries, this came out of the post-election violence were boundaries were created within a period of three month. By eliminating these boundaries, bringing people together, laughing, getting tired under physical endurance and challenge – at the end of the day they get to feel a different kind of sensation for themselves. They finish their day with a different kind of outlook. Building this up in this kind of sense, people get curious and get to release also, a day to release. Getting different kind of people together was also to get into this idea of division created by politics, bringing out a message, putting out the statement that culture and art can actually bring people together.
This is the political impact that art and culture can bring, getting people to a gathering, to say something, looking at the results, building on that and focusing on the bigger picture. Not doing it just in Nairobi, but nationwide in about ten towns at the same time. Trying to bring back the culture of community, erase the boundaries and let people discover themselves, discover all these new things that are involved. Get to be the politicians part of it. Get the whole nation to appreciate one another at some point in the future.
In one day in a year the nation gets to appreciate each other. This is the bigger dream, but starting somewhere small is the idea for the Dance Marathon.
Why could it be important to realize a Dance Marathon in Cologne?
To me it is a surprise and a compliment in the sense I never thought that far, I never thought across the borders. I only saw Nairobi and Kenya. And now I am here on an exchange residency and this happens to be one of those benefits of exchange. You get to need new people and contacts and out of conversation and dialogue, something proposes itself. The more I keep on hearing about realizing Dance Marathon in Cologne, the more it gives me more hope of realizing it on a greater scale in Nairobi, because people will see that this idea has been adopted, they did it in Cologne, it happens outside. Something more appreciated outside than it is appreciated in your country, which works in this case. Also discovering how the situation here can be impacted by this, because it is different here, the people have there own small boundaries. It is something I am curious to see, what is the result after a few months. Do people talk to each other, do they go to that space, do they have a different sensation, is there an impact? Realizing it here is a good extension and compliment and it develops links between Nairobi and Cologne. This creative activity is creating a cultural dialogue between the two cities. This is an achievement, nothing that was planned, but happened by itself.
GLOSSARY
DANCE FORUM NAIROBI- DF-N: an association of four contemporary dance/groups working in Nairobi.
NAIROBI SOLOS SND DUETS: an annual platform for contemporary works/pieces, held every November in Nairobi.
DANCE MONTAGE TRAINING PROGRAM: a three year pilot project for developing a new contemporary dance school
DANCE MARATHON: a six hour one day event, that acts as a platform for different artists coming together
VISA TO DANCE: an annual contemporary dance platform in Dar es Salaam, Tanzania, every October
DANCE WEEK: an annual performing arts platform for all kinds of artistic practices, happens mostly in February in Kampala
Contact: oirokepa@yahoo.com
Note: This is the first interview in a series of meetings with contemporary dancers. The encounter place in Cologne (Germany) during an artist residency from October 2009 to March 2010.