Open Letter to Routledge - Taylor & Francis Group
Academic censorship on sexual misconduct and power abuse: Not in our academia!
#NotInOurAcademia
#NoEnNuestraAcademia
#NãoNaNossaAcademia
#MeTooAcademia
If you want to sign this open letter, please sign the form here and your name will be added
Sexual misconduct is rife in higher education. In the UK, for example, sexual harassment carried out by academic staff towards students was documented in a 2018 report, Power in the Academy, which found that one in eight students had been subjected to unwanted touching from academics. These incidents are perpetuated by institutions historically rooted in patriarchal, racist, competitive, objectifying and hierarchical practices of knowledge and power.
The book Sexual Misconduct in Academia: Informing an Ethics of Care in the University (2023) came together to address this emergency, to show ways forward, and to overcome silences.
The two editors, Delyth Edwards and Erin Pritchard, and the 23 authors of this book represent a collective of PhD students, early career researchers, First Generation scholars, Indigenous scholars, and disabled scholars, based in Australia, India, North America, the UK and several European countries. Many of us have been affected by sexual harassment and assault - including rape - during our academic careers, often leaving us with deep traumatic wounds. We speak out despite the risk of legal, public or professional repercussions, such as losing our jobs. We have chosen to write about and analyse our experiences with the intention of promoting open dialogue about the realities of sexual misconduct and power abuse in academia in order to enact a much-needed deep transformation in our professional field.
Chapter 12 of the book, "The wall spoke when nobody else would: Autoethnographic notes on sexual-power gatekeeping within avant-garde academia", was written by Lieselotte Viaene, Catarina Laranjeiro, and Miye Nadya Tom. It analyses sexual misconduct within an unnamed research centre, describing the culture and social norms that enabled the harassment to occur, as well as ways in which resistance took place. The authors collectively analysed such concepts as "star professor", "whisper network", "sexual-power gatekeepers", "academic incest", "intellectual and sexual extractivism", "gaslighting", and "institutional witch-hunt".
After the book's publication in March 2023, a professor felt he was being referred to in Chapter 12, suggesting that he was the "star professor", and threatened the authors with legal actions in the press. He also denounced the book and its editors among his networks.
In certain academic circles the chapter became widely discussed and the authors, as well as other victims who stood up publicly, have received international support via open letters. The person who has identified himself as the "star professor", along with others, appears to have used his power and the law to silence the chapter, the book and its authors. In June 2023 the book was temporarily withdrawn from circulation while Routledge - Taylor & Francis Group looked into "complaints" and a cease-and-desist letter it had received about the chapter. On 31 August 2023 the authors of Chapter 12 were informed that Routledge - Taylor & Francis Group were reverting the rights for the chapter to them. The editors were not informed of this decision, nor were they told what would happen to the rest of the book. The webpage for the book has now disappeared.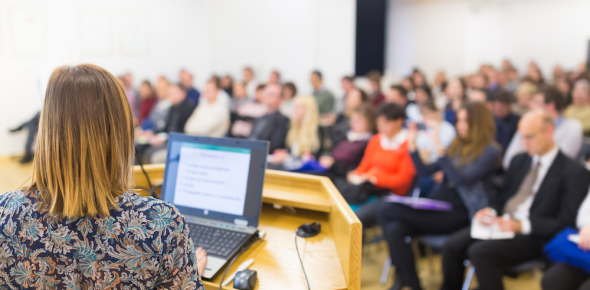 Women presenting conference.
These events are not only of great concern in relation to the silencing of the voices of the survivors who wrote Chapter 12, but also in relation to wider questions of how commercial publishers handle this issue. This controversy raises many questions, two of which we want to bring to the attention of the international academic community:
Can we, as an academic community, allow a private publisher to intervene in and even censor such an important, urgent and necessary debate in our professional field?

Academic writing is still the core tool of academic knowledge production worldwide, but when we as researchers are no longer allowed to reflect critically about how to transform our field from within, what are the implications for critical reflection on academia from within?
It is well known that abusers, harassers and their enablers are increasingly turning to the law (in and out of court) to further intimidate, oppress and silence those who speak out about sexual violence and power abuse both within and outside of academia. It is not acceptable to simply defer to the legal threats of the powerful. As such, the legal context is weighted against victim-survivors. This is why academic publishers such as Routledge need to recognise their role within the wider academic community, and take a stance on this issue. Where publishers are profiting from publishing academic work, then they also need to take responsibility for the conditions of production of academic outputs. Academic research is produced in a context where women, LGBTQ+ people, and even men, in the Global North and South, are at risk of sexual harassment and power abuse. This context needs to be recognised in the ways that publishers work with those who write about these issues, instead of re-victimising them. Such support should include standing by authors where defamation threats are made.
Furthermore, academic freedom upholds the right of academics to freedom of inquiry - to pursue and discuss ideas related to their field. Sexual harassment and power abuse in academia is an area that is in urgent need of further analysis and inquiry, hence the publication of this book.
By signing this letter, the undersigned join in solidarity with the authors and editors of the book, in particular the authors of Chapter 12. We salute their strength and work, and support the editors and supporters of the book in calling on Routledge - Taylor & Francis Group:
to publicly state why they have removed the chapter and the book itself from their website

to reinstate chapter 12 and the book as a whole and to stand up to legal threats
If you want to sign this open letter, please add your name here. See current list of signatories below.
Signed by the authors of the book:
Anna Bull (University of York, UK), Apen Ruiz (Universitat Internacional de Catalunya, Spain), Maria Coto-Sarmiento (University of Aarhus, Denmark), Lara Delgado Anés (Junta de Andalucía, Spain), Lourdes Lopez (Lure Arqueologia, Spain), Ana Pastor Pérez (Universidad de Barcelona, Spain), Maria Yubero-Gómez (Independent Scholar), Simona Palladino (Liverpool Hope University, UK), Lena Wånggren (University of Edinburgh, UK), Laura Thurmann (University of Manchester, UK), Melanie Crofts (De Montfort University, UK), Alex Petit-Thorne (York University, UK), Natasha Mikitas (Full Stop, Australia), Suzanne Egan (Western Sydney University, Australia), Sarah Ives (City College of San Francisco, US), Ann E. Bartos (Penn State University, US), Poppy Gerrard-Abbott (University of Edinburgh, UK), Latika Raisinghani (University of Manitoba, Canada), Poonam Bhagchandani (Sharda University, India).
Signed by supporters from the wider scholarly community, in solidarity with the editors and the authors of Chapter 12:
Aaron Williams (Ireland)
Aaron Winter (Lancaster University, UK)
Aarti Ratna (UK)
Abby Barras (University of Brighton - United Kingdom)
Abhishek Sheth (Schumacher College - India)
Abraham Domínguez Madrigal (Instituto Mexicano del Seguro Social (IMSS), México)
Achim Rosemann (UK)
Adam Carter (University of Sheffield)
Adela Franze Mudano (Universidad Complutense de Madrid, España)
Adele Wessell (Southern Cross University - Australia)
Adele Wylie (University of reading, England)
Adriana Bastias Barrientos (Universidad Autónoma de Chile, Chile)
Adriana Nicolau Jiménez (Universitat de Barcelona - Spain)
Adriane Melo de Castro Menezes (Universidade Federal de Roraima, Brasil)
Adrija Dey (University of Westminster, UK; The 1752 Group)
Afonso nuno henrique martins (Universidade de Lisboa/Univerisdade da Beira Interior, Portugal)
Afsoun Afsahi (University of British Columbia, Canada)
AG KGGU Arbeitsgruppe Kritische Geographien Globaler Ungleichheiten (Universität Hamburg - Germany)
Agata Ignaciuk (University of Granada, Spain)
Agata Troost (University of Groningen, The Netherlands)
Agathe Mora (University of Sussex, UK)
Agnès Garcia-Ventura (Universitat Autònoma de Barcelona)
Agnes Stephenson (Austria)
Agnese Marcigliano (Minerva Lab - University of Roma La Sapienza - Italy)
Agustina Luvis Nunez (Puerto Rico)
Ahmed Raza memon (Cardiff university, United Kingdom)
Aidan McGlynn (University of Edinburgh - Scotland)
Ainara López Maestresalas (Universidad Pública de Navarra - España)
Ainhoa Izaguirre Choperena
Ainhoa Resa (Universidad Complutense de Madrid, España)
Aisling Walsh (University of Galway, Ireland)
Alana Lentin (Western Sydney University, Australia)
Alba Comino Comino (Universidade Nova de Lisboa - Portugal)
Alba Esperanza García López (Universidad Nacional Autónoma de México, México)
Alberto Corsín Jiménez (CSIC - Spain)
Alejandra Boni (Professor UPV, Spain)
Alejandra Saladino (Universidad Federal del Estado de Río de Janeiro, Brasil)
Alejandro Gaita Ariño (ICMol - Universitat de València - Spain)
Aleksandra Szymczyk (University of Manchester, United Kingdom)
Alena Sander (UCLouvain, Belgium)
Alessandra Ramos de Oliveira Harden (Universidade de Brasília, Brazil)
Alessia Donà (University of Trento, Italy)
Alex Charnley (independent scholar, UK)
Alex Lee (Goldsmith's, University of London)
Alexa Rae Burk (Geneva Graduate Institute, Switzerland)
Alexandra (Austria)
Alexandra D'Onofrio (University of Manchester - UK)
Alexandra Kokoli (Middlesex University London, UK)
Alexandra Panota
Alexandra Tomaselli (Eurac Research, Italy)
Alexandra Tomkins (University of Manchester, United Kingdom)
Alexandre Abreu (Portugal)
Alexandre Gustavo Melo Franco de Moraes Bahia (Universidade Federal de Ouro Preto - Brazil)
Alexandre Pichel-Vázquez (Universitat Oberta de Catalunya - Catalunya)
Alexandria Wagner (Australia)
Alexia Panayiotou (Cyprus)
Alexsandro de Sousa e Silva (UEMG Passos, Brasil)
Alf Gunvald Nilsen (University of Pretoria, Director of the Centre for Asian Studies in Africa, South Africa)
Alfredo Caro Maldonado
Alia Weston (OCAD University, Canada)
Alice Baroni (University of Padova, Italy)
Alice Bennett (Liverpool Hope University)
Alice Corble (University of Sussex, UK)
Alice Finden (Durham University, UK)
Alice Riddell (UCL - UK)
Alice von Bieberstein (Humboldt-Universität zu Berlin, Germany)
Alicia Miguélez (NOVA University, Lisbon, Portugal)
Alicia Spencer-Hall (Honorary Senior Research Fellow, Queen Mary University of London, UK)
Alicia Suárez Saiz (Universidad Complutense de Madrid - España)
Aline Mendonça dos Santos (Independent scholar, Brazil)
Alison E. Vogelaar (Switzerland)
Alison Phipps (Newcastle University, UK)
Alison Ribeiro de Menezes (University of Warwick, UK)
Alison Wilde (Leeds Trinity University - UK)
Alison Wilde (Leeds Trinity University, UK)
Alissa Meeker (USA)
Alix Dietzel (University of Bristol, UK)
Allison Kotzig (Slovakia)
Alômia Abrantes da Silva (UEPB, Brasil)
Alondra Flores Silva (University of Guadalajara, Mexico)
Alp Eren Topal (Freie University, Germany)
Álvaro Fernández-Llamazares (Universitat Autònoma de Barcelona - Spain)
Alvaro Gonzalez Crespo (Spain)
Álvaro González Molinero (Anatomical pathology department of La Fe Hospital (GVA), Spain)
Alvaro Vazquez Mantecon (Universidad Autonoma Metropolitana, Mexico)
Alwyn Jones (De Montfort University, UK)
Alyssa Sepinwall (CSUSM, USA)
Amade M'charek (University of Amsterdam, Netherlands)
Amalia Campos-Delgado (Leiden University)
Amanda Gouws (Stellenbosch University, South Africa)
Amanda Rosen (USA)
Amanda Schweinbenz (Laurentian University, Canada)
Amani Bell (The University of Sydney, Australia)
Amaya Sumpsi (New University of Lisbon, Portugal)
Amelia Fusulier (UCLouvain - Belgica)
Amna Kaleem (Sheffield University, UK)
Amparo Bonilla Campos (Universitat de València, Spain)
Amparo Lasén (Universidad Complutense de Madrid, Spain)
Amrita Datta (Bielefeld University, Germany)
Amy Paris Langenberg (Eckerd College, USA)
Amy Rogers (Durham University, United Kingdom)
Amya Agarwal (Arnold Bergstraesser Institue at the University of Freiburg, Germany)
Ana Aliende Urtasun (Universidad Pública de Navarra/Nafarroako Unibersitate Publikoa - España)
Ana Balona de Oliveira (Portugal)
Ana Bigotte Vieira
Ana Cárdenas Tomažič (Institut für Sozialforschung (IfS), Goethe-Universität Frankfurt a.M., Germany)
Ana Correia (Portugal)
Ana Cristina Aguirre Calleja (Universidad de las Américas Puebla - México)
Ana Cristina Mendes (Argentina/Brasil)
Ana Cristina Pereira (CECS - Universidade do Minho - Portugal)
Ana Cristina Pereira (CECS - Universidade do Minho - Portugal)
Ana Cristina Torres (Universidade do Porto, Portugal)
Ana Delicado (Institute of Social Sciences, University of Lisbon, Portugal)
Ana Ferreira (NOVA FCSH, Portugal)
Ana Filipa Neto do Rosário e Silva
Ana Isabel Faria Alves Sousa Pinto (I3S, Portugal)
Ana Isabel Macón Gutiérrez (España)
Ana Isabel Vieira (Portugal)
Ana Ivasiuc (Maynooth University, Ireland)
Ana Laura Zavala Guillen (University of Northumbria - The Network of Women Doing Fieldwork)
Ana Luisa Muñoz Garcia, (PUC, Chile)
Ana Luísa Patrão (Faculdade de Psicologia e de Ciências da Educação da Universidade do Porto (FPCEUP), Portugal)
Ana Margarida Dias Martins (University of Exeter, Reino Unido)
Ana Maria Veiga (UFPB, Brasil)
Ana Miškovska Kajevska (University of Amsterdam, The Netherlands)
Ana Nenadović (SOAS University of London, United Kingdom)
Ana Nunes de Almeida (Institute of Social Sciences, University of Lisbon, Portugal)
Ana Paula García Nieto (España)
Ana Rita Alves (Portugal)
Ana Silvia Monzón (USAC, Guatemala)
Ana Tamas (Romania)
Ana Teresa Venancio (Brasil)
Ana Valdivia (University of Oxford, UK)
Ana Vaz Pato (Portugal)
Ana Vidu (University of California, Berkeley - USA)
Ana Vidu (University of Deusto - Spain)
Ana-Maria Cirstea (Durham University - United Kingdom)
Anahita Arian (University of Cambridge - UK)
Anaïs Duong-Pedica (Åbo Akademi University, Finland)
Anastasiia Pustovalova (University of Tartu - Estonia)
Anders Veiteberg (Norwegian Academy of Music, Norway)
André Barata (Universidade da Beira Interior, Portugal)
Andrea Carolina U. Gómez (Universidad Autónoma Metropolitana - Iztapalapa, Perú / México)
Andrea Celinda Madrid Tamayo (Central Uniersity of Ecuador, Ecuador)
Andrea de Carvalho (Portugal)
Andrea Ford (University of Edinburgh - UK)
Andrea Hurtado Quiñones (Universidad Alberto Hurtado, Chile)
Andrea Lira (Universidad de Magallanes, Chile)
Andrea Löther (GESIS - Germany)
Andrea Melenje Argote (Universidad del Cauca, Colombia)
Andrea Reyes Elizondo (Leiden University, The Netherlands)
Andrea Summers
Andreas Bieler (University of Nottingham, United Kingdom)
Andreas Streinzer (Switzerland)
Andreas Weber (Italy)
Andrés Besserer (City University of New York, The Graduate Center, USA)
Andrew Delatolla (University of Leeds, UK)
Andrew Green (University of Warsaw - Poland)
Andrew Whitehouse (University of Aberdeen, United Kingdom)
Andriani Tsili (University of Cyprus - Cyprus)
Andy Harrod (Lancaster University, England)
Andy Williams (Cardiff University, UK)
Ane Miren Gil Pérez-Nievas (Public University of Navarre)
Aneeza Pervez (University of Nottingham, United Kingdom)
Angela Torresan (The University of Manchester)
Angélica Evangelista García (México)
Angeliki Sifaki (Newcastle University, UK)
Anika König (Freie Universität Berlin, Germany)
Anil Sindhwani (Durham University, UK)
Anke Uhlenwinkel (Paris Lodron Universität Salzburg - Austria)
Ann Gleig (University of Central Florida, US)
Anna C Rocha Silva (De Montfort University, UK)
Anna Drake (University of Waterloo, Canada)
Anna Fonoll-Tassier (Universitat Rovira i Virgili, Spain)
Anna Galeb (Universidade Federal Fluminense - Brasil)
Anna Grimaldi (University of Leeds, UK)
Anna Hájková (University of Warwick, UK)
Anna Klobucka (University of Massachusetts Dartmouth, US)
Anna Kraft (Universität Basel, Schweiz)
Anna Kraft (University of Basel, Switzerland)
Anna McFarlane (University of Leeds, UK)
Anna Meier (University of Nottingham, UK)
Anna Sanders (University of York, UK)
Anna-Mari Almila (The Sapienza University of Rome)
Anna-Maria Brandstetter (Institut für Ethnologie und Afrikastudien, Univ. Mainz, Germany)
Anna-Riikka Kauppinen (Geneva Graduate Institute, Switzerland)
Annabel Tremlett (University of Portsmouth, UK)
Annadís G. Rúdólfsdóttir (Associate Professor University of Iceland - Iceland)
Annalisa Casini (UCLouvain - Belgique)
Annalisa, Casini (UCLouvain - Belgium)
Annamaria Ruggiano (University of Oxford)
Annapurna Menon (Sheffield University, UK)
Anne Dixon (USA)
Anne Ferguson (Australia)
Anne Laure Humbert (Oxford Brookes University, UK)
anne-cécile massart (uclouvain - belgique)
Annelien Bouland (UC3M - Spain)
Annick Wibben (Swedish Defence University, Sweden)
Annick Wibben (Swedish Defence University, Sweden)
Annika Lindberg (University of Gothenburg)
Antje Falk (Freelancer, Germany)
Antonella Viola (Professor, University of Padova, Italy)
Antonia Darder (United States)
António Araújo (IHC-UNL/FCSH, Portugal)
Antonio Gori (University of Lisbon, Portugal)
Antonio Herrera Merchan (España)
Antonio Maria Pusceddu (CRIA-ISCTE - Portugal)
Antonio Pedro de Barros (ICS - Ulisboa, Portugal)
Antonio Salvador M. Alcazar III (Central European University, Phillipines)
Anukriti Dixit (University of Bern, Switzerland)
Anupama Ranawana (University of St Andrews)
Anya Topolski (Radboud University, Netherlands)
Araby Smyth (York University, Canada)
Araceli Rojas (University of Warsaw, Poland)
Araceli, Serrano (Universidad Complutense de Madrid, España)
Arianna Boldi (University of Torino - Italy)
Ariel Rabat (UMons - Belgium)
Armanc Yildiz (Humboldt Universität zu Berlin)
Arno Görgen (Institute of Design Research, BFH Bern, Switzerland)
Arnold Lubbers (The Netherlands)
Arnoud Lagendijk
Artemis Saleh (Johannes Gutenberg University, Mainz, Germany)
Arturo Escobar (University of Chapel Hill, US; Universidad del Valle / Universidad de Caldas-Manizales, Colombia)
Åsa Ekvall (Erasmus University - the Netherlands)
Åsa Gunnarsson (Umeå universitet, Sweden)
Ascisio dos Reis Pereira (Universidade Federal de Santa Maria (UFSM), Brasil)
Asena Boyadzhieva (Austria)
Asha Abeyasekera (University of York)
Asikia Karibi-Whyte
Asima Jena (University of Hyderabad - India)
Asli Vatansever (Bard College, Berlin)
Asli Zengin (Rutgers University, United States)
Assoc. Prof. Dr. Fatma Fulya Tepe (Turkey)
Assunta Süss (University of Potsdam, Germany)
Astrid Jamar (University of Antwerp, Belgium)
Astrid Ulloa (Universidad Nacional de Colombia)
Asya Karaseva (University of Tartu - Estonia)
Athanasia Francis (University of Liverpool, UK)
Aurelien Mondon (University of Bath, UK)
Austin Gage Matheney (ICTA-UAB & BCNUEJ - Spain)
Axby Loh (National University of Singapore, Singapore)
Barbara Biglia (Universitat Rovira i Virgili, Spain)
Barbara Magalhães Teixeira (Lund University, Sweden)
Barbara Meyer (KU Eichstätt, Germany)
Barbara Poggio (University of Trento - Italy)
Barbara Rothmüller (Sigmund Freud Private University Vienna, Austria)
Barbara Santibanez (EIESP, France)
Barbara Smetschka (Austria)
Bärbel Göbel-Stolz (Luxemburg)
Basia Sliwinska (Universidade Nova de Lisboa, Portugal)
Beata Bielska (Nicolaus Copernicus University in Toruń - Poland)
Beatriz Nader (LEG/UFES, Brasil)
Beatriz Pérez Galán (Universidad Nacional de Educacion a Distancia, España)
Beatriz San Román (Universitat Autònoma de Barcelona, Spain)
Beleni Saléte Grando (Universidade Federal de Mato Grosso - Brasil)
Ben Chappell (University of Kansas, USA)
Ben Fulford (University of Chester, UK)
Ben Whitham (SOAS University of London, UK)
Benedict Mette-Starke (University of Konstanz / Eberhard Karls UNiversity Tuebingen, Germany)
Bernardo Manzoni Palmeirim (University of Lisbon, FLUL, Portugal)
Bertanne Visser (University of Liège, Belgium)
Beth Maina Ahlberg (Uppsala University, Sweden)
Beth Roberts (University of Surrey, UK)
Bethan Evans (University of Liverpool, UK)
Bev Skeggs (University of Lancaster, UK)
Bhargabi Das (Shiv Nadar University, Delhi, India)
Bianca Griffani (Goldsmiths College, University of London)
Bice Maiguashca (University of Exeter - UK)
Bijan Parsia (University of Manchester, United Kingdom)
Birgan Gokmenoglu (Birmingham City University, United Kingdom)
Birte Siim (Department of Politics and Society, Aalborg University - Denmark)
Bisserka Gaydarska
Blair Rutherford (Carleton University, Canada)
Blanca Ausín (Universidad de Salamanca, Spain)
Blanca Ochoa (Universidad Complutense de Madrid - Spain)
Blessing Marandure (De Montfort University, UK)
Bocco Riccardo (The Geneva Graduate Institute, Switzerland)
Boka En (University of Vienna - Austria)
Brady DeSanti (University of Nebraska at Omaha, United States)
Branwen Spector (University College London, United Kingdom)
Brian Samuel Geyer (Michigan State University, USA)
Brianna Simmons (University of California, Riverside, United States)
Bridget Haina (State University of New York at Plattsburgh - United States)
Bridget Shaffrey (Durham University, United Kingdom)
Britt Grootes (independent scholar)
Bruna Schlindwein Zeni (Universidade de Coimbra - Portugal)
Brunilda Pali (University of Amsterdam, The Netherlands)
Bruno Zorek (IHC NOVA)
Bruno Zorek (Portugal)
BUISSON Charlotte
Bunie Matlanyane Sexwale (LESAKA La. Basadi, solidarity circle of women healing & transforming (South Afrika)
Bygonya Weatherford (USA)
Caio Gracco Pinheiro Dias (Faculdade de Direito de Ribeirão Preto da Universidade de São Paulo, Brasil)
Caitlin Biddolph (University of Sydney, Australia)
Caleb Ward (University of Hamburg, Germany)
Camila Haus (Federal University of Paraná, Brazil)
Camille Noël (Belgium)
Camille Waring (University of Westminster, UK)
Cari Tusing (Austral University of Chile and University of Copenhagen)
Carina Shenouda (Warwick Anti-Sexism Society)
Carine Lallemand (University of Luxembourg, Luxembourg)
Carlos Azevedo (The Open University, UK)
Carlos Bittencourt Leite Marques (UPE - Brasil)
Carlos Carpio Hernández (España)
Carlos Federico Lucio López (UAED-UAZ, México)
Carmen G. Gonzalez (Loyola University Chicago School of Law - USA)
Carmen Hein de Campos (Universidade Federal de Pelotas/RS Brazil, Brazil)
Carmen Mendoza Arroyo (International University of Catalonia)
Carmen Ramos Villar (University of Sheffield, UK)
Carmen Romero Bachiller (Universidad Complutense de Madrid, Spain)
Carna Brkovic(University of Mainz, Germany)
Carola Lorea (University of Tuebingen - Germany)
Carole Jones (University of Edinburgh, Scotland)
Carolina González U. (Universidad de Chile, Chile)
Carolina Meloni González (Universidad de Zaragoza, Spain)
Caroline Karlsson (Lund University, Sweden)
Carys Hill (University of Warwick, UK)
Cat Hugman (Liverpool Hope University)
Catarina Antunes Costa (IHC (Instituto de História Contemporânea da Universidade Nova de Lisboa - Portugal)
Catarina Barata (Institute of Social Sciences, University of Lisbon, Portugal, Portugal )
Catarina Boieiro (Portugal)
Catarina Casimiro Trindade (Mukadzi - Colaboratório Feminista, Moçambique)
Catarina Frade Moreira (Portugal)
Catarina Isabel Martins (Centre for Social Studies, University of Coimbra, Portugal)
Catarina Sales (UBI - Portugal)
Caterine Galaz (Universidad de Chile, Chile)
Catherine D'Ignazio (MIT, USA)
Catherine Ebenezer (United Kingdom (Wales))
Catherine J. Denial (Knox College, USA)
Catherine Strong (RMIT University, Australia)
Catherine Walsh (Universidad Andina Simon Bolivar, Ecuador)
Catherine Whittaker (Goethe-Universität Frankfurt, Germany)
Cathrine Degnen (Newcastle University, UK)
Cátia Alexandra Alves Figueiredo (Portugal)
Catrin Lundström (Linköping University, Sweden)
Catriona Gold (University College London)
Cavidan Soykan (Independent researcher, Turkey)
Cécile Leblanc (UCLouvain - Belgium)
Celia Díaz (Universidad complutense de Madrid)
Céline Barry (Technische Universität Berlin, Germany)
celine jeitani
Charikleia Tzanakou
Charlene Beukes-Mabaso, (Director of the Gender Equity Office, University of the Witwatersrand)
Charles des Portes (University of Leeds, UK)
Charles Masquelier (University of Exeter, Uk)
Charlotte Beyer (University of Gloucestershire, UK)
Charlotte Bosseaux (University of Edinburgh, Scotland)
Chelsea Gray (George Mason, USA)
Chenchen Zhang (Durham University, United Kingdom)
Chiara De Cesari (University of Amsterdam - The Netherlands)
Chiara Martucci (Independent scholar, Italy)
Chiara Montalti (University of Salento, Italy)
Chika Watanabe (University of Manchester - UK)
Chloe Dominique (UCL)
Chong Liu (University of Leeds, UK)
Chris Hables Gray (UCSC retired, California)
Christa Hämmerle (University of Vienna, History Department, Austria)
Christelle Rabier (EHESS, France)
Christiane Meyer-Habighorst (University of Zurich - Switzerland)
Christina Scharff (King's College London, UK)
Christine Preiser (University Hospital Tübingen, Germany)
Christoph Günthr (University of Erfurt, Germany)
Christopher J. Levesque (University of West Florida, United States)
Ciara Breathnach (Ireland)
Cihangir Can (University of California, Los Angeles)
Cilia M. Willem (Universitat Rovira i Virgili - Spain)
Cimara Valim de Melo (IFRS, Brazil)
Cindy McCulligh (CIESAS - Mexico)
Claire Blencowe (University of Warwick, UK)
Claire Boardman (University of York, UK)
Claire Hancock (Université Paris-Est Créteil, France)
Claire McGing (IADT Dun Laoghaire, Dublin, Ireland)
Claire Penketh (Liverpool Hope University - UK)
Claire Ruffio (Université Paris 1 Panthéon-Sorbonne, France)
Clara Guilló Girard (Universidad Complutense de Madrid, Spain)
Clarissa J. DiSantis (Durham University, UK)
Clarissa Menezes Jordão (Federal University of Parana, Brasil)
Claudia Brunner (University of Klagenfurt, Austria)
Cláudia de Jesus Maia (Universidade Estadual de Montes Claros, Brasil)
Claudia Gertraud Schwarz (Karl Landsteiner University - Austria)
Claudia Kasper (500 Women Scientists Switzerland)
Claudia Padovani (University of Padova, Italy)
Claudia Pazos Alonso (University of Oxford, UK)
Claudia Pereira Vasconcelos (UNEB Universidade do Estado da Bahia, Brasil)
Claudia V. Grados Bueno (Perú)
Clémence Peitt (UCLouvain - Belgium)
Clemens Pitschke (None, Germany)
Clive Gabay (Queen Mary University of London, UK)
Colin Evrard (Belgium)
Collective of Women Victims of Harassment at Centre for Social Studies (CES) (Brazil, Portugal, Mexico and Peru)
Columba Achilleos-Sarll (University of Birmingham - UK)
Connie Tell (The Feminist Art Project, U.S.)
Conny Roggeband (University of Amsterdam, Netherlands)
Coral Bullón (Universidad de Salamanca)
Corrinne Sullivan (Western Sydney University - Australia)
Cory Duarte Hidalgo (Universidad de Atacama, Chile)
Cristian Palazzi (Universitat Autònoma de Barcelona, España)
Cristina (Italia)
Cristina de Pedro Álvarez (Universidad Complutense de Madrid)
Cristina Del Biaggio (Université Grenoble Alpes, Laboratoire Pacte, France)
Cristina del Villar-Toribio (Universidad de Sevilla, Spain)
Cristina L. Duarte (CICS.NOVA, Portugal)
Cristina Leston-Bandeira (University of Leeds, UK)
Cristina Rocha (Western Sydney University, Australia)
Cristina Sá Valentim (ICS, University of Lisbon, Portugal)
Cristina Santinho (CRIA, ISCTE-IUL, Portugal)
Cristina Val Peón
Crystal McKinnon (University of Melbourne - Australia)
Cynthia Cuza (USA)
Dallemagne Grégory (Université catholique de Louvain - Belgium )
Dan Rebellato (Royal Holloway, University of London, UK)
Danai Avgeri (University of Cambridge, UK)
Daniel Fernandes (Portugal)
Daniel Grey (University of Hertfordshire, UK)
Daniel J. Mallinson (Penn State Harrisburg, United States)
Daniel Morales-Armstrong (USA)
Daniel Read (Kingston University - United Kingdom)
Daniel Reyes Lara (Universidad de Guadalajara, México)
Daniel Ribas (Universidade Católica Portuguesa, Portugal)
Daniel Salvador Barroca (Portugal)
Daniel Villegas González (Universidad de La Laguna, España)
Daniela Heim (Universidad Nacional de Río Negro, Argentina)
Daniela Hofmann (University of Bergen)
Daniela Jauk-Ajamie (The University of Akron - United States)
Daniela Miranda Prado (Chile)
Daniela Pascual Cáceres (INAH, México)
Daniela Rodrigues (Idemec - Aix-Marseille Université, Portugal)
Daniela Zaikoski Biscay (Universidad nacional de La Pampa - Argentina )
Daniele Valisena (University of Liege - Belgium)
Danièle Zucker ( Belgium)
Danna Aduna (Philippines)
Danny Evans (Liverpool Hope University, UK)
Danushka S Medawatte (University of Colombo, Sri Lanka)
Darcy Alexandra (University of Bern - Switzerland)
Darcy Tetreault (Universidad Autónoma de Zacatecas, Mexico)
Dário Dinis
Darja Wolfmeier (University of Bayreuth, Germany)
David Gibson Frier (University of Leeds, Portugal)
David Hopwood (Vancouver Island University, Canada)
David Laichtman (Sophia University, Japan)
David Llamo Martín (España)
David M. Mittelman (USA)
David Spurrett (University of KwaZulu-Natal, South Africa)
David Treece (King's College London - United Kingdom)
David Wearing (University of Sussex - UK)
Davide Schmid (Manchester Metropolitan University, UK)
Dawid Bastiat-Jarosz (Graduate Institute Geneva, Switzerland)
Dawn Llewellyn, Associate Professor of Religion and Gender (University of Chester, UK)
De Neutere Patrick (Pr. émériteUniversité de Louvain (Belgique) - Belgique)
Débora Ávila (Universidad Complutense de Madrid, Spain)
Debra Bergoffen (George Mason University)
Delayna Spencer (UK)
Denisse Lillo-Sierra (University of Warwick, Chile)
des. Jonah Garde (University of Bern, Switzerland)
Devrim Eren (Germany)
Diana Cordoba (Queen's University, Canada)
Diana Janušauskienė (Lithuanian Centre for Social Sciences, Lithuania)
Diana Raquel de Carvalho e Barbosa (Instituto de História Contemporânea — Universidade Nova de Lisboa - Portugal)
Diana West (CRIA, Portugal)
Dídio Pestana (Portugal)
Diego A. Padilla Vassaux (Universidad Carlos III de Madrid, Spain)
Diego J. Gantus (Universidad Nacional de Rosario, Universidad Nacional de Entre Ríos, Argentina)
Dietrich Judicaelle (Lyon University - France)
Digno Montalván Zambrano (Universidad Carlos III de Madrid, Ecuador)
Dinong Phaswana (University of South Africa, South Africa)
Diogo Ramada Curto (UNL- FCSH, Portugal)
Dipali Anumol (The Fletcher School, Tufts University)
Dipbuk Panchal (University of Warwick, UK)
Dirk Voorhoof (Emeritus, Ghent University, Belgium)
Djamila Andrade (Moçambique)
Domingos Sávio Pimentel Siqueira (Federal University of Bahia - Brazil)
Dominic Schmitz (Heinrich Heine University Düsseldorf, Germany)
Donna Chung (Curtin University, Australia)
Donna Eastham (Leeds Trinity University - UK)
Dorothée Boulanger (University of Oxford, United Kingdom)
Dörte Lerp (Freie Universität Berlin, Germany)
Douglas Scofield (Uppsala University, Sweden)
Dubravka Zarkov (Institute of Social Studies, The Hague)
Duygu Altınoluk (Türkiye)
Dylan Asafo (University of Auckland, New Zealand)
Ea Høg Utoft (Radboud University, Netherlands)
Edithe Antoine (UClouvain - Belgium)
Eduarda Rovisco (CRIA-ISCTE, Portugal)
Eduardo Ascensão (CEG-IGOT, Universidade de Lisboa, Portugal)
Eduardo Méca Castro (INESCTEC, Porto, Portugal)
Edurne Goñi (Basque Country)
Eila Isotalus (University of Eastern Finland)
Eileen L. Rivas-Garcia
Ela Callorda Fossati (UCLouvain - Belgium)
Elaine Reis Brandão (Federal University of Rio de Janeiro - Brazil)
Elaine Swan (University of Sussex, UK)
Elaine Teo (Living Potential International, United Kingdom)
Eleanor K. Jones (University of Southampton - UK)
Eleanor T. Higgs (Brunel University London, UK)
Elena Borisova (University of Sussex, UK)
Elena Casado Aparicio (Universidad Complutense de Madrid, Spain)
Elena D Concepción (Museo Nacional de Ciencias Naturales, CSIC, Spain)
Eleni Gelasi (University of Cyprus - Greece)
Eli Melby (University of Bergen - Norway)
Eliana Ramos Ferreira (UFPA/Pará, Brasil)
Elías Sánchez Cañadillas (Postdoctoral at University of La Laguna, Spain)
Élida Laurís (Independent scholar, Brazil)
Eline de Jong (University of Antwerp - Belgium)
Elisa Lopes da Silva (Institute of Contemporary History - NOVA FCSH, Portugal)
Elisa Scaraggi (NOVA FCSH)
Elisabet Rasch (Wageningen University - The Netherlands)
Elisabeth Bäschlin (Switzerland)
Elisabeth R Nelson (USA)
Elise Pinol (Sciences Po - France)
Elissa Mailänder (Sciences Po Paris, France)
Elizabeth Challinor (CRIA-NOVA, Portugal)
Elizabeth Elliott (University of Aberdeen, UK)
Elizabeth Ewart (University of Oxford - United Kingdom)
Elizabeth Quay Hutchison (The University of New Mexico - USA)
Elizabeth Sumida Huaman (University of Minnesota, Twin Cities - United States)
Elizabeth Tomos (Falmouth University, UK)
Ella Houston (U.K)
Ella Rees (University of West of England, UK)
Ellen Desmet (Ghent University - Belgium)
Ellen Green
Ellie Barker (University of Manchester, United Kingdom)
Elsa Lechner (CES - Portugal)
Elsa Maurício Childs (Portuga)
Elvia González del Pliego (Programa de Género e Inclusión, IBERO cdmx , Mexico)
Elvira Mateos Carmona (Profesora Asociada Universidad - España)
Elvira Wepfer
Elzbieta Korolczuk (Södertörn University & University of Warsaw)
Emanuela Girei (Liverpool John Moores University - UK)
Emilie HIRT (Belgium )
Emilie Morin (University of York, UK)
Émilie Oléron Evans (Queen Mary, University of London, United Kingdom)
Emilio G. Berrocal
Emily Charlotte Gray (Germany)
Emily Collins
Emily Gray (RMIT University - Australia)
Emily Jones (Newcastle University, UK)
Emily Nicholls (University of York, UK)
Emma Casey (University of York, UK)
Emma Katz (Durham University, United Kingdom)
Emma Maslin
Emma Rainey (Linkoping University, Sweden)
Emma Sheppard (Aberystwyth University)
Emma Swai (United Kingdom)
Emma-Louise Anderson (University of Leeds, UK)
Emny Nsaif (PUC Minas, Brazil)
Enrico Mora (Universitat Autònoma de Barcelona)
Enrique Moral de Eusebio (Universitat Pompeu Fabra, Spain)
Enya Doyle
Erdmute Alber (University of Bayreuth - Germany)
Erika Smith (Western Sydney University - Australia)
Erin Hurt (West Chester University - United States)
Erin O'Donnell (University of Melbourne, Australia)
Erzsebet Strausz (Central European University, Austria)
Esteban Piedra León (Costa Rica)
Esther Mcintosh (York St John University, United Kingdom)
Esther Perez Asensio (Spain)
Estibaliz Linares (University of Deusto, Spain)
Ethemcan Turhan (University of Groningen, Netherlands)
Eudora Kobenan (Université Libre de Bruxelles - Belgique)
Eva Bidegain (Independiente - Argentina)
Eva Brems (Ghent University, Belgium)
Eva Garcia Chueca (Barcelona Ombudsman Office, Spain)
Eva Theunissen (Masaryk University)
Eva-Maria Svensson (University of Gothenburg, Sweden)
Evren Karakaya (Koç University, Türkiye)
Exequiel Antilao Carilao (Universidad Católica de Temuco - Chile)
Ezea Chambal Nhampoca (Moçambique)
Fabia Fernandes Carvalho (Federal University of São Paulo (UNIFES) - Brazil)
Fabián Cevallos Vivar (Faculty of Fine Arts, University of Lisboa, Portugal)
Fabiana Cristina Severi(Universidade de São Paulo, Brasil)
Fabio Bertoni (Universidade de Lisboa, Portugal)
Fabio Santos (University of California, Berkeley, and Freie Universität Berlin)
Fabrice Schurmans (Portugal)
Fabrice Virgili (CNRS-Paris 1 Panthéon Sorbonne, France)
Facundo García Valverde (Universidad de Buenos Aires – CONICET, Argentina)
Fadi Ennab (Vanier Scholar/PhD Student, University of Manitoba, Canada)
Fafate Costa (Instituto de Ciências Humanas e Sociais da Universidade Federal Rural do Rio de Janeiro, Brazil)
Faiz Sheikh (University of Sussex, UK)
Fallen Matthews (Dalhousie University, Canada)
Farah Deruelle (University of Toulouse, France)
Farhana Sultana (Professor, Syracuse University, United States)
Farhat Ullah (University of Warwick)
Farid Leonardo Suárez (University of Texas at Austin, US)
Farnush Ghadery (London South Bank University, UK)
Fataneh Farahani (Stockholm University - Sweden)
Fatemeh (Mahla) Alizadeh (University of Siegen - Germany)
Fatima Farina (Universitá di Urbino, Italy)
Fatma Fulya Tepe (Turkey)
Fatma Muge Gocek (University of Michigan, USA)
Federico Venturini (University of Udine, Italy)
Fefa Vila Núñez (UCM, Spain)
Felipe Brandi (IHC-UNL/FCSH)
Felipe Mallea Toledo (Universidad Alberto Hurtado - Chile)
Felizitas Juen (Switzerland/Germany)
Fernanda Campanini (Spain)
Fiammetta Bonfigli (University of Vienna)
Filipa César (Staatliche Hochschule für Gestaltung Karlsruhe, Germany)
Filipa Mariana Morais Pereira (Portugal)
Filippo Zerilli (University of Cagliari - Italy)
Fiona Jenkins (The Australian National University, Australia)
Fiona Potter (University of Manchester, UK)
Fiorenzo Polito (Scuola Normale Superiore (SNS) - Italy)
Flávia Souza Máximo Pereira (Universidade Federal de Ouro Preto - Brasil)
Flora Renz (University of Kent, UK)
Florian Bach (Stanford University, USA)
Francesca Esposito (Border Criminologies)
Francesca Helm (University of Padova, Italy)
Francesca Tosi (University of Bologna, Italy)
Francilene dos Santos Rodrigues (Universidade Fedral de Roraima, Brasil)
Francisca Reina (Portugal)
Francisco Bethencourt (King's College London, UK)
Francisco Javier Rueda Córdoba (Universidad Complutense de Madrid, Spain)
Frantzeska Zerva (Liverpool Hope University, United Kingdom)
Franziska Reiffen
Fraser King (UK)
Frederic Heine (Johannes Kepler Universität Linz)
Fredrik Nyman (Mid Sweden University, Östersund - Sweden)
Friedemann Yi-Neumann (University of Göttingen - Germany)
Gabriel/le du Plessis (University of Warwick - UK)
Gabriela Aguilar Martín (Universidad de Guadalajara, México)
Gabriela Hernandez De La Fuente (University of Kent, UK)
Gabriele Griffin (Uppsala University, Sweden)
Gaetano Marco Latronico (Centre for Social Studies, University of Coimbra, Italy)
Gaia Giuliani (Centre for Social Studies, University of Coimbra, Portugal)
Gaide, Aden (Maître de conférence - université de Tours, France)
Galarza Prieto, Henrike (UPNA-NUP Public University of Navarre)
GALICY (Ucl - Brussel)
Garazi López de Aguileta Jaussi (University of Wisconsin-Madison - España)
Garjan Sterk (Radboud University, The Netherlands)
Gaylene Armstrong (US)
Gema Duarte Abós (Universitat Rovira i Virgili, Tarragona - España)
Gemma Green (University of Chichester, UK)
George Lawson (Australian National University, Australia)
Georgina Gnan
Georgina Preston (University of British Columbia, Canada)
Gerado de la Fuente Lora (National Autonomous University of México, México)
Gesine Wegner (TU Dresden, Germany)
Ghazal Asif Farrukhi (LUMS University)
Giacinti, Margot (ENS de Lyon, France)
Gibson Ncube (Stellenbosch University, South Africa)
Gillian Shorter (Queen's University Belfast)
Gina Gwenffrewi (University of Edinburgh - Scotland)
Gina Torres Zambrano (Emiratos Árabes Unidos)
Giovanna Vingelli (Università della Calabria, Italy)
Gisela Carrasco (España)
Gisela Doria (Independent scholar, Brazil)
Giselle Bernard (EUI)
Giti Chandra (Gender equality Studies and Training programme, Reykjavik, Iceland)
Giulia Bonanno (Sapienza Università di Roma)
Giulia Carabelli (Queen Mary University of London, UK)
Giulia Strippoli (Lisboa)
Glaucy Hellen Herdy Ferreira Gomes (Instituto de Pesquisa em Planejamento Urbano e Regional/Universidade Federal do Rio de Janeiro, Brasil)
Glen Pennington (Liverpool Hope University, UK)
Glòria CASAS VILA (Université Toulouse 2 Jean Jaurès, France)
Godwin Kornes (Museum Natur und Mensch, Freiburg, Germany)
Goldie Osuri (University of Warwick, UK)
Gonzalo ácaro Sagüés (Universidad Complutense de Madrid, Spain)
Gonzalo Aranda Jiménez (Universidad de Granada, España)
Gonzalo Garcia-Castro (Universitat Pompeu Fabra - Spain)
Gonzalo Pérez Andrade (London Metropolitan University, United Kingdom)
Gorana Mlinarevic (Bosnia and Herzegovina)
Gordon Asher (University of Glasgow)
Graham Towl (Durham University, UK)
Gráinne McMahon (University of Huddersfield - United Kingdom)
Graziella Moretto (Portugal)
Grecia Eugenia Rodríguez Navarro (Observatorio de Conflictos Mineros de Zacatecas - México)
Greg Herman
Greg Johnson (Eastern Oregon University, USA)
Greg Wolfman (Independent researcher, UK)
Gregor Dobler (University of Freiburg, Germany)
Guilhem Corot (EHESS - France)
Guiomar Rovira Sancho (Universitat de Girona, Spain)
Gustavo Vicente (Faculdade de Letras da Universidade de Lisboa, Portugal)
Guth Sabine (ENSA Nantes, France)
Haley McEwen (University of Gothenburg, Sweden)
Hanna Hacker (University of Vienna, Austria)
Hanna L. Mühlenhoff (University of Amsterdam)
Hannah Ayres (University of Warwick, UK)
Hannah Bartels (Hamburg University)
Hannah Boast (University of Edinburgh, UK)
Hannah Crossley (University of Greenwich, United Kingdom)
Hannah Jones (University of Warwick, UK)
Hannah Link (University of Mainz - Germany)
Hannah Richards (Cardiff University, UK)
Hannah Winther (Norwegian University of Science and Technology, Norway)
Hannah Yelin (Oxford Brookes University, UK)
Hansjörg Dilger (Institute of Social and Cultural Anthropology, Freie Universität Berlin, Germany)
Harleen Kaur (ASU, US)
Harriet Curtis (De Montfort University, Leicester, UK - )
Harry R. McCarthy (University of Exeter, United Kingdom)
Hazel Sayer (University of Essex, United Kingdom)
Heba Islam (Johns Hopkins University, US)
Heide Hammer (Medizinische Universtiät Wien, Austria)
Heleen Zorgdrager (Protestant Theological University - Netherlands)
Helen Aadnesgaard (The Netherlands)
Helena Suárez Val (Data Against Feminicide & Feminicidio Uruguay - Uruguay)
Hélia Pereira Marçal (UCL, United Kingdom)
Helma Lutz (Goethe University Frankfurt, Germany)
Heloisa Buarque de Almeida (USP - Universidade de São Paulo, Brasil)
Henri Myrttinen (University of Bremen - Germany)
Henrique Tavares Furtado
Henrique Tavares Furtado (UWE Bristol, UK)
Henrique Vilao (Universidade da Beira Interior - Portugal)
Hilary Owen (University of Oxford/University of Manchester, UK)
Hilary Robinson (Loughborough University - UK)
Hillary Hiner (Universidad Diego Portales, Chile)
Holly Bee (University of Leicester - United Kingdom)
Honey Crespo (Liverpool Hope University, UK)
Howard Stones (Retired: formerly of Leeds Beckett University, United Kingdom)
Hugo Ribeiro Mota (University of Oslo)
Hyo Yoon Kang (University of Warwick - United Kingdom)
Ian Barnard (Chapman University - USA)
Ian Cook (AllegraLab-Anthropology of Radical Optimism)
Iara Antunes de Souza (Universidade Federal de Ouro Preto - Brasil)
Ibrahima Diop (Sociologo y antropologo, España)
Ida Danewid (University of Sussex)
Ignacio Fradejas-García (University of Oviedo)
Ignacio Martínez (Universidad Complutense de Madrid, España)
Igor Cusack (Independent, Ireland)
Ilenia Iengo (BCNUEJ - ICTA, Universitat Autònoma de Barcelona. - Italy)
Ilse Claassen (University of Groningen - The Netherlands)
Inês Beleza Barreiros (Portugal)
Ines Cordeiro Dias (University of Leeds, UK)
Inês David (Portugal)
Inés del castillo (Universidad de Castilla-La Mancha, España)
Ines Duran Matute (CIESAS-Occidente, Mexico)
Inês Ponte (ICS-ULisboa, Portugal)
Inês Sapeta Dias (IHC - Universidade Nova de Lisboa, Portugal)
Inês Vieira da Silva Ferreira Leite (Portugal)
Inês Vieira Gomes (ICS-ULisboa, Portugal)
Inge Boudewijn (Northumbria University, UK)
Inger Høedt-Rasmussen (Legal Human Academy)
Ingo Rohrer (Albert-Ludwigs-University Freiburg, Germany)
Inna Yaneva-Toraman (Heriot-Watt University - UK)
Iqra Shagufta Cheema (Graceland University, US)
Ira Vovos (Mozambique)
Iratxe Perea Ozerin (Universidad del País Vasco/ Euskal Herriko Unibertsitatea)
irem güven (pardubice university - Turkey)
Irene Moreno Medina (Universidad Autónoma de Madrid - Spain)
Irma Lammers (Vrije Universiteit Amsterdam, the Netherlands)
Isaac Hoff (University of Glasgow)
Isabel Bredenbröker (Humboldt Universität Berlin - Germany)
Isabel Casimiro(University Eduardo Mondlane, president of CODESRIA, Mozambique)
Isabel Ferreira Gould (USA)
Isabel Hernandez Pepe (Scuola Normale Superiore - Italy)
Isabel Maria Cortesão Casimiro (Centro de Estudos Africanos, Universidade Eduardo Mondlane e Presidente do CODESRIA, Mocambique)
Isabel Ventura (CEMRI, Universidade Aberta, Portugal)
Isabel Wences (España)
Isabela Dourado
Isabelle Anguelovski (Institute for Environmental Sciences and Technology, Universitat Autònoma de Barcelona - Spain)
Isabelle Ferreras (FNRS/University of Louvain - Belgium)
Isadora Cruxen (Brazil)
Isaura Castelao-Huerta (Unviersidad Nacional Autónoma de México - México)
Isla Emery-Whittington (University of Auckland, New Zealand)
Itzel San Roman Pineda (University of Sheffield - The Network of Women Doing Fieldwork)
Itziar Ruiz-Gimenez. Arrieta (Universidad Autónoma Madrid - Spain)
J M Moore (Wales)
Jacinthe Mazzocchetti (UClouvain - Belgique)
Jacob Nielsen (Robert Gordon University)
Jacqueline Fowks De la Flor (Perú)
Jacqueline Moraes Teixeira (UNB - Brasil)
Jaime Almansa-Sánchez (INCIPIT-CSIC - Spain)
Jaime Puig Guisado (Universidad de Sevilla, Spain)
Jairo I Fúnez-Flores (Texas Tech University, USA)
James C Faris (retired - USA)
James Cole (University of Brighton, United Kingdom)
Jamie Martin (Wits Centre for Diversity Studies - South Africa)
Jan Surman (Masaryk Institute and Archives of the Czech Academy of Sciences - Czechia)
Jana Bacevic (Durham University, UK)
Jane Chevous (Survivors Voices, UK)
Jane K. Cowan (University of Sussex, UK)
Janet G. Hering (Emerita, Eawag / ETH Zurich / EPFL - Switzerland)
Janina Marguc
Jaqueline Sant'ana Martins dos Santos (UFRJ, Brazil)
Jasmin Kunze (Technische Universität Wien, Austria)
Jason Stewart (U.K)
Javier Sánchez Monedero (Universidad de Córdoba, Spain)
Javier, Sánchez Martínez (Universitat Autònoma de Barcelona, Spain)
Jay Szpilka (SWPS University, Poland)
Jeanette Ehrmann (Humboldt-Universität zu Berlin, Germany)
Jeannett Martin (University of Goettingen - Germany)
Jeffrey Whyte (Lancaster University, United Kingdom)
Jelena Vicentic (University of Belgrade)
Jen Pedersen (Canada)
Jen Remnant (University of Strathclyde, Scotland)
Jenna Condie (Western Sydney University, Australia)
Jenna Mittelmeier (University of Manchester, UK)
Jennifer Johns (University of Bristol, UK)
Jenny Rodriguez (University of Manchester, UK)
Jenny van Hooff (Manchester Metropolitan, United Kingdom)
Jerika Loren Heinze (Fieldwork Initiative, Global)
Jess Bier (Erasmus University Rotterdam, Netherlands)
Jess Egan (Leeds Trinity University - UK)
Jessica Budds (University of Bonn - Germany)
Jessica Gagnon (University of Manchester - England)
Jessica Guth (UK)
Jessica O'Donnell (Northumbria University, UK)
Jessica Wild (University of Westminster, UK)
Jessica Wren Butler (Imperial College London, UK)
Jessie Daniels (City University of New York, US)
Jessika Eichler (Max Planck Institute)
Jimi Thaule (University of Agder, Norway)
Jitka Ostrakova (formerly Danish cancer society research center - Denmark)
Jo Bluen (London School of Economics)
Jo Brewis (The Open University, UK)
Jo Krishnakumar (SOAS, University of London, UK)
Joana Alexandra da Silva Neves (Portugal)
Joana Craveiro (Escola Superior de Artes e Design, Caldas da Rainha, Portugal)
Joana Sousa (Centre for Social Studies, University of Coimbra, Portugal)
Joanna Bourke (Birkbeck, University of London, UK)
Joanna Drugan (Heriot-Watt University, UK)
João Pedro d'Alvarenga (UNL - FCSH, Portugal)
João Pedro George (Instituto de Relações Internacionais- UNL/FCSH, Portugal)
Joaquín Andrés Benitez (Universidad de Buenos Aires - Argentina)
Joaquin Gomis Cebolla (UPV - Spain)
Jody Crutchley (Liverpool Hope University, UK)
Joe Turner (University of York, UK)
Joelle Meyer (University of Cape Town, South Africa)
Johan Lyhagen (Uppsala University - Sweden)
Johannes Waldmüller (University of Vienna - Austria)
John Gledhill (The University of Manchester, United Kingdom)
John McTague (University of Bristol, UK)
John Reynolds (Maynooth University - Ireland)
John Schaefer (Miami University (Ohio), USA)
Jon Swords (University of York, UK)
Jon Winfield (UK)
Jonathan Dean (Leeds University, UK)
Jonathan Hicks (University of Aberdeen - Scotland)
Jonathan Wroot (University of Greenwich, United Kingdom)
Jooyin Saejang (Thailand)
Jordana Goldmann (Germany)
Jordi Bonet (Universitat de Barcelona, Spain)
Jorge Manuel Vide da C-unha Martins (Portugal)
Jorge Sánchez Morales
Jorge Vaz Gomes (Universidade de Lisboa, Portugal)
Joschka Köck (Universität Kassel, Deutschland)
José Ángel Brandariz (University of A Coruna, Spain, EU)
José Fonseca (Portugal)
José J. Baldoví (University of Valencia - Spain)
José Luis Terrón Blanco (Spain)
José M. Pérez-Agote Aguirre (Universidad Pública de Navarra, España)
Joseph E Hiller (Duke University, USA)
Joshua Bernstein (University of Southern Mississippi - USA)
Joshua Gulam (Liverpool Hope University, UK)
Josie Wildman (Australia)
Jowita Radzińska (Poland)
Joyce Aparecida Pires (UNESP, Brasil)
Juan Felipe Castaño Quintero (Colombia)
Juan Forero Duarte (University College London, Colombia)
Juan Guevara
Juan José Ponce Vázquez (University of Alabama, USA)
Judit Csobod (University College Dublin)
Judit Varga (Leiden University)
Judith Goetz (University of Innsbruck, Austria)
Judith Krauss (University of York, UK)
Judy Thorne (University of Manchester, UK)
Jul Tirler (Austria)
Julia Aramendi (University of Cambridge)
Júlia Garraio (University of Coimbra, Portugal)
Julia Leser (Humboldt University Berlin - Germany)
Julia Lux (Germany)
Julia Nina Baumann (Freie Universität Berlin, Germany)
Júlia Pascual Bordas
Julia Sarju (University of York, UK)
Julia Schöneberg (University of Kassel, Germany)
Julia Schwab (Justus-Liebig University Giessen - Germany)
Julia Suárez-Krabbe (Roskilde University, Denmark)
Julia, Fernández Pérez (TU Wien - Austria)
Juliana Adono da Silva (Unesp/Ueg, Brasil)
Juliana Aguilera Lobo (UNICAMP - Universidade Estadual de Campinas, Brasil)
Juliana Krohn (Austria)
Julie Billaud (Geneva Graduate Institute, Switzerland)
Julie Jarty (Toulouse Jean Jaurès University, France)
Julie Libarkin (Michigan State University, US)
Julieta Mira (Universidad de Buenos Aires, Argentina)
Julio César Díaz Calderón (Universidad Nacional Autónoma de México, Mexico)
June Starkey (University of Toronto - Canada)
K. Eliza Williamson (Washington University in St. Louis, USA)
Kai McMillan (UK)
Kaitlyn Woolf (New York University, USA)
Kaitlynn Mendes (Western University, Canada)
Kali Carmichael (USA)
Kali Thompson (UK)
Kalpana Wilson (Birkbeck, University of London, UK)
Kanchana N Ruwanpura (University of Gothenburg, Sweden)
Kaoana Sopelsa (Brasil)
Kara Oxford
Karen Boyle (Strathclyde University, UK)
Karen Cuthbert (University of Glasgow, UK)
Karen Hardcastle-Rad (University of Leeds, UK)
Karen Lorimer (Glasgow Caledonian University, Scotland)
Karen Throsby (Leeds University, UK)
Karin Matko (University Medicine Greifswald, Germany)
Karmini Pillay and Joel Quirk, Co-Chairs of the Gender Equity Advisory Committee (University of the Witwatersrand, South Africa)
Karolien van Teijlingen (Radboud University - The Netherlands)
Karoline Buchner (Freie Universität Berlin, Germany)
Kate Carruthers Thomas (Birmingham City University, UK)
Kate Clayton-Hathway (Oxford Brookes University, UK)
Kate Devlin (King's College London, UK)
Kate Hardy (Leeds University, UK)
Kate Louise Mathis (University of Edinburgh, UK)
Kate Sang (Heriot-Watt University, UK)
Katharina Fritsch (Centre de recherche sociologique sur le droit et les institutions pénales (Cesdip/Guyancourt) - France)
Katharina Schmidt (Universität Hamburg, Germany)
Katharina Seeber (Université catholique de Louvain - )
Katharine Adeney (University of Nottingham, UK)
Katherine Allen (University of Suffolk - UK)
Kathleen Openshaw (Western Sydney University, Australia)
Kathleen Pleasants (University of Melbourne - Australia)
Kathrin Thiele (Utrecht University, The Netherlands)
Kathryn Sanchez (University of Wisconsin, Madison, USA)
Kathy Dodworth (University of Edinburgh)
Katia Favilla (Universidade de Lisboa - Portugal)
Katie McQuaid (University of Leeds)
Katiuscia Moreno Galhera (Universidade Estadual Paulista (Unesp), Brasil)
Katja Girr (Universität Bonn, Germany)
Katrin Meyer (Universität Zürich, Schweiz)
Katrin Singer, Institute of Geography, University Hamburg, Germany)
Katta Spiel (TU Wien - Austria)
Katy Brown (Maynooth University, Ireland)
Katy Pilcher (Aston University, UK)
Kavita Ramakrishnan (University of East Anglia)
Kaye Towlson (De Montfort University, UK)
Kelana Wisnu Sapta Nugraha (Institute of Alternative Informations and Arts Development, Indonesia)
Kent Taylor (United States)
Kevin K. Birth (Queens College, CUNY, United States)
Khursheed Wadia (University of Warwick, UK)
Kieron Bradley Turner (University of Western Sydney, Australia)
Kilian Spandler (University of Gothenburg, Sweden)
Kim Allen (Leeds University, UK)
Kimberly Theidon (Tufts University, US)
Kirstein Rummery
Kirsten Ainley (Australian National University)
Kirsten Campbell (Goldsmiths College, UK)
Kirstin Smith (University College London, UK)
Kirsty Bolton (University of Southampton, UK)
Kirsty McGregor (University of Brighton, UK)
Kordula Knaus (University of Bayreuth)
Kudakwashe Vanyoro (University of the Witwatersrand, South Africa)
Kudzaiishe Vanyoro (University of the Witwatersrand, South Africa)
Kumars Salehi (Oklahoma State University - USA)
Kumud Rana (Lancaster University, UK)
Ladan Rahbari (University of Amsterdam, Netherlands)
Lara Barbosa Cordeiro de Melo (Brasil)
Lata Narayanaswamy (Leeds University, UK)
Latife Akyüz (European University Viadrina, Germany)
Laura Bea (University of Southampton, UK)
Laura Burocco (CRIA-ISCTE, Portugal)
Laura Clancy (Lancaster University, UK)
Laura considine (University of Leeds, UK)
Laura Graham (Northumbria University, UK)
Laura Heath-Stout (Stanford University - USA)
Laura Loyola-Hernández (University of Leeds, UK)
Laura Merla (UCLouvain - Belgium)
Laura Morrón Ruiz de Gordejuela (España)
Laura Waite (Liverpool Hope University, UK)
Lauren Dempster (Queen's University Belfast - United Kingdom)
Lauren Wilcox (University of Cambridge, UK)
Laurence WHITESIDE (University Paris Dauphine, France)
Layal Ftouni (Utrecht University, Netherlands)
Lea Emmenegger
Leah Burch (Liverpool Hope University, UK)
Leah Gilman (University of Sheffield, UK)
Leah Greenwood (University of Central Lancashire - UK)
Leigh Downes (The Open University)
Leilane Menezes Rodrigues (Michigan State University, Brasil)
Leire Gartzia (University of Deusto, Spain)
Lena Merkle (University of Magdeburg, Germany)
Leora Naomi Ovadia (University of Colorado Denver)
Leslie de Galbert
Letizia Bonanno (Independent Scholar, UK/ France)
Lewis Turner (Newcastle University, UK)
Lexie Davis
Leyla Chávez Arteaga (México)
Leyla Gimalieva (National University of Singapore, Singapore)
Lezley George (Kingston University, UK)
Lianne Mulder (Netherlands)
Lidia Kuzemska (Forum Transegionale Studien)
Lídia Possaz (Universidade Estadual Paulista/ UNESP, Brasil)
Liesbeth Schoonheim (Humboldt University Berlin)
Lili Schwoerer (Oxford Brookes University, UK)
Lilia Kilburn (Harvard University, USA)
Liliana Coutinho (Portugal)
Liliana Graciete Fonseca Rodrigues (Universidade do Porto - Portugal)
Lina Lozano -Ruiz (Colombia)
Linda Briskman (Western Sydney University, Australia)
Lindsay Bewick (UK)
Lingchen Huang (University of Oxford, UK)
Lisa Herzog (University of Groningen - Netherlands)
Lisa Märcz (University of Lugano, Switzerland)
Lisa Mary Armstrong (University of Glasgow, Scotland)
Lisa Mense (University of Duisburg-Essen, Germany)
Lisa Tilley (SOAS University of London, UK)
Lisanil da Conceição Patrocínio Pereira (Brasil)
Liz Ablett (University of Newcastle, UK)
Liz Doughty (De Montfort University, UK)
Liz Ellis (University of the Highlands and Islands, Scotland)
Liz McDonnell (Sussex university - UK)
Liza Caruana-Finkel (University of Liverpool, UK)
Lizbeth Zhingri (Ecuador)
Lize Mills (De Montfort University, UK)
Loes Veldpaus (Newcastle University - UK)
Lorea Romero Gutiérrez (Universidad de Deusto, Spain)
Lorena Estefanía, Rosaleny Peralvo (Instituto de Ciencia Molecular, Universitat de València, Spain)
Lorena Fernández Álvarez (España)
Louise du Toit (Stellenbosch University, South Africa)
Louise Willocx (UCLouvain - Belgium)
Louise Wilson (Liverpool Hope University, UK)
Loveday Hodson (University of Leicester, United Kingdom)
Luca Dörr (Germany)
Luca Lamonaca (Italy)
Lucas Platero (Universidad Rey Juan Carlos, Spain)
Lucia Amorosi (Scuola Normale Superiore, Italy)
Lucía Cobo Sánchez (Universidad de Algarve)
Lúcia Fernandes (Centre for social studies, University of Coimbra, Portugal)
Lucia Mair (University of Vienna - Austria)
Lucía Ruano Posada (Universidad Complutense de Madrid - España)
Lucía Sánchez Varas (University of Antwerp - Belgium)
Luciana Anna Longo (independent researcher)
Luciana Carvalho Fonseca (Universidade de São Paulo & Universität Leipzig, Germany)
Luciana Cristina Teixeira de Souza (Universidade do Estado da Bahia, Brasil )
Luciane Lucas dos Santos (Centro de Estudos Sociais, Universidade de Coimbra, Portugal)
Lucila Finkel (Complutense University of Madrid, Spain)
Lucilla Lepratti (University of Bayreuth, Germany)
Lucinda Towler (University of Warwick, UK)
Lucrezia Canzutti (King's College London, UK)
Lucy Cooper (UK)
Lucy Hanson (Liverpool Hope University, UK)
Lucy Harding (Royal College of Physicians - UK)
Lucy Hinnie (IASH, University of Edinburgh, United Kingdom)
Lucy Martin (Prev University of York, UK)
Lucy Nicholas (Western Sydney University, Australia)
Luisa Calvete Portela Barbosa (SOAS University of London)
Luísa de Pinho Valle (Centre for Social Studies, University of Coimbra, Portugal)
Luísa Jacinto (Portugal)
Luise Erbentraut (Independent Scholar, Berlin)
Lukas Daniel Klausner (St. Pölten University of Applied Sciences, Austria)
Lupicinio Iñiguez-Rieda (Universitat Autònoma de Barcelona, Spain)
Lut Mergaert (Yellow Window, Belgium)
Luz Ma. Martínez (UAB, Catalunya, España)
Lydia Gil (Social Media en Investigación - España)
Lyla Mehta (Institute of Development Studies, UK)
Lynette Pretorius (Monash University - Australia)
M C Patricia Morales (Belgica)
M. Brinton Lykes, PhD (Boston College, Center for Human Rights & International Justice - USA)
Mª Mar Galindo Merino (Universidad de Alicante, Spain)
Maarit Laihonen (University of Eastern Finland - Finland)
Maddie Breeze (Queen Maragret University, UK)
Madeleine Le Bourdon (University of Leeds, UK)
Madison Dave (Université de Mons - Belgique)
Madita Standke-Erdmann (King's College London)
Maeve McKeown (University of Groningen, The Netherlands)
Mafalda Carapeto
Mafe Moscoso (BAU, Cataluña)
Magali Legast (UCLouvain - Belgium)
Magdalena Díaz Gorfinkiel (Universidad Carlos III, Spain)
Magdalena Kania Lundholm (Dalarna University, Sweden)
Maggie Humm (University of East London - United Kingdom)
Maija-Eliina Sequeira (University of Helsinki - Finland)
Maike Melles (Germany)
Maire Ni Mhordha (Maynooth University - Ireland)
Maísa Medeiros Pacheco de Andrade
Maísa Medeiros Pacheco de Andrade (Universidade de Coimbra)
Maísa Medeiros Pacheco de Andrade (Universidade de Coimbra)
Maite López Flamarique (Universidad Pública de Navarra - Spain)
Maja Brandt Andreasen (University of Stavanger, Norway)
Maja Zonjić (Te Herenga Waka / Victoria University of Wellington, Aotearoa / New Zealand)
Mamusu Kallon (United Kingdom)
Manuel Espinel Vallejo (Universidad Complutense de Madrid, España)
Manuela Boatcă (University of Freiburg, Germany)
Manuela Guilherme (Centre for Social Studies, University of Coimbra, Portugal)
Manuela Ribeiro Sanches
Maphori Sebesho (South Africa)
Mar Sánchez Fernández (University of Surrey, UK)
Mar Vergara Martín (Universiteit Leiden, España)
Mara A. Silva Hope (PhD Student/University of Warwick, UK)
Mara Dicenta (United States)
Marçal de Menezes Paredes (Pontificia Universidade Católica do Rio Grande do Sul, Brazil)
Marcel Obst (Sheffield Hallam University, UK)
Marcela Mandiola (Instituto de Estudios Criticos, México, Chile)
Marcella Corsi (Sapienza University of Rome, Italy)
Márcia Maria de oliveira (Universidade Federal de Roraima, Brasil)
Marcio Telles (Universidade Tuiuti do Paraná, Brazil)
Marco Madella (Universitat Pompeu Fabra - Spain)
Margareta Lelea (German Institute for Tropical and Subtropical Agriculture)
Margarida Vale de Gato (Universidade de Lisboa, School of Arts and Humanities, Portugal)
Margot Herster
Margot Pujal Llombart (Departamento Psicología Social. U.A.B. BARCELONA. ESPAÑA, España)
Margrit Shildrick (Stockhl;m University, Sweden)
Marguc Petra (Ecole d'architecture ENSA Nantes Université, France)
Mari Luz Esteban (Universidad del País Vasco, Spain)
Maria Adriana Deiana (Centre for Gender in Politics Queen's University Belfast, UK)
María Arnal (Universidad Complutense de Madrid, Spain)
María Bustelo (Universidad Complutense de Madrid - España)
Maria Ceci Misoczky (Universidade Federal do Rio Grande do Sul, Brasil)
Maria de Fátima Pereira Dinis (Portugal)
María de los Ángeles Ríos Zuluaga (Red Nacional de Mujeres, Colombia)
Maria de lurdes Pereira Rosa (Portugal)
Maria do Mar Pereira (University of Warwick, UK)
Maria Elena Indelicato (Centre for Social Studies, University of Coimbra)
María Eugenia Martínes De Ita (Benemérita Universidad Autónoma de Puebla, México)
Maria Francisca Bacelar Begonha de Alvarenga (Portugal)
Maria Gabriela Lopez-Yanez (Independent scholar, Ecuador)
María González Béjar (Universitat de València - Spain)
Maria Helena Santos (Iscte - Instituto Universitário de Lisboa, Cis-Iscte, Portugal)
María J. Pando Canteli (Spain)
Maria João Calisto da Silva Guardão (Portugal)
Maria João Faustino (Portugal)
María José Figuerero (Instituto de Arqueología, UBA, Argentina)
Maria José Lobo Antunes (ICS-ULisboa, Portugal)
Maria Karagianni (Aristotle University of Thessaloniki, Greece)
María Leo (Instituto de Ciencias Agrarias ICA-CSIC, Spain)
María López Belloso (University of Deusto, Spain)
Maria Luisa Coelho (University of Oxford, United Kingdom)
Maria Manuela Cruz Reis Góis (Portugal)
Maria Manuela Moreira Gens (Universidade do Porto, Portugal)
Maria Margaroni (University of Cyprus - Cyprus)
María Pilar Aquino (University of San Diego)
María Pilar Rodriguez (Universidad de Deusto, Spain)
María Rico (Archaeologist - Spain)
María Riot (AMMAR, Argentina)
María Sánchez Fernández (Universidad Autónoma de Barcelona, Spain)
Maria Silvestre Cabrera (Spain)
María Soledad Balsas (CONICET, Argentina)
Maria Sulimma (University of Freiburg)
María Teresa Lobo de Dueñas (Spain)
María-Pilar Aquino (University of San Diego - United States)
Marialina Côgo Antolini (MSU, Brazil)
Marian Duggan (University of Kent, United Kingdom)
Marián Garrido
Mariana Mora (CIESAS - Mexico)
Mariana R. Mora (Universidad de Costa Rica, Costa Rica)
Marianne Blidon (université Paris 1 Panthéon Sorbonne)
Marianne Gunderson (University of Oslo - Norway)
Mariano Féliz (CONICET/ UNLP, Argentina)
Maribel Blázquez Rodríguez (Complutense University of Madrid, España)
Marie Carlier (UCLouvain - Belgium)
Marie Deridder (UCLouvain - Belgium)
Marie Deridder (UCLouvain - Belgium)
Marie Hansen-Couturier (Protestant Theological University - Netherlands)
Marie Kerguelen (University of Manchester, UK)
Marie-Benedicte Dembour (Ghent University, Belgium)
Marieke van Vugt (University of Groningen, The Netherlands)
Mariela González Casanova (Universidad Autónoma Metropolitana UAM – Iztapalapa, México)
Mariela Montiel (University of Manchester, UK)
Marijke Naezer (Independent researcher, The Netherlands)
Marina Cuesta (Texas, Estados Unidos)
Marina Fischer (Berlin Social Science Center, Germany)
Mario André Correia Teles do Carvalhal (Portugal)
Mario Espinoza Pino (Universidad de Granada, España)
Mario G. Aguilera (Max Planck Institute for Social Anthropology - Ecuador/Germany)
Mario Pelaez Fernandez (Instituto de Nanociencia y Materiales de Aragón - Spain)
Marion Tillous (Université Paris 8 Vincennes Saint-Denis, France)
Marisa Matias Carvalho Silva (Portugal)
Marissa Luca (Temple University, USA)
Mariya Ivancheva (University of Strathclyde, UK)
Marjaana Jauhola (Tampere University, Finland)
Mark Carrigan (University of Manchester, UK)
Mark Taylor (Sheffield University, UK)
Marketa Dolezalova (University of Leeds, UK)
Markus Holdo (Lund University, Sweden)
Marlise Matos (Universidade Federal de Minas Gerais / UFMG Brasil, Minas Gerais)
Marta Conde (CSRM, University of Queensland - Australia)
Marta Díaz-Zorita Bonilla (University of Tübingen, Germany)
Marta Domínguez Pérez (UComplutense Madrid, España)
Marta Elena Casaus Arzú (Fundación María y Antonio Goubaud Carrera - Guatemala)
Marta Ezquerecocha Diez (Univeristy of Deusto, Spain)
Marta Havryshko (Clark University, US)
Marta Hlad (Belgium)
Marta Lança (Portugal)
Marta Leite (Portugal)
Marta Macho-Stadler (España)
Marta Pérez (Universidad Complutense de Madrid, España)
Marta Pinto de Carvalho (Portugal)
Marta Pinto Machado (Institute of Contemporary History, Universidade NOVA de Lisboa, Portugal)
Marta Soler (University of Barcelona - Spain)
Martha Shearer (University College Dublin, Ireland)
Martijn van Beek (Aarhus University, Denmark)
Martin A. Kayman (Prof. Emeritus) (Cardiff University; formerly Universidade de Coimbra)
Martin Findell (University of Nottingham, UK)
Martin Nadarzinski (Goethe-Universität Frankfurt a.M. - Germany)
Mary Cooper
Mary Peterson (University of Hamburg, Germany)
Marycarmen Lara Villanueva (University of Toronto, Canada)
Maryna Shevtsova (KU Leuven, Ukraine (Belgium))
Marysia Zalewski (Cardiff UK)
Masa Mrovlje (University of Leeds - UK)
Mateo Martínez Abarca (Independent Scholar, Ecuador)
Matheus de Carvalho Matos Barroso (Universidade Federal Fluminense, Brasil)
Matheus Serva Pereira (Portugal)
Matilda Arvidsson (University of Gothenburg, Sweden)
Matthew A.L. Gault (United Kingdom)
Matthew Canfield (Leiden Law School, Netherlands)
Matthew Evans (University of Sussex - UK)
Maureen McBride (University of Glasgow, UK)
Mauricio Hashizume (UnirG/Uninassau, Brazil)
Max Kirk (Sheffield Hallam University)
Max Schnepf (Freie Universität Berlin, Germany)
Max Steuer (O.P. Jindal Global University and Comenius University in Bratislava, India and Slovakia)
Maximiliane Uhlich
Mayne Souza Benedetto (Institute of Social Sciences - ICS - ULisboa, Portugal)
Meghan R. Donnelly (University of San Diego - United States)
Meghan Tinsley (University of Manchester, UK)
Melanie McCarry (University of Strathclyde, Scotland)
Melanie O'Brien (University of Minnesota - United States)
Melanie Richter-Montpetit (University of Sussex, UK)
Mélanie Toulhoat (Instituto de História Contemporânea (NOVA FCSH))
Melina C. Kalfelis (University of Bayreuth - Germany)
Melina Teubner (Universität Bern - Schweiz)
Mélissa Berthet (University of Zürich, Switzerland)
Melissa García-Lamarca (Polytecnic of Turin - Italy)
Melissa Leal (Sierra College - USA)
Melissa Nolas (Goldsmiths, University of London, United Kingdom)
Melissa Weiner (College of the Holy Cross, USA)
Members of the Decolonial Feminist Collective within the EU-COST Action "Decolonising Development" (DecolDEV) DECOLONISING DEVELOPMENT – COST ACTION
Mercedes Milán Cano (España)
Meredith Jones (Brunel University London, UK)
Merili Pullerits (City, University of London - United Kingdom)
Meryem Choukri (University of Warwick, UK/Germany)
Mia Liyanage (University of the Arts London)
Michael Byram (Durham, England)
Michael Stasik (University of Basel, Switzerland)
Michaela Collord (University of Nottingham, UK)
Michela Giovannini (University of Trento, Italy and Centre for Social Studies, Coimbra (PT))
Michele Paule (Oxford Brookes University, UK)
Michelle Hak Hepburn (UBC - Canada)
Michelle Y. Gordon (Emory University - USA)
Miguel Ángel Pulido Lendínez (Investigador predoctoral en fotónica, España)
MIguel Edgardo VIcente Trotta (Argentina)
Miguel Filipe Vilela de Oliveira PInto da Silva (Faculdade de Letras da Universidade do Porto, Portugal)
Miguel Vale de Almeida (Portugal)
Milagros F. Morcillo Arencibia (Universidad de Córdoba, España)
Millicent Churcher (Freie Universitat Berlin, Germany)
Mílton Ribeiro (Universidade do Estado do Pará, Brasil)
Minna Salminen-Karlsson (Uppsala University, Sweden)
Miranda Christou (University of Cyprus - Cyprus)
Miranda Horvath (University of Suffolk, UK)
Miranda Horvath (University of Suffolk, United Kingdom)
Mireya Márquez Ramírez (Universidad Iberoamericana Ciudad de México - Mexico)
Mirliana Ramírez-Pereira (Universidad de Chile, Chile)
Mirna Tonus (Universidade Federal de Uberlândia, Brasil)
Miteia Roca Zeberii (Euskal Herriko Unibertsitatea)
Moises de Souza (University of Central Lancashire, UK)
Mollie Bryde-Evens (Liverpool John Moores University - UK)
Molly Manister (Durham University)
Molly Rainard (USA)
Mónica Ávila Currás (Vrije Universiteit, Netherlands)
Mònica Clua Losada (United States)
Mónica Dávila (Ecuador)
Monica Mukerjee
Mónica Sofia Lopes Aresta (Portugal)
Monika Maślikowska (University of Zurich - Switzerland)
Monise Martinez (Centro de Estudos Sociais da Universidade de Coimbra, Portugal)
Monish Bhatia (University of York, UK)
Montserrat Abad Castelos (Universidad Carlos III de Madrid, España)
Montserrat Sagot (Universidad de Costa Rica, Costa Rica)
Morag Rose (University of Liverpool - UK)
Moritz Peter Hermann (University of Trier - Germany)
Muhammad Yaseen (Pakistan)
Muneeb Ul Lateef Banday (University of Bern)
Mwenza Blell (Newcastle University - UK)
Myriam Houssay-Holzschuch (Université Grenoble Alpes, France)
Nacira GUÉNIF (University Paris 8 - LEGS, Saint-Denis, France)
Nadja Monnet (Ecole Nationale Supérieure d'Architecture de Marseille - France)
Naoise Murphy (Maynooth University, Ireland)
Naomi Lawson Jacobs (United Kingdom)
Natã Souza Lima (Núcleo Azulilás/Universidade Federal do Amazonas (UFAM), Brasil)
Natacha Bastiat-Jarosz (Belgium)
Natália Cabanillas (Universidade da integração Internacional da Lusofonia Afrobrasileira- UNILAB, Brazil)
Natália de Souza Lisbôa (Universidade Federal de Ouro Preto - Brasil)
Natália Moreira dos Reis
Natalia Tsoumpra
Natalie Hendry (University of Melbourne - Australia)
Natalie Jester (University of Gloucestershire, United Kingdom)
Natalie Scholz (University of Amsterdam, Netherlands)
Natalija Atas (UK)
Nathanaëlle Soler (IRD - France)
Neil Warner (London School of Economics)
Nekbet Corpas (UCM, Spain)
Nella van den Brandt (Coventry University, UK)
Nellie Konijnendijk (Belgium)
Nevien Kerk (Ludwig Maximilian University, Munich, Germany)
Ng Qian Qian (National University of Singapore, Singapore)
Ngozi Anyadike-Danes
Nichola Khan (University of Edinburgh)
Nicholas Smith (Dep. of Philosophy, Södertörn University, Sweden)
Nick Bernards (University of Warwick, UK)
Nick Cherryman (University of Warwick, UK)
Nick Hubble (Brunel University London, UK)
Nickie Charles (University of Warwick, UK)
Nicola De Martini Ugolotti (Bournemouth University, UK)
Nicola Pratt (University of Warwick, UK)
Nicola Rivers (SOAS, UK)
Nicole Bedera
Nicole Boivin (Max Planck Institute for Geoanthropology - Germany)
Nida Denson (Western Sydney University, Australia)
Nieberding (UCLouvain - Belgium)
Niharika Pandit (Queen Mary University of London, UK)
Nikhaela Wicks (University of Kent, UK)
Nikki Godden-Rasul (Newcastle University - UK)
Nilmini Fernando (Griffith University, Australia)
Nina Bries Silva (EUI - Belgium)
Nina del Carmen León Siza (Universidad Nacional de Educación, Ecuador)
Nina Fraeser (Centre for Interdisciplinary Women's and Gender Studies, Technical University Berlin - Germany)
Nina Torres-Vidal (Profesora Emerita - Puerto Rico)
Nioe Víquez Moreno (Universidad de Costa Rica, Costa Rica)
Noelia Lozano (UK)
Noemi Alfieri (Universidade Nova de Lisboa, Portugal)
Noemi Magugliani (de:border // migration justice collective and University of Kent, United Kingdom)
Noémie Evrard (UCLouvain - Belgium)
Nóra Séllei (Hungary)
Norah Kiereri (Aix Marseille University - Kenya)
Nuno Domingos (Portugal)
Nuno Medeiros (Faculdade de Letras da Universidade de Lisboa, Portugal)
Nuno Miguel Negroes Soares (Portugal)
Nuray Aridici
Nuria Aguilar (Spain)
Núria Molines Galarza (Universitat Jaume I, España)
Núria Sadurní Balcells (Universitat de Girona - Catalonia)
Nuriluz Hermosilla Osorio (Arqueóloga Universidad de Chile, Chile)
Nykoll Pinilla-Portino (IOE-UCL, UK)
Ofelia Meza-Escobar (University of Sheffield, UK)
Olena Kushyna (Centre for Ethics, University of Pardubice, Czechia)
Olga Klamut (Poland)
Olga Ntsah (UCLOUVAIN, Belgium)
olivier Fillieule (University of Lausanne, Switzerland)
Órla Meadhbh Murray (Durham University, UK)
Óscar Barrio (Universidad Complutense de Madrid)
Oscar Farley (Queen Mary, University of London, United Kingdom)
Owen Barden (Liverpool Hope University, England)
Pablo Garaizar (Universidad de Deusto, España)
Pablo Ornelas Rosa (Universidade Vila Velha - UVV - Brasil)
Pablo Santoro Domingo (Universidad Complutense de Madrid, España)
Pádua Fernandes (Instituto de Pesquisa Direitos e Movimentos Sociais, Brasil)
Paloma Cárdenas (Université Paris-Saclay)
Pam Lowe (Aston University, UK)
Pamela Moya Carrera (Université de Sherbrooke - Canada)
Pamela saavedra (University of Warwick, UK)
Pamila Gupta (University of the Free State, South Africa)
Panagiota Kotsila (Universitat Autònoma de Barcelona, Spain)
Paola Minoia (Università di Torino, Italia)
Paola Mitra
Pascale Schild (University of Bern, Switzerland)
Pascale Vielle (UCLouvain - Belgium)
Pat O'Connor (University of Limerick, Ireland)
Patrícia Alves de Matos (CRIA-ISCTE-IUL, Portugal - Portugal)
Patricia Balvanera (Universidad Nacional Autónoma de Mexico, Mexico)
Patrícia Izar (Universidade de São Paulo, Brasil)
Patrícia Magalhães Ferreira (International Development Consultant, Portugal)
Patrícia Pimentel (Freelance translator, Portugal)
Patrícia Portela (Associação Cultural Prado - Portugal)
Patricia Santos Hansen (Portugal)
Patrick Durusau (Independent scholar, USA)
Patrycja Buxton (University of Stavanger, Norway)
Patsilí Toledo (Universitat Pompeu Fabra, Spain)
Paul Gilbert, (University of Sussex, UK)
Paul Quartermain (Australia)
Paul Rekret (Liverpool Hope University, UK)
Paula Caspão (CET-FLUL, University of Lisbon)
Paula Cristina Nunes Ventura (Portugal)
Paula Hollstein Barria (University of Warwick, UK)
Paula Serafini (Queen Mary University of London)
Paule Pastré
Paulo Catrica (IHC Univ. Nova, Lisboa, Portugal)
Paulo Cunha (Portugal)
Paulo Jorge Pinto Raposo (Departamento de Antropología Iscte - Portugal)
Pavan Malreddy (Goethe University Frankfurt)
Pavao Parunov (University of Zadar, Croatia)
Paz Ramirez Valiente (Universidad de la Rioja, University of Nottingham - Spain & UK)
Pedro Aires Oliveira (FCSH-UNL, Portugal)
Pedro Alexandre Guerreiro Martins (Instituto de História Contemporânea, Portugal)
Pedro dos Santos (Simon Fraser University, Canada)
Pedro Manuel Pacheco Afonso Goulão (Escritor/Guionista, Portugal)
Pedro Manuel Sobral Pombo (Malta)
Pedro Schacht Pereira (USA)
Pedro Silva Rocha Lima (University of Manchester, United Kingdom)
Peter Doran (School of Law, Queens University Belfast - United Kingdom)
Peter E. Marshall (University of Kent, UK)
Peter Hill (Northumbria University, UK)
Peter J. Woods (University of Nottingham, United Kingdom)
Peter J.T. Verheijen (Delft University of Technology - The Netherlands)
Peter Mayo (University of Malta - Malta)
Peter Mayo (University of Malta - Malta)
Peter Miller (University of Amsterdam - Netherlands)
Peter North (University of Liverpool, UK)
Petra Meier (University of Antwerp - Belgium)
Philipp Altmann (Universidad Central del Ecuador, Ecuador)
Phoebe Reilly (University of Glasgow, Scotland)
Phyllis S. Johnson (Augustana University, US)
Pilar Parra (Universidad Complutense de Madrid, Spain)
Piyush Pushkar (University of Manchester)
Polly Pallister-Wilkins (University of Amsterdam, Netherlands)
Pooja Sawrikar (Scholar Freedom, Australia)
Poppy Budworth (University of Manchester, UK)
Poulami Somanya Ganguly (Queen Mary University of London)
PRévost Héloïse (Université de Toulouse, France)
Priscyll Anctil Avoine (Lund University - Sweden)
Proshant Chakraborty (School of Global Studies, University of Gothenburg, Sweden)
Pushpesh Kumar (UOH, Hyderabad, India)
Q Manivannan (University of St Andrews, Scotland)
Rachael Gilmour (Queen Mary University of London, United Kingdom)
Rachael Owens (Durham University, United Kingdom)
Rachel Davies (De Montfort University, UK)
Rachel Evans (De Montfort University, United Kingdom)
Rachel Killean (University of Sydney Law School - Australia)
Rachel Lewis (Warwick University, UK)
Rachel O'Neill (London School of Economics (LSE) - UK)
Rachel Pain (Newcastle University, UK)
Radhika Govindrajan (University of Washington, US)
Ralitsa Hiteva (University of Sussex, UK)
Ram Tiwari (Nepal)
Rama Mohana Turaga (Indian Institute of Management Ahmedabad, India)
Ramil Zamanov (Charles University)
Raphael Nowak (University of York, UK)
Raquel Carvalheira (FCSH-UNL, Portugal)
Raquel Güereca Torres (Universidad Autónoma Metropolitana, México)
Raquel Martín Álvarez (Spain)
Raquel Royo Prieto (Universidad de Deusto, España)
Raquel Schefer (Sorbonne, France)
Raquel Wiggers (Universidade Federal do Amazonas, Brasil)
Rasa Kamarauskaitė (UCL)
Rasha Abdulhadi
Rashmi Varma (University of Warwick - United Kingdom)
Raul Pacheco-Vega (FLACSO Mexico)
Raúl Valencia Ruiz (México)
Ravi K Thiara (University of Warwick, UK)
Ray Buckner (Northwestern University)
Rayssa Neves (Universidade de Coimbra, Portugal)
Razan Ghazzawi (Oregon State University, USA)
Rebecca De Souza (University of Stirling, UK)
Rebecca Fish (Lancaster University, UK)
Rebecca Franco (University of Amsterdam, the Netherlands)
Rebecca Gordon (University of the West of Scotland, UK)
Rebecca Harrison (Open University, UK)
Rebecca J. Wray (Leeds Beckett University, United Kingdom)
Rebecca Jones (University of Strathclyde, Scotland)
Rebecca Ruth Gould (SOAS, University of London, UK)
Rebecca Smyth (Ireland/UK)
Rebecca Waxman (University of California, Los Angeles, USA)
Rebecca Williams (University of Hull, UK)
Red Feminista de las Ciencias Sociales en Chile (Chile)
Redi Koobak (University of Strathclyde - United Kingdom)
Regev Nathansohn (Sapir College - Israel)
Regina Muhlhauser (Hamburg Foundation for the Advancement of Research and Culture)
Reinaldo Cintra (Independent scholar, Brazil)
Rhian Elinor Keyse (Birkbeck, University of London, UK)
Ria Cheyne (Liverpool Hope University)
Ricardo Falcão (CEI-Iscte, Portugal)
Riccarda Flemmer (University of Tübingen - Germany)
Rich Moth (Royal Holloway University of London, UK)
Richard Cleminson (University of Leeds, UK)
Richard Hall (De Montfort University, UK)
Richard Taws (University College London, UK)
Richelli Afonso (EHESS, France)
Riikka Prattes (Monash University, Australia)
Rina K. Yamamoto (Norway)
Rishita Nandagiri (King's College London, UK)
Rita Alcaire (CES - University of Coimbra, Portugal)
Rita Campos (Centre for Social Studies, University of Coimbra - Portugal)
Rita Kesselring (University of St Gallen, Switzerland)
Rita Luís
Rita Reis (Instituto de Ciências Sociais - Universidade de Lisboa, Portugal)
Rita Schaefer
Ritwika Basu (Durham University, UK)
River Ujhadbor (King's College London - UK)
Robert Chapman (Durham University, UK)
Robert F. Carley (Texas A&M University)
Roberta Altin (University Trieste - Italy)
Roberta Gregoli (Consultant)
Roberto Catello (Liverpool Hope University, UK)
Robin Hadley (Manchester Metropolitan University, UK)
Robin L. Turner (Butler University, USA)
Rocío Gajardo (France)
Rocío Martínez Vivot (BIOMED - UCA - CONICET - Argentina)
Rodrigo Lacerda (Portugal)
Rodrigues, Mauro (Brazil)
Rogério Nuno Costa
Rohi Jehan (University of Manchester)
Rohini Sen (Jindal Global Law School/University of Warwick)
Rolando Vazquez Melken (Utrecht University, Netherlands)
Romina Palacios (Paris Lodron Salzburg University)
Rommy Anabalon Schaaf (University College London)
Ronald Hartz (Universität Duisburg-Essen, Germany)
Ronaldo Munck (Dublin City University/Universidad de Buenos Aires, Ireland/Argentina)
Roosa Rytkönen (University of Birmingham)
Rosa Colmenarejo Fernández (Universidad Loyola Andalucía - Spain)
Rosa López Aguilar (Universidad de Guadalajara, México)
Rosa Martínez González (Universidad de Zaragoza, España)
Rosalba Icaza (Erasmus University of Rotterdam, Netherlands)
Rosalind Beaumont (Newcastle University, UK)
Rose Ernst (University of Warwick, UK)
Rosemary Deem (Royal Holloway University, UK)
Rosemary Overell (The university of Otago, Aotearoa / New Zealand)
Rosi Smith (De Montfort University, UK)
Roxana Chiappa (Assistant professor, Universidad de Tarapacá - Chile)
Roxanne Douglas (University of Exeter - UK)
Roxanne Douglas (University of Exeter, UK)
Roxanne Khan (University of Central Lancashire - UK)
Roy Thaniago (Geneva Graduate Institute - Switzerland/Indonesia)
Rozemarijn van Dijk (University of Antwerp - Belgium)
Rubén Ayala Suárez (Universidad de Alcala, España)
Rüdiger Seesemann (University of Bayreuth - Germany)
Rui Belo Ribeiro (Universidade da Beira Interior, Portugal)
Rui Cidra (Portugal)
Rui da Silva (Centro de Estudos Africanos da Universidade do Porto, Portugal)
Rui Lopes (Instituto de História Contemporânea, NOVA-FSCH)
Rui Macedo
Rute Andreia Lourenço Gomes (Portugal)
Ruth Holliday (Leeds University, UK)
Ruth Lewis (Northumbria University - UK)
Ruth Pearce (University of Glasgow, UK)
Ruth Sheldon (King's College London - UK)
Rylan Verlooy (Antwerp University)
Saara Särmä (Tampere University, Finland)
Sabina García Peter (Freie Universität Berlin, Germany)
Sabine Grenz (UUniversität Wien/Humboldt-Universität zu Berlin)
Sabrina Marchetti (Ca' Foscari University of Venice, Italy)
Sabrina Mittermeier (University of Kassel, Germany)
Sabrina Moro (University of Otago, New Zealand)
Sadhvi Dar (Queen Mary University of London, UK)
Sadie Watson (MOLA, UK)
Sadiq S. Habib (Portugal)
Sahar D. Sattarzadeh
Sahar Jamfar
Sahizer samuk (Italy)
Sally Matthews (Rhodes University, South Africa)
Salomé Lopes Coelho (NOVA University Lisbon, Portugal)
Salvador Cardona Serra (Universitat de València - Spain)
Sam Hardy (NIKU, UK)
Samantha Drake (UK)
Samer Abdelnour (University of Edinburgh, Scotland, UK)
Samer Hassan (Universidad Complutense de Madrid & Harvard University - Spain)
Samira Marty (Binghamton University - USA)
Samuel Ballin (Radboud University, Netherlands)
Samuel Gerald Collins (Towson University, USA)
Samuel Mercer (Liverpool Hope University, UK)
Samuele Grassi (Monash University Prato Centre - University of Florence, Italy)
Sana Rizvi (Liverpool John Moores University, UK)
Sancho Silva
Sandeep Bakshi (Université Paris Cité, France)
Sandra Arencón Beltrán (Universidad de Sevilla, España)
Sandra Caballero Guillemot (España)
Sandra Rudman (Konstanz University, Germany)
Sandra Santos-Fraile (Universidad Complutense de Madrid - España)
Sandra Swart (Stellenbosch University, South Africa)
Sandy Tubeuf (Université catholique de Louvain - Belgium)
Sangeeta Bagga-Gupta (Jönköping University - Sweden)
Sanskriti Sanghi (United Kingdom)
Santiago Irribarra Palet (University of Manchester, UK)
Santiago Slabodsky (Hofstra University, US)
Sara A. Thornton (WWT, UK)
Sara Ahmed (Independent Scholar, UK)
Sara Araújo (Centre for Social Studies, University of Coimbra, Portugal)
Sara Cagliero (Universitat Rovira i Virgili - Spain)
Sara Carrasco Granger (Rey Juan Carlos University - Spain)
Sara Clavero (TU Dublin, Ireland)
Sara de Jong (University of York, UK)
Sara Eloy Cardoso Rodrigues (ISCTE-IUL, Portugal)
Sara García-Morales Hurtado (MARE-FCUL; Universidade de Lisboa, Portugal)
Sara Isabel Magalhães FPCE (Universidade do Porto, Portugal)
Sara Koopman (Kent State University, US)
Sara Marsham (Newcastle University, UK)
Sara Mendonça Brito
Sara Orbe de la Hoz (España)
Sara Pinheiro (Portugal)
Sarah Barnard (UK)
Sarah Bernstein (Strathclyde University, UK)
Sarah Bracke (University of Amsterdam, Netherlands)
Sarah Burton (University of Aberdeen, UK)
Sarah Casey (Australia)
Sarah Featonby (Loughborough University - England)
Sarah Godfrey (University of East Anglia, UK)
Sarah Gonzalez-Lopez (Seminario Evangélico de Puerto Rico - Puerto Rico)
Sarah Hughes (Northumbria University)
Sarah Jayne Williams (Liverpool John Moores University - UK)
Sarah Joss (Heriot-Watt University, Scotland)
Sarah Liu (University of Edinburgh, Scotland)
Sarah M Hall (University of Manchester, UK)
Sarah Raine (University College Dublin - Ireland)
Sarah Ringler (Retired public school teacher, USA)
Sarah Werner Boada (University of Warwick - United Kingdom)
Sarah-Jo Lee (De Montfort University, UK)
Sarita Malik (Brunel University - UK)
Saskia Papadakis (Royal Holloway, University of London, UK)
Saskia Pieterse (Netherlands)
Saskia Stachowitsch (Central European University, Austria)
Sassan Gholiagha (European-University Viadrina Frankfurt (Oder), Germany)
Satnam Virdee (University of Glasgow, UK)
Saumya Pandey (Chr. Michelsen Institute, Norway and Ghent University, Belgium)
Sebastian Conrad (FU Berlin, Germany)
Sébastien Antoine (Maynooth University / UFRGS, Ireland/Brazil)
Sébastien Bachelet (University of Manchester UK)
Ségdae Richardson-Read (University of Liverpool - UK)
Segun Micheal Aleshinloye (Nigerian Defence Academy, Nigeria)
Selma Rodal Linares (Universidad Nacional Autónoma de México, México)
Sen Raj Manchester (Metropolitan University, UK)
Seo-Young Chu (CUNY, US)
Sepulchre Sarah (Université catholique de Louvain - Belgique)
Seren Thomas (University of Manchester, UK)
Serena Natile (University of Warwick, UK)
Sérgio Dias Branco (University of Coimbra, Portugal)
Sergio Galaz García (UC3M)
Sergio Montañez Naz (Spain)
Sestito (Université Nanterre, France)
Sevgi Doğan (Scuola Normale Superiore - Italy)
Shahana rasool (South Africa)
Shahnaz Akhter (University of Warwick, UK)
Shai Ferao (University of Haifa, Israel)
Shaimaa Magued (Cairo University, Egypt)
Sharika Thiranagama (Stanford)
Sharna Brenner (End Rape On Campus Australia)
Sharon Lockyer (Brunel University London, UK)
Sheena Swemmer (University of the Witwatersrand, South Africa)
Sheleyah Courtney (Australia)
Sheliza Ladhani (University of Calgary, Canada)
Shelley Tuazon Guyton (National University of Singapore)
Shena Shaikh (IIT Hyderabad, India)
Shuaidong Jiang (UK)
Silvana Tapia Tapia (University of Birmingham, United Kingdom)
Silvia Caprioglio Panizza
Silvia Gomes (University of Warwick, UK)
Sílvia Martínez Garcia (Universitat Autònoma de Barcelona, Spain)
Silvia Naydenova (University of Warwick, UK)
Silvia Rodríguez Maeso (Centre for Social Studies, University of Coimbra, Portugal)
Silvia Roque (CES-Universidade de Coimbra/ Universidade de Évora, Portugal)
Simon Behrman (Warwick University, UK)
Simon Chauchard (University Carlos 3 de Madrid, Spain)
Simon Dawes (Université de Versailles Saint-Quentin-en-Yvelines (UVSQ), France)
Simone Deslarzes (Université Toulouse Jean Jaurès)
Simone Krüger Bridge (Liverpool John Moores University, United Kingdom)
Simone Pfeifer (University of Cologne, Germany)
Simone Tulumello (University of Lisbon, Portugal)
Simone Varriale (Loughborough University, UK)
Sina Plietzsch
Sinem Hun (Genderscope LTD. - United Kingdom)
Siobhan Kattago (University of Tartu - Estonia)
Sirma Bilge (Université de Montréal, Canada)
Sladjana Lazic (University of Innsbruck, Austria)
Slava Savova (Bulgarian Academy of Sciences, Bulgaria)
Sofia Doyle (University of Manchester, UK)
Sofia Lindström Sol (University of Borås)
Sofia Martinho (University of Leeds, UK)
Sofia P. Caldeira (Lusofona University, Portugal)
Sofia Rodrigues Pinto (UCP - Portugal)
Sofie Rose (Center for Wr Studies Denmark, Denmark)
Sol Gamsu (Durham University, United Kingdom)
Soledad Torres Guijarro (Universidade de Vigo - Spain)
Somak Biswas (University of Warwick, UK)
Sònia Estradé Albiol (Universitat de Barcelona, Spain)
Sonia Mota Ribeiro (Faculdade de Ciências Sociais e Humanas, Universidade Nova de Lisboa, Portugal)
Sonia Voinea (Belgium)
Sonja Schönberg (Berner Fachhochschule, Schweiz)
Sophie Chamas (SOAS, University of London, United Kingdom)
Sophie Labrique (UCLouvain)
Sophie Mercier (UCLouvain - Belgium)
Sophie Standen (Lancaster University, UK)
Sore Vega Sandín (Universitat Autònoma de Barcelona - Catalunya)
Srila Roy (University of the Witwatersrand, South Africa)
Stacey Hannem (Wilfrid Laurier University, Canada)
Stacy Gillis (Newcastle University, UK)
Stefanie Boulila (Switzerland)
Stefanie Mayer (IKF Vienna, Austria)
Stefanie Schien (Universität Marburg, Germany)
Stelios Zavos (Tampere University - Finland)
Stella Schäfer (Germany)
Stephan Parmentier (KU Leuven, Belgium)
Stephanie Dennison (University of Leeds, UK)
Stephanie Hannam-Swain (Sheffield Hallam University, England)
Stéphanie Pache (UQAM - Canada)
Stephanie Seul (University of Bremen, Germany)
Stephe Harrop (Liverpool Hope University, UK)
Stephen Burrell (Durham University, UK)
Stephen Holden Bates (University of Birmingham, UK)
Steve Wilcox (Wilfrid Laurier University - Canada)
Stuart Russell (Macquarie University Law School Sydney Australia (ret.))
Su Holmes (University of East Anglia, UK)
Su Ming Khoo (University of Galway, Ireland)
Subir Sinha (SOAS, London, UK)
Suda Perera (University of Sussex, UK)
Sudha Vepa (UK)
Sukanya Maity (India)
Suki Ali (LSE)
Sumeya Loonat (De Montfort University, UK)
Sumi Madhok (London School of Economics)
Sunčana Laketa (Switzerland)
Susan B. Marine (Merrimack College - United States)
Susan Best (Griffith University, Australia)
Susan Hunt (Swinburne University - Australia)
Susan Lagdon (Ulster University, UK)
Susan Walker (UK)
Susan Whitehouse (Maths education Consultant, UK)
Susana Boletas (ICS - Universidade de Lisboa, Portugal)
Susana Borges (Instituto Politécnico de Coimbra, Portugal)
Susana Maria de Sousa Martins da Silva (Faculdade de Psicologia e Ciências da Educação da Universidade do Porto, Portugal)
Susana Maria Dias Pereira (ACEGIS – NGO, Portugal)
Susanne Lummerding
Susanne Rutishauser (Universität Bern - Switzerland)
Susanne Täuber (independent scholar)
Susy Garbay Mancheno (Universidad Central del Ecuador - Ecuador)
Suzan Ilcan (University of Waterloo, Canada)
Suzanne Brandon (Wageningen University, the Netherlands)
Swati Singh Parmar (Dharmashastra National Law University Jabalpur, India, India)
Tamar Schneider (Open University of Israel, Israel)
Tamara Gupper (Goethe University Frankfurt, Germany)
Tania González Cantera (Universitat de Girona - Spain)
Tânia Mara Pereira Vasconcelos (UNEB, Brasil)
Tania Saeed (Lahore University of Management Sciences, Pakistan)
Tania Toffanin (CNR)
Tanya Serisier (Burkbeck, University of London, UK)
Tara Tietjen-Smith (Northwestern State University - USA)
Tariq M. Suleiman (Humboldt University of Berlin)
Tasim Martin (Glasgow Caledonian University, UK)
Tatiana Motterle (Portugal/Italy)
Teresa Castro (Sorbonne, France)
Teresa Cunha (Centre for Social Studies, University of Coimbra, Portugal)
Teresa Fradique (PT)
Teresa Maria Leal de Assunção Martinho Toldy (Portugal)
Teresa Ordorika (Mexico)
Tereza Hendl (University of Augsburg and the Ludwig Maximilian University of Munich, Germany)
Terri Colpi (University of St Andrews, UK)
Thalia Assan (University of Edinburgh)
Thea Buckley (Queen's U Belfast)
Thea Pitman (University of Leeds, UK)
Theresa Mentrup (Johannes Gutenberg University Mainz, Germany)
Thiago Pinto Barbosa (University of Göttingen, Germany)
Thomas Ebbs (London)
Thomas Griffiths (Oslo Metropolitan University - Norway)
Tia Glavočić
Tiffany Page (University College London, UK; The 1752 Group)
Tiina Seppälä (University of Lapland, Finland)
Tina Beuchelt (University of Bonn, Germany)
Tina Magazzini (Czech Academy of Sciences /University of A Coruña, Portugal/Spain)
Tine Destrooper (Ghent University - Belgium)
Tom Houseman (Leeds Beckett University, UK)
Tom Pettinger (University of Warwick, UK)
Tom Simmert (Johannes Gutenberg University Mainz, Germany)
Tom Six (Royal Central School of Speech and Drama, University of London, UK)
Tomás Ojeda (University of Brighton, UK)
Toni Haastrup (University of Manchester - UK)
Tray Yeadon-Lee (University of Huddersfield - UK)
Trevor Leahy (UK)
Tristan Burke (Bangor University, Wales)
Túlio de Souza Muniz (Universidade Federal do Ceará-UFC, Brasil)
Tuomas Tammisto (Tampere University - Finland)
Tziovanis Georgakis (University of Cyprus)
Ulises Garcia Figueroa (Memorial University of Newfoundland, Canada)
Ulrike Krause (Osnabrück University - Germany)
Umut Erel (Open University, UK)
Umut Yildirim (Geneva Graduate Institute, Switzerland)
Upasana Kohuwa Goswami (University of Massachusetts Amherst)
Urša Opara Krašovec (University of Ljubljana - Slovenia)
Urša Opara Krašovec (University of Ljubljana - Slovenia)
Ursula Holtgrewe (ZSI - Centre for Social Innovation, Austria)
Urvashi Butalia (India)
Usha Natarajan (Jordan)
V Spike Peterson (U of Arizona, USA)
Valentina Albanese (Università dell'Insubria, Italia)
Valentina Azarova (Feminist Autonomous Centre for research (FAC research), Greece)
Valentina Errázuriz (PUC, Chile)
Valeria Ribeiro Corossacz (Università Roma Tre – Italy)
Valeria Vegh Weis (Konstanz Universität)
Valerie L'Heureux (Concordia University, Canada)
Van Belleghem Clarisse (Université catholique de Louvain - Belgique)
Vanessa Ferreira Dias (Portugal)
Vânia Nara Pereira Vasconcelos (UNEB, Brasil)
Vanita Sundaram (University of York, UK)
Vanja Petrović (University of Belgrade, Serbia)
Vasco André Ferreira Dinis Seco Coelho (Portugal)
Vasco Baptista Marques
Ven. Losang Gendun (The Buddha Project, Netherlands)
Vera Kubenz (University of Birmingham, United Kingdom)
Vera Lúcia Ermida Barbosa (Universidade Lusíada de Lisboa; Universidade de Évora Portugal, Brasil)
Verónica Araiza Díaz (Universidad Nacional Autónoma de México, México)
Veronica Heney (Durham University)
Verónica I. P. Ferreira (Universidade de Aveiro, Portugal)
Verónica León Ron (Ecuador)
Verónica Sousa (Portugal / USA)
Veronika Leonie Bachleitner
Vicky Blake (University of Leeds - UK)
Vico Melo (Federal University of Paraíba, UFPB/Brazil)
Victor Barros (UNL-FCSH)
Víctor Cobs-Muñoz (TU Dortmund University, Germany)
Victor Damasceno Toscano Costa (Brasil)
Víctor Martín Lozano (IFIC-Universitar de València, Spain)
Victoria Cann (University of East Anglia)
Victoria Dawson (UK)
Victoria Pagan (Newcastle University Business School)
Victoria Ridgway (Durham University, UK)
Victoria Scheyer (PRIF, Germany)
Viktorija Ratković (Alpen-Adria-Universität Klagenfurt, Austria)
Viola Carmilla (Independent Researcher - Italy)
Violeta Gutiérrez Zamora (Natural Resources Institute Finland, Finland)
Violeta Moreno Megías (Universidad de Sevilla - Spain)
Virginia Grosso (Argentina)
Vitor Sérgio Ferreira (Institute of Social Sciences, University of Lisbon, Portugal)
Viviane de Melo Resende (Universidade de Brasília, Brasil)
Vivienne Bozalek (University of the Western Cape, South Africa)
Vlad Schüler Costa (The University of Manchester - United Kingdom)
Vladimir Rosas-Salazar (University of Warwick, UK)
Wamuwi Mbao (Stellenbosch University)
Wendy Coxshall (Liverpool Hope University, UK)
Wendy Harcourt (International Institute of Social Studies Erasmus University Rottedam, The Netherlands)
Wesley R. Dean (University of Copenhagen, Denmark)
Wibke Hintermaier (Germany)
Wilfred Gabriel A. Gapas (University of Santo Tomas, Manila, Philippines)
Will Burton (Durham University, United Kingdom)
Will Craige (Durham University, UK)
Will Reid (United Kingdom)
William Flack (Bucknell University, USA)
Xochitl Leyva Solano (Chiapas, Mexico)
Xuxin Mao (UK)
Yamara-Monika Wessling (University of Ulm, Germany)
Yamini Narayanan (Deakin University, Australia)
Yao Lin (New York University Shanghai, China)
Yarazeth Hernández Quintana (Universidad Autónoma de Hidalgo, México)
Yasmin Gunaratnam (King's College London - UK)
Yasmina Maiga (Sciences Po - France)
Yuki Tanaka (Freelancer, Australia)
Yvette Taylor (University of Strathclyde, UK)
Zainab Naqvi (Manchester Metropolitan University, UK)
Zane Linde-Ozola (University of Latvia, Latvia)
Zeena Feldman (King's College London, UK)
Zieger Elisabeth (University of Vienna, Austria)
Zoe Kinsley (Liverpool Hope university, UK)
Zoé Lambert (Université Grenoble-Alpes - Université de Montréal - France / Canada)
Zofia Jakubowicz-Prokop (University of Warsaw, Poland)
Zoltán Biedermann (University College London, UK)
Zuzana Terry (Czech Republic)