Market, Visibility and Sustainability for Contemporary African Art: a conversation with Touria El Glaoui, director of 1:54.
This weekend, New York hosts for the second year 1:54, the leading transnational fair for Africa and Africa-related art practices and projects. The name of the fair, a reference to the 54 countries that constitute the African continent, summarizes one of its main principles: to give visibility to the multiple and diverse artistic production from the continent in front of an international audience, engaging private collectors, cultural institutions and wider audiences with the – until very recently internationally neglected – African contemporary art scene.
Conceived as a platform, 1:54 seems to exceed the role usually attributed to an art fair – to sell art. If art market issues are obviously part of the concerns of the 1:54 team, it does not seem to be the only or main one. In a conversation with Turia El Glaoui, the director of 1:54, we had the opportunity to learn more about the actions of the platform that also intervene in other levels of the art circuit, such as education and artist formation, for instance.
The commitment of the fair to a critical program can be seen in this New York edition of 1:54 Forum, a remarkable program of talks and panels curated by Koyo Kouoh that takes place in parallel to the fair. The connection of 1:54 with the African continent will also be seen – literally – by the visitors of this edition of the fair in Transmissions, a special project realized in partnership with Dak'Art Biennale de l'Art Africain Contemporain, that intends to be "an open window to Dakar and an open window in Dakar to New York," in the words of El Glaoui.
The successful editions of the fair and the unusual privilege conferred to the point of view of the artist by the art fair director places 1:54 among the most exciting contemporary art initiatives. In the following lines, we share the conversation we had with Touria El Glaoui last month in London.
***
How did you come to the idea of 1:54? I know about your father1…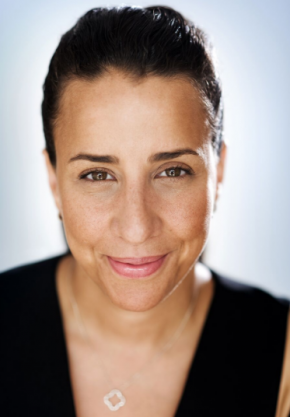 Portrait of Touria El Glaoui. Photo by Chris Saunders, Courtesy 1 54 Contemporary African Art FairYes, so it was a bit of that, both are related. I took care of my dad's back office so of all the administrative things, like lending to museums etc. and we are working right now on his career on a catalogue raisonné. I studied myself his early years and where he was in Paris, practicing, and how visibility was important in general. Then he moved back to Morocco and it took him another ten years to be where he was in Paris in terms of network, visibility etc. On my previous job I was traveling in Africa for a Corporate American Company and I was selling different solutions in different countries of Africa and the same thing; I was over for long periods of time in different cities of Africa and because of my dad, my reference is art. I didn't know the cities I was visiting then I was like: ok, what can I do this weekend? And I would go visit some artist studios, some galleries etc. and I would be extremely surprised by the quality and the amazing wealth that we could find in terms of artistic scene, but then when I would go back to Europe or to America where I worked there was no evidence or trace of what I was seeing. So I basically tried to figure out why African artists did not get the same integration into the international stage as other artists from different regions in Europe or in the US, and mainly, one of the reasons was access because some of them were based on the continent, and if you are an European collector or an American collector you still perceive Africa as a place where maybe contemporary African art is not produced because there have been civil wars, there have been health issues. Africa is always pictured with negative media stories rather than with positive media stories. From the collector's point of view I think there is curiosity, the collector would buy if he thinks the quality is there, if he is intrigued and then he engages with the art. But if he doesn't see it, there is no way he can buy it. I think the original idea was really to rebalance the number of artists being part of those international exhibitions and try to make sure that institutions could see them, like museums, that collectors could buy them and we thought that if we wanted that to happen we needed to create a platform in Europe or in the US.
Could you please comment on this idea of 1:54 as a platform?
For us, it was very important when we established the fair that some important themes would be discussed, that we would set up the structure for critical discussions. So we did the fair but always with the idea of having a parallel forum where artist talks would take place – we would have panels of discussion, we would in a way educate people on certain topics that the fair, commercially, would not be able to do, so that was always one angle that the fair or the platform really wanted to have. We thought that was crucial that this was part of the platform. And then, because of the commercial unbalance – a lot of galleries have the money to be there, but there are a lot of initiatives on the continent that are taking place and the people who are doing that don't necessarily have the means to come to London and show what they do. We also wanted to make sure that they participate in the fair. They are usually the pioneers and what they do locally is so important that we thought it has as much importance as the commercial initiative. So we also had what we call "special project" today, where we try every year to have some special project apply to the fair when we know their engagement with the art scenes locally is crucial for what is happening in Cameroon or what is happening in Congo, so we wanted to make sure that even on an international stage we have this balance of all the different initiatives taking place in Africa that might not have the name of galleries or museums, but there are plenty of art centres. Which is funny because they are doing even more than a gallery would do because they are the only place locally, so they are the exhibition place, they are the library, they are the conference centre, they have this multi-task, multi-faceted very ambivalent form and platform locally, and every year we choose five projects to be presented in New York and in London to show and also how they continue do what they are doing because we are in different stages in every country and I think it is very important that yes, we give access to artists to sell, but yes, we also give access to the people who are changing the art scenes locally and are making sure that there are artists who are able to become artists, to belong to a gallery after and to be sold in 1:54. I mean the whole cycle needs to work for us to exist.

Fair view of 1 54 Contemporary African Art Fair 2015, at Pioneer Works. Katrina Sorrentino, Courtesy of 1 54 Contemporary African Art Fair
Would you like to highlight some points in the program for this year' New York edition?
Yes, in New York we have something very interesting this year and I think it's very true for this year because we unfortunately fell at the same time as the Biennale of Dakar, which is the equivalent of the Biennale of Venice for Africa, and we are doing this partnership with them where we will have a projection room showing the Biennale of Dakar and we are showing what is happening in New York in Dakar so they are all connected. This is our engagement with the continent this year. There will be an open window to Dakar and an open window in Dakar to New York, which we think is very nice.
We also have a very exciting project with Mickalene Thomas, an African American artist who is going to show a series of last works in New York.
And the place where we do the fair in New York is called the Pioneer Works, and usually when we are not doing the fair there it's an art centre, so they have residency programs, they have performance art etc. so we have had very exciting programs with them since we started that this year, they have two African artists as their resident artists, within their program, and they will be offering two arts residencies every year for African artists. So you are able, during the fair, to see the work of these resident artists from the Continent who will be working during the fair on a different level, which I think is very exciting.
As an art fair director, do you see the emerging visibility of contemporary African art through events like the last edition of Venice Biennale, where we could see a great number of African artists, or an exhibition like Congo Beauté hosted by Cartier Foundation, to reverberate concretely in collectors' practices? I mean, in what are they buying?
Of course, and mainly when it is new. I think for collectors to be more excited to buy your piece, for them it is kind of an accreditation to see that the artist is part of the exhibition at the Cartier Foundation. The idea that some of the artists are very popular because they were part of Biennale of Venice last year really helps because in their biography you can say he has been at the Biennale of Venice already, he has been at this private collection. I know for a fact that some artists from Beauté Congo have seen their value increase in a year or so, I wouldn't say triple in price but something of that sort, which was quite high in terms of the amount of value that artist took because he was part of that exhibition and he was quite a new emerging artist, the one that did the cover of the exhibition, JP Mika – he is the new generation of those Congolese artists, basically he is younger than the older generation and he was extremely popular because of all this visibility. They did an amazing thing as they had a huge budget for communication so you have visibility for that exhibition for years. They did a huge book, they did a small catalogue, they did different parties for the artists etc. I think for them it was a major step up for their careers, and the same thing for all the African artists who were selected with Okwui Enwezor at the Biennale of Venice. I know for example they had Nidhal Chamekh who is Tunisian, they also had Massinissa Selmani who is Algerian. They had never been in such prime events like the Biennale of Venice. So now, obviously, they have been grabbed by different galleries who want to represent them, they are doing so many fairs a year, this is definitely a stepping stone for them.
How do you see the Contemporary African Art scene? Would you like to highlight some trends?
Basically, I always say that there is no common line. It would be a shame to think that artists from North Africa will do the same as artists from Sub-Saharan Africa, they all have different influences etc. I would like to point out that we are obviously only touching the top of the iceberg, there are so much many more artists that we didn't even cover or show at the fair.
That's why the title is also very important, because 1 is for the Continent but 54 is really to show that these 54 countries are producing different things, being influenced by different religions sometimes, sometimes their life context, sometimes their history, their colonial time. They have all different multitudes of influences. I don't like to talk about trends, I don't like to talk about common factors because I don't think it is true. What I know for a fact though is that we have been shown a lot of paintings, a lot of sculptures and a lot of photographers because I think those are probably the main media, the easiest to access… and I think now we are probably going to see more videos, and even more photographers as well because it's probably easier to produce. Because you can take a picture on the continent and then your gallery produces it in France. I think it's a question of facility as well, and what can be produced. Because even if the galleries represent them it is very difficult to access. The gallery is not going to go five times on the continent to get the work. But I honestly don't like to talk about strong trends, because there aren't any. We still have a lot of very young talented photographers, it's true. And people are often asking us if we are choosing them on purpose or if there is some kind of idea behind it. But I think there are just more photographers because it's an easier media to access. But I honestly would not tell you there is more of this than that. For us it is quality, so we only select what we think has a good chance of engaging the audiences we have in New York and in London.
What about the number of African galleries participating in 1:54? Is this number growing from one edition to the other?
This balance is getting exactly where we wanted it to be, right about 50%-50%. When we started in 2013, I would say that we were 60%-65% European and American galleries and probably 35%-40% African galleries from the continent, depending on if you count the special project or not.
Last year in London we had, out of the 38 exhibitors, I think 17 were from the Continent and the rest were from Europe and the US. And I think that number is getting even better in New York where we are almost at 50%. And in London in 2016, I think we are going to get exactly at 50%-50%. We are really working on this. We make sure that we have the right quota and choose to make sure that we have enough galleries from the continent. We try to encourage galleries from the continent to apply. We are very sensitive about making sure that we give visibility to Europe and US. Because in the Europe and in the US, they have a tendency to be more used to presenting work, the galleries have more history with art fairs. For galleries from the Continent, sometimes one year old, two years old, it's quite a new thing for them. So they have probably heard of us the first year and they came to see the second year and now they can actually participate.
Can we say that 1:54 also plays a role in helping African galleries to become more competitive in the international art market? Is it one of the objectives of the platform?
Completely, and we have seen this trend happen, we have galleries that were never invited from the Continent to other art fairs. And after the second, third year we've seen them now invited to other art fairs. They still do ours, but they are now part of larger art fairs.
And what about collectionism in Africa? Do you plan to realize one edition of 1:54 there?
This question is asked often. In the first year I answered quite differently than what I am going to tell you right now. In the first year I was very optimistic and yes, it was in my near future, let's go to Africa whenever we can but then, now I'm more familiar with the issues of the galleries and how well they do where they are based and why it is so important to do 1:54 in London and in New York, and one of the main reasons is that they don't have collectors based where they are practicing, so to give you a bit of the quota, they said that they sell 30% locally and 70% outside. So for them, to follow me going to Nigeria or to Morocco, I would have to justify that there's a market for them. Because it's quite a lot of cost to be part of a fair and for the moment I personally cannot guarantee that they will have the same type of buyers in a city in Africa. Our original strategy was always to bring African artists to the international stage, which I think is what is missing, and maybe one day we would be very happy to go but I think there are many other places where we can go, which we are trying to do already, for example, workshops for galleries, for artists. I think there's much more on the educational side of things that we can bring with our knowledge to the continent than having a commercial initiative about sales. 1:54 can go just with the talks for example and do special programs of three days of workshops, very simple, how to manage a gallery, what is accounting, why do we do fairs, things that could be very useful for the galleries, for the artists rather than sales. And maybe we could have one exhibition but I don't think we need a fair.
The last action we did, for example, during the Biennial of Marrakesh, we did two panels of discussion as a parallel project to the Biennial and they were very focused on the Moroccan art scene, for example, one session was about collecting in Morocco, what it meant to collect contemporary Moroccan art, and different panellists that were part of the Moroccan art scene were explaining, and the audience was full of questions, they wanted to know more, they did not even know these people were engaged in their country with those topics; and then we did a second one on the status of photography in Morocco and again, this was a really very engaging subject for the audience, they wanted to know more, they wanted to do an archive of photographers of Morocco. There were things we were able to answer that they had no idea. The panels were oversubscribed and I think we could have gone into a theatre in the University and filled it up. There is more action coming from us around these topics.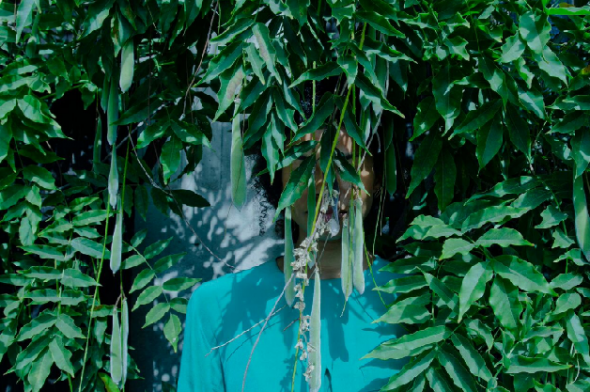 Zohra Opoku Ficus Carica, 2015 Screen-print on textile, Courtesy of Mariane Ibrahim Gallery
You are very concerned about the visibility of African artistic production. Can we say that 1:54 is somehow politically engaged?
I have no political engagement whatsoever; I am not sponsored by anyone. Honestly, I am on the side of the artist so I think there is an artistic driven engagement. I am coming from a place where I know it is important. It is not political at all but it is definitely an observation that they are not part of the art market and why? Why not? Those questions are hopefully being answered in the forums sometimes and maybe it is just giving a question mark to people: why didn't we see those artists before? Why were they not on the art market before? When you just think about it, and maybe that's political, why does an African artist need so many visas to come to Europe or to the US. Even when they win prizes, they cannot get the prizes because they cannot get their visas to come to get their prizes. So I think it is definitely harder to be an artist on the continent and have a presence internationally because of all the visa issues and in a way this is maybe political. It is something that just applies to African artists that you have to prove that you are going to live in Africa and when you are an independent artist you cannot prove that you have a salary, you cannot prove all this. Our hardest challenge starts when we invite artists to be part of the talks and we have to make them come to London or come to New York and they cannot get their visa on time, we sometimes pay for the tickets and everything and they cannot get the visa so they need all that to prove that they are taken care of but then they don't get the visa. For us that is the struggle they live, I think people don't realize how difficult it is, for example, if they want to do a residency program in Spain or in the US, it is something that they really have to work on earlier. And we see that the artists who have better networks and connections etc. are the ones who are able to travel more freely so they either live in Europe and they can go everywhere they want, so they have very good connections with institutions, with residency programs etc. But on the continent they have a harder time traveling to do all those interesting programs.
How do you see the future of 1:54? Is there any plan or thing you would like to do as a platform that you still have not done?
To tell you the truth, to be realistic, we need to consolidate New York – that is a big market for us and we are just very new so I don't see myself opening a fair, another third one, next year or something like that. So in terms of fair, definitely this will be our main focus in terms of New York and London; and our interventions on the continent are going to be much more related to education, workshops, panels of discussion, events locally that we can engage and also get to know more collectors on the continent.
1. Touria is daughter of Hassan El Glaoui, a Moroccan artist.