"The Alcântara Family" –The Saga of a Black Film Production in Brazil
In 1996, while I was studying History in college, I suffered an existential crisis that almost ended my studies. With the death of my father and the loss of all that he represented in my life, I began to feel the painful lack of African history in my curriculum and the absence of Afro-Brazilians amongst my college peers. The way blacks were represented (or absent from) the media had bothered me since I was a child. Now, as a film producer, it made me even more uncomfortable. To escape this dilemma, I felt I had to follow my dream of making my own films, but where to begin?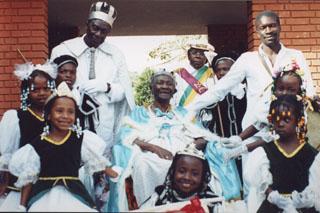 An important director, with whom I had collaborated, trying to help, offered me a story line to develop into a short film. He said it was my type of script. It was about a young woman mixed up in the life of her imprisoned husband and his friends, one of whom was nicknamed "Monkey", a racial epithet that clearly explains itself. It was clear to me that this was not the path that I wanted to follow.
I decided to stop working in film production for a time and moved into the university dorms. I continued to study History at night, and during the day, I audited classes in the Film Department. I also joined a cultural group called Cachuera! We met on Tuesday evenings, around a bonfire, to celebrate Black folkloric traditions from Southeastern Brazil like: congada, jongo, moçambique de bastão, batuque de umbigada, among others. These activities fed my soul and found the impetus to continue studying, in spite of the Eurocentric mindset on campus. I still hadn't defined a project, but I knew that I wanted to fill the film and television screens of Brazil with black faces. Lots of them.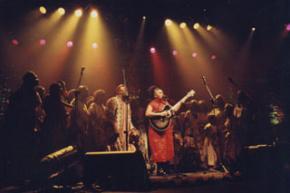 My brother Daniel, who is also a film producer, had developed a project for a short film about a black family in the Brazilian state of Minas Geraes. The Alcantâra Family had been drawing media attention because they, unlike the majority of African descendants in Brazil, knew not only exactly where their origins were in Africa, they also had preserved their ancestral traditions. I saw in this story, a possibility for finally realizing my dreams.
I convinced my brother to join forces with me a produce an hour program for television instead of a short film. We developed a strategy to produce the project as a film to be screened in theatres, in order to qualify for federal grants for cinema production. Once the film was completed, we would participate in festivals, win awards, screen the film in cinemas and thus attract a distributor who would sell the film to cable and then broadcast television.
In 1998, we began "The Alcantâra Family" project. We worked on the film in stages so that we could continue making money working on other producers' films. During this process, we discovered that in fact, the Alcantâra Family did not know exactly where their ancestors had come from, but that this was no longer central to the film. The story was in the myths they had created in order to develop their identity and way they brought this identity to life in theatre, song and religious rights.
The film was completed in 2005, released in cinemas in 2006 and on DVD in 2007. In 2008, exactly 10 years after we had begun the project, " The Alcantâra Family" was show on broadcast television.
When the film was released in theatres, critics received it poorly. The main complaint was that had not been made for the cinema and that we were off course (they never mentioned our strategy to quality for federal funding.) Our efforts to represent the Afro-Brazilian characters in an elegant way, interviewing them in a studio, well dressed and well lit, unprecedented in Brazilian film, were branded "bureaucratic."
On the other hand, exhibiting the film to our target audience, Brazilians of African descent (about half of the country's population) was an emotional experience and assured me we had done our job. I consider the making of this film, one of my greatest victories. We not able to reach the majority of our target audience because this would be possible only by showing the film during primetime on Globo Television, Brazil's largest network. How could we do this? Only by invading the station headquarters at gunpoint, during the time that the soap operas are airing, videotape in hand.
"The Alcântara Family" was a turning point in my career and in that of my brother. We became filmmakers - directors, scriptwriters and producers of our own projects. The film continues its trajectory. It is possible to purchase it, via Internet, with subtitles in English, French and Spanish. This year, the documentary was acquired by another Brazilian broadcast network and we are always looking for opportunities to screen it at festivals and other events.
Every day, I have new ideas for creating and presenting video productions. If I had unlimited resources and a TV in hands, I would fill the line-up with black faces: in dramas, and Brazilian documentaries. I would produce shows like "Everyone Hates Chris" (an American sitcom about a black family that is a current success in Brazil) and talk shows. I would show films from around the world, like those that screen in Espelho Atlântico (Mirror of the Atlantic), an annual African Film Festival that I produce.
Who knows if one day this won't be possible in my country? For now, it's just a dream, yet " The Alcântara Family" has shown me that dreams can come true. You just have to believe.