Reasserting Portuguese Influence in India? The Statue to Cristiano Ronaldo as Cultural Neocolonialism
Intended to inspire young people interested in the sport of football, a bronze statue to the Portuguese footballer Cristiano Ronaldo (b. 1985) was installed in December 2021 in the coastal town of Calangute, Goa (India). However, rather than having said desired effect, the statue received immediate backlash by local residents that staged a protest with black flags (see fig. 2). To understand the contention over the statue, in this essay I will concisely unpack the controversy behind the statue and a history of Portuguese colonialism that its existence provokes. Arguing, although created for innocent reasons, the statue to the Portuguese footballer is a contemporary example of cultural neocolonialism and that the statue has no place in Goa, or anywhere else within India.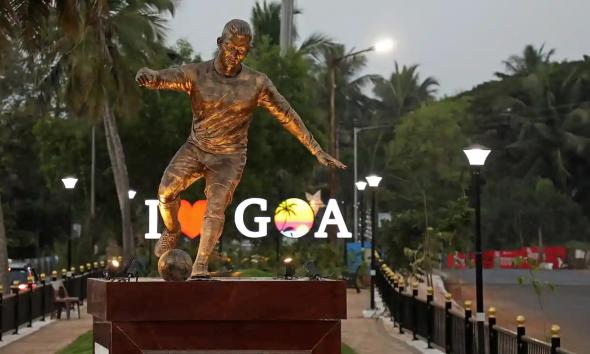 Fig 1, Statue to Cristiano Ronaldo in Goa, India. Photo by AFP/Getty Images (2021)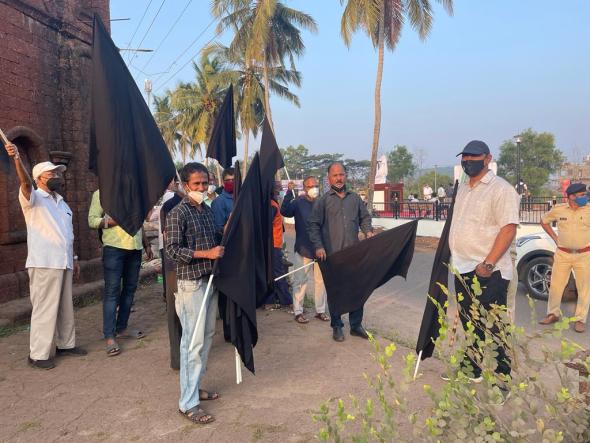 Fig 2, Protest to the statue of Cristiano Ronaldo in Goa, India. Photo by Sagar Varta (2021)
Controversial statue and limitations of literature
In assessing the immediate contention over the statue to Cristiano Ronaldo in Goa, two arguments were most apparent that news sources reporting on the statue's controversy illuminated (AFP, 2021; IANS, 2022; Sherwood, 2021). Summarised, (1)the public representation of a Portuguese footballer instead of Indian footballers was a missed opportunity in giving young Goans Indian figures in which to take inspiration from. (2) The latter was a matter Michael Lobo, a local minister of India's ruling Bharatiya party and advocate of the statue's installation, failed to foresee where the new statue created a provocative link to Goa's former colonial past with Portugal. In all, the news reports were descriptive and provided little to no analysis. That although illuminating a colonial history that the statue provoked, they did little to expand upon this history. Moreover, until this essay there has been no academic studies on this statue and its controversy. Therefore, to contextualise the statue and its controversy in which to better understand its negative responses, I will further expand upon a colonial history that the statue has provoked that goes beyond current literature on the statue to Ronaldo in Goa.
Colonial Goa, football and iconoclasm
The Portuguese first arrived in India as a consequence of Vasco da Gama's (1469–1524) voyage in 1497–1498; an event lauded in the epic poem Os Luísadas (1572) by Luís Vaz de Camões (1524/5?-1580). However, it was in 1510 when Goa was captured by the Portuguese commanded by Afonso de Albuquerque (c. 1453–1515) did a Portuguese presence in India become more pronounced (Saraiva, 1997: 49). In total, Goa along with Daman and Diu were all part of Portugal's empire for 450 years that together made up the Portuguese State of India (or Portuguese India). Fast forward to the twentieth century, following India's independence from British rule in 1947, Portuguese territories within India became literally thorns in an otherwise independent republic during the 1950s. As a result, desire to remove remaining European occupation in India led the Indian Army to successfully annex Portugal's territories in December 1961. However, prior in the summer of 1960, Portugal sent the Lisbon football club Benfica to Goa for three friendly matches as what was seemingly an effort among international condemnation of colonialism to convince Goans through the sport of football their imperial connections and responsibilities (Todd Cleveland cited in Mergulhao, 2020). Although this did little to stop the independence of Portuguese India, football within India much like the sport of cricket has colonial connotations, with football being first brought to India by British soldiers in the late nineteenth century during their occupation of India (Gupta and Sharma, 2019: 2). Soon after brought to Goa by British priest William Robert Lyons in 1883 (Mergulhao, 2021). Thereby, football is inseparable from a difficult colonial past and its apparent former role in binding Indians with Europeans and their culture. Exemplified by Benfica's tour of Goa as a form of cultural imperialism, it shares a relationship with commemorative efforts like imperial statues created by the Portuguese that also served such a purpose. Today, Portugal's presence in Goa (as well as Daman and Diu) can still be traced through these cultural remains that have never been free from controversy.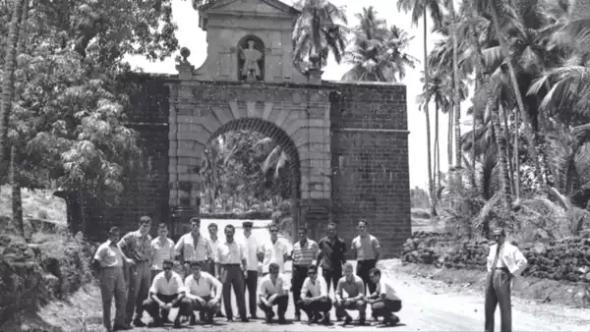 Fig 3, Benfica football club at the Viceroy's Arch in Goa, India, 1960. Photo reproduced from Mergulhao (2021)
One of the earliest controversies concerning statues in Goa can be traced to January 4, 1601, when the statue to Vasco da Gama centring the Viceroy's Arch (the entrance to the city arriving from the Mandovi River) was dismembered into fragments and scattered (Flores and Marcocci, 2018: 463). Although replaced (visible in fig. 3), this act of defiance to the statue was a form of political iconoclasm targeting a public symbol representative of Portuguese hegemony. Such representations were those commonly placed throughout Portugal's colonies, in many ways, to reconfigure public spaces, creating memory sites to the Portuguese to disseminate their culture and authority. An earlier form of cultural imperialism of the nineteenth and twentieth century that can be understood as cultural (soft) colonialism that accompanied (hard) colonialism by military means. It is these types of representations of stone and later bronze of Portuguese men in India, where they elicit strong responses due to a history of colonialism and their symbolic function that newer statues created to honour contemporary Portuguese within India, regardless of their subject, are also problematic and open to criticism. Whereby, statues created today in former colonies of foreign personages reflect not former cultural imperialism but now a forms of cultural neocolonialism.
Representations of Cristiano Ronaldo as cultural neocolonialism
The 2017 Portuguese state visit to India where Portuguese Prime Minister António Costa gifted Indian Prime Minister Narendra Modi with a Cristiano Ronaldo football jersey signed by the footballer demonstrates the currency of Ronaldo as a cultural even political lubricant (Biswas, 2017) 1. At most, Ronaldo has come to represent Portugal itself, a symbol of the nation whereby, through the footballer Portugal may (re)assert itself by presenting representation of the player overseas. What is most confusing about the statue to Ronaldo in Goa is that the footballer has no connection with Goa or wider India other than the said colonial history associated with his ancestors. If considering Ronaldo as a valuable ambassador for the sport of football reason could be made justifying the statue but these are discussions that take us away from an inescapable history and a controversy that is linked to recent debates about statues around the world.
The new statue to Ronaldo in Goa inadvertently shares a relationship with other debates of controversial statues around the world that surged in the summer of 2020 around the topic of racist statues, many of which located still beyond Europe despite much of their removal from the period of decolonisation during 1945–1975. Although of a different subject, commemorative of a peaceful athlete rather than of violent imperialists and slave traders, the statue within Goa concerning its colonial history is figuratively the same, where the Goan City Council in creating the statue have self-imposed a form of cultural neocolonialism. This can be conceptualised through the following arguments. As the statue stands, its immediate location and surrounding space are forever symbolically Portuguese. Where an 'I love Goa' sign (see fig. 1) present near the statue connects Goa in a relationship with Cristiano Ronaldo, a synonym for Portugal and thus, its history. In doing so, a collection of unintentionally decisions in placing these symbolic objects opens up a reading of Portuguese culture where it is superimposed over Indian culture as superior. At least, concerning football players or national football teams. These issues result in a problematic memory matrix where past colonial history is able to remerge, where Portugal's former influence is reasserted transmitting not an intended memory of Ronaldo the footballer but rather the ghosts of Portuguese imperialism. Concerning these arguments, and for a counter argument's sake, many Goans may love football and do so more than their national sport of cricket. Moreover, admiration for Ronaldo is not to be discredited and can certainly be a role model for young Goans interested in football. Further still, a pride in Portuguese heritage and culture by Goans should be protected and not erased. However, these points are not strong enough to dismiss the statue's ability to elicit a problematic history nor justify its place in Goa.
Final considerations: Dismantle the statue
Much more could have been discussed in this essay concerning the statue to Cristiano Ronaldo in Goa and its controversy. It would have been interesting to add a discussion on colonial nostalgia and wherever it does or does not exist for Goans. Even to discover what Cristiano Ronaldo thinks about the statue to himself in Goa. Nonetheless, what is clear is that Ronaldo is innocent concerning the controversy highlighted, where the footballer emblematic of Portugal and by extension its imperial history is the problem. Overall, the statue to Ronaldo has shown a lack of consideration for Goa's colonial history and respect for this past by Goa's city officials, where arguments made against the statue show meaningful considerations lay with local residents. However, despite the contention against a statue to the footballer, it is well-known and recognised that Ronaldo is an astonishing footballer of high skill with an atypical career and deserving of monumentalisation. However, it seems that every statue so far created in honour of him have been scrutinised. From the 2017 bust unveiled in his home island of Madeira (Portugal) for baring little resemblance to the footballer, later replaced (Acres, 2018). To the statue in Goa that has been the topic of this essay. Therefore, perhaps alternative commemorative methods should be used in which to honour Ronaldo away from material structures. One way could include charitable efforts in Goa involving the footballer such as funds for local football schools. However, such efforts could also be argued as problematic due to Portugal's colonial past, where economic support from the footballer or in his name even for charitable means could be viewed as forms of neocolonialism evocative of Portugal's former position in Goa, albeit in extremely minimal ways. Therefore, all contemporary Portuguese influence in Goa needs serious consideration to not occur beyond what is already remaining, to continue focusing on the protection of Portuguese cultural heritage therein prior to 1961, rather than newly exported influences through statues that represent a cultural neocolonialism even if self-inflicted without Portugal's direct involvement.2 In all, the statue should be dismantled and removed due to its provocative nature. It is not only an illogical commemorative statue to have in Goa but is also a problematic reminder of Portuguese former rule in India in haunting ways, where it elicits an indirect memory of colonialism that is of no fault of Ronaldo, but of who should be vocally against his depiction within Goa in commemorative ways akin to the black flag protestors for the reasons that I have briefly illuminated in this essay.
Bibliography (and images):
Acres, Tom, 'Widely Mocked Cristiano Ronaldo Statue Replaced by New Model at Madeira Airport', Sky News, 18 June 2018, https://news.sky.com/story/widely-mocked-cristiano-ronaldo-statue-replac... [accessed 23 April 2023].
AFP — Agence France-Presse, 'Cristiano Ronaldo Statue Kicks Up a Fuss in Goa', The Times of India, 31 December 2021, https://timesofindia.indiatimes.com/sports/football/top-stories/cristian... [accessed 23 April 2023].
AFP/Getty Images, 'INDIA-PORTUGAL-FBL-POLITICS', 30 December 2021, https://www.gettyimages.co.uk/detail/news-photo/this-photograph-taken-on... [accessed 23 April 2023].
Biswas, Indroneil B., 'PM Narendra Modi Gifted Signed Cristiano Ronaldo Jersey By Portuguese Premier', NDTV, 7 January 2017, https://www.ndtv.com/india-news/pm-narendra-modi-gifted-personally-signe... [accessed 23 April 2023].
British Pathé, India Takes Goa (1962), online video recording, YouTube, 13 April 2014, https://www.youtube.com/watch?v=2FnqB6jZYag [accessed 23 April 2023].
Camões, Luís Vaz de, The Lusíads, trans. Landeg White (Oxford: Oxford University Press, 2008 [1997]).
Flores, Jorge and Giuseppe Marcocci, 'Killing Images: Iconoclasm and the Art of Political Insult in Sixteenth and Seventeenth Century Portuguese India', Itinerario, vol. 42, no. 3 (2018), 461–89.
Gupta, Shantanu and Nikhil Paramjit Sharma, India's Football Dream (New Delhi: SAGE Publications, 2019).
IANS — Indo-Asian News Service, 'Cristiano Ronaldo's Statue in Goa Lands in Trouble Over Colonial Portuguese Linkages', WION, 1 January 2022, https://www.wionews.com/sports/cristiano-ronaldos-statue-in-goa-lands-in... [accessed 23 April 2023].
Mergulhao, Marcus, 'For Portugal, Football Was Not a Sport, But a Tool to Daze Goa', The Times of India, 19 December 2021, https://timesofindia.indiatimes.com/city/goa/for-portugal-football-was-n... [accessed 23 April 2023].
— — —, 'In the Summer of 60, When Portugal Tried to Use Benfica to Bind Goa', The Times of India, 10 May 2020, https://timesofindia.indiatimes.com/city/goa/in-the-summer-of-60-when-po... [accessed 23 April 2023].
Portuguese American Journal, 'Portugal: Prime Minister António Costa Visits Ancestral Home in Goa — India', 6 January 2017, https://portuguese-american-journal.com/portugal-prime-minister-antonio-... [accessed 23 April 2023].
Sagar Varta (Twitter: @SagarVarta), 28 December 2021, 6:33 p.m., https://twitter.com/SagarVarta/status/1475897802387378180 [accessed 23 April 2023].
Saraiva, José Hermano, Portugal: A Companion History (Manchester: Carcanet Press, 1997).
Sherwood, Harriet, 'Protests Over Cristiano Ronaldo Statue in Former Portuguese Colony of Goa', Guardian, 31 December 2021, https://www.theguardian.com/world/2021/dec/31/protests-over-cristiano-ro... [accessed 23 April 2023].
1. It is worth noting that Portuguese Prime Minister António Costa is of Indian descent and his visit to India in 2017 included visiting his extended family in Goa. For more on his visit to India see Portuguese American Journal (2017).
2. This protection of heritage is already a matter the Archaeological Survey of India (ASI) labours towards with tangible Indian, British and Portuguese heritage within the country.