A new song of the land
He sings the sounds of the earth, though it was the Beatles who woke everyone up to the range of melodies that are to be found in the musical scale. Filipe Mukenga's career has been acknowledged both at home and abroad and is part of the generation that saw an explosion of music in Angola during the 60's and 70's.
A short time after the cacimbo (Portuguese version of the Kimbundu word Kixibu, tropical winter occurring after 15 May and characterized by fog turning occasionally to light rain) the winter rains of 1949, on 7 September, Isabel André gives birth to a boy in the old Luanda maternity. He is given the name Francisco Filipe da Conceição Gumbe. Life in the city of the kyanda was to be brief, however. Soon after Filipe's birth, the family moves lock, stock and barrel to Masabi in the north of Cabinda (Portuguese rendering of the Kikongo word Kambinda.) where his father became a nurse. It was here, a stone's throw from Congo – Brazarille, just past the border post, that Filipe heard his first sounds. As he recalls "I went to church on Sunday in the Bethel Methodist chapel with my parents and I loved to hear the church choir. Little by little I began to get a taste for music."
When he was 13, his parents separated. His father was not convinced that his wife could take care of his son so he took him to Luanda, where he left him in the care of Leopoldo Mangueira, a former clerk in the customs office who lived in Praia do Bispo. This is where the boy grew up. Filipe found himself far away from the sounds of the Cabinda forest and the Methodist choir. He grew up with João Silvestre, later to be the guitarist in the band "A Nave". It was João who taught him his first guitar chords. His technique improved as he got to know other musicians and made friends. Manuel Zé, son of the late nationalist Belarmino Van-Dúnem, was to have a decisive influence.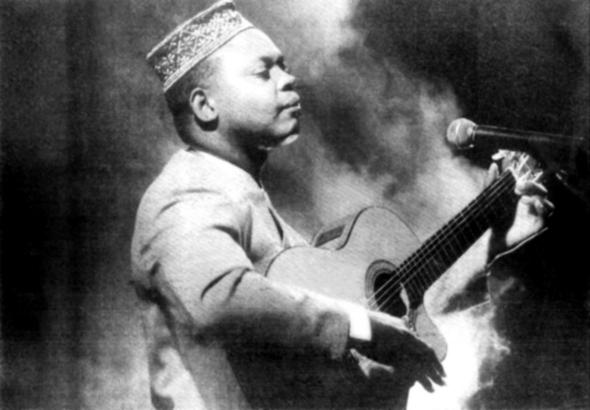 On act in Luanda
The 60's were almost upon him and they brought a hurricane that swept the world: the Beatles. The Liverpool four could never have imagined the impact they would have on a young lad in a far-off town called Luanda: "they were, without any doubt at all, the springboard from which I catapulted to the art of mixing sounds, which is how we express such a range of feelings," the musician says.
During this decade, Filipe found himself in a real artistic hurly-burly. He came under the influence of Anglo-Saxon pop music and played with a number of bands in Luanda – "Indómitos" (where he was the vocalist), "The Five Kings", with Mello Xavier, "The Black Stars" with Gégé Belo, "Rocks" with Eduardo Nascimento, "Electrónicos" with Vum-Vum, "Apollo XI" and "Brucutus".
Straight after this, it was during a rehearsal with the Duo Misoso, working at the time with José Agostinho Nvunje that everything clicked. A name came to his mind – Mukenga – and even now he cannot explain why, but thus was how the artist Filipe Mukenga born.
He worked at the time with someone who was later to become a friend and a brother, and the music moved on to a path where they " took songs from a vast and rich musical tradition. Many of them were given a new style and presented to the public in a modern guise. What stands out are the harmonies based on discords from inverted chords, very unusual sounds in African music." It was also at this time that he became interested in the Angolan languages Umbundu and Kwanyama.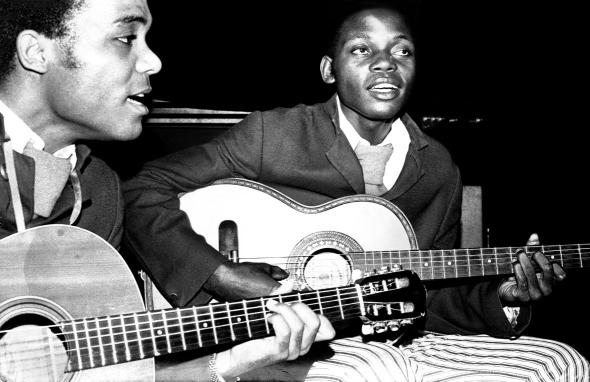 Duo Mimoso. José Agostinho and Filipe Mukenga in Tamar nightclub in Luanda, 1973.
The Duo Misoso was an important moment in Felipe Mukenga's career, since it was a way to reach sensitivity to the problems affecting the country at the time. It was difficult then to bring a political slant into art. But he managed to put across messages such as "Lavadeira lavando / na selha p'ra ganhar o pão/ velha negra chorando/ vai chorando, chorando em vão…" (Washerwoman washing / in the bucket to get enough for bread / old black lady crying / go on crying, crying in vain). The words are from a composition by the band. And they are messages – some more subtle than others – which also contributed to the country's independence in November 1975.
No sooner had his country been born that Mukenga became involved in the Kisangela Project of the JMPLA as head of the music section. He brought the best singers of his age together. In 1977 he served on the National Culture Council, an organisation that was later to become the Ministry of Culture. When José Agostinho died ("a tremendous blow") he began a partnership with Filipe Zau, a relationship which is now in it's 30th year.
The songs "Nvula" and "Humbi-Humbi" (words of the people) gave the boost needed for Filipe Mukenga to become known outside Angola, in large measure due to the Brazilian singer Djovan, who fell in love with these tunes in 1980 when he was visiting Angola with other Brazilian artists as part of the Kalunga Project. In response to this visit, Mukenga joined the group "Canto Livre de Angola", which in 1983 took Angolan culture to the states of Rio de Janeiro, São Paulo and Bahia.
In spite of all his credentials and his long career, it was only in 1990 that Felipe Mukenga cut his first record (in Lisbon), called "Novo Som" (New Sound). Two years later he settled in Portugal, where he stayed for 14 years. His artistic activity during this period was non-stop. In 1994 he recorded "Kia Kianda" (his second album), and two years later, also in the city of light, he took part in the literary / musical project "O Canto da Sereia" (The Mermaid's Song) as co-author with Filipe Zau.
Brazil, in a certain way, became his artistic homeland. He was present at the inauguration of the House of Angola in Bahia (1999) and returned to join with Ney Mattogrosso, Zélia Duncan and Cássia Eller in the Pão Music 2000 project. On another journey that same year, he was the big attraction at the 20th Oludum Festival of Music and Arts, also in Bahia. In Salvador he began recording Mimbu Iami (My Songs) which was launched in Lisbon and Luanda in 2003, with a special appearance by Djavan.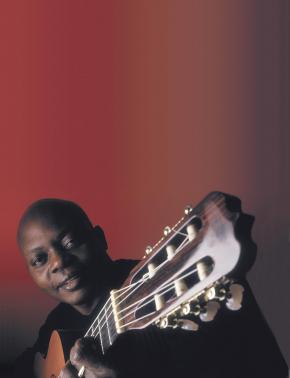 After peace came in 2004, Felipe Mukenga returned to Angola, when he unfortunately suffered a blood clot soon after he arrived. He recovered completely and was appointed to the post of deputy minister of culture, a post he has held since then. Along with this there is his music, always his music. He made guest appearances with the Brazilian singer and actor Mauricio Mattar for example or he composed with his inseparable friend Filipe Zau, including the song that won the highest number of votes from the jury of the Luanda Carnival 2007 ("Nossos Reis tinham valor" – Our Kings were worthy Kings" by the Carnival group Unidos de Caxinda, which came in second in the overall classification). These are the high points of recent times.
And in the meantime, his fourth record is in the pipeline, to be called "Nos Mesmos" ("We Ourselves"). The album is also being recorded in Brazil, in São Paulo, and is awaited with bated breath. And how could it be otherwise, from a man who is one of the top figures in Angolan culture, and whose sounds have taken the name of our country around the world.
Photo: Carlos Lousada/ Filipe Mukenga.
in AUSTRAL nº 67, article provided by TAAG - Linhas Aéreas de Angola