Lily on the beach
Lily goes to church and prays a lot, but she is always wondering when this "f…" Jesus will come and finally knock on her door, toc, toc, toc…
Lily dreams of flying to Uranus…She turns on the TV and starts to cry… Ariane V has just blown up!
Lily would like to look like fall – lose her leaves, turn orange and yellow, fade away and blossom in the spring.
Lily loves catching flies, pulling off the first leg, then the second, then the third, to finish with the fourth one before totally smashing the fly with a hammer.
Lily doesn't like going to the disco…it smells like a sheep's ass and people look like electrical mosquitoes.
Lily likes to sit down on benches and breathe pollution… Holy cow our nature is so beautiful!
Lily likes going on safari, killing some crocodiles with her axe and turning them into trendy shoes.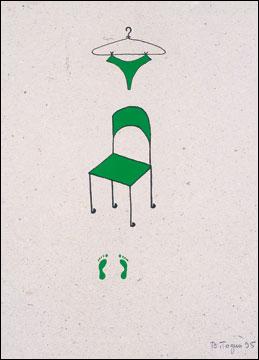 Barthélémy Toguo, 'Das Bett', 1995 série, 21x30 cm
Lily hates contemporary art, she doesn't understand why this red fish brushing its teeth exhibited in the middle of this white room is a masterpiece!
Lily loves lying on the beach, putting some oily sun cream on and frying like French fries.
Lily loves fucking very much, hard fuck, fuck, fuck, fuck, but hates falling in love.
Lily keeps asking herself why the earth goes around and round and why she doesn't feel dizzy. She thinks it would be amazing to turn round and round with earth.
Lily likes the sun from Florida, and dipping her genetically modified corn – that makes her boobs blow up – in her coffee.
Lily likes to turn up her TV when she hears US Air Force bombs exploding in Japan, Vietnam, Afghanistan…Iraq?…
Lily is fond of red leather from Texas and always wonders why New York designers have not yet thought of changing the leather on electrical chairs.Lily likes making love in the Congolese swamps because the mosquito bites make her have orgasms.
Lily likes travelling a lot. Dressed in her African boubou, she enjoys dancing Senegalese Sabar, eating Cameroonian ndole, listening to Masai tales, but hates the Western polygamy.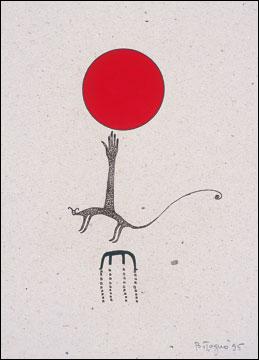 Barthélémy Toguo, 'Das Bett', 1995 série, 21x30 cm
Lily likes the microscope and the test tubes, and supports the scientist in order to see that cloning become legalized – her dream, cloning "Lala", her pink teddy bear.
Lily thinks she is a believer. She wears a gold cross around her neck, but always wonders the same question when looking at herself in the mirror – why have they not thought to crucify him on a heart, it would be so much nicer with my dress!
In Paris, Lily likes very much slipping on dog shit when she walks in the morning to buy her croissants and her baguette.
Lily is in love with this handsome man who lives in this huge White House. His cowboy hat is so sexy… she wonders in which movie he is acting? Oh yes, a remake of the most powerful country in the world!
Lily is so happy, she has found THE magic cream made of the skin of some Mexican bull's balls which will lift her face up for ever.
Lily can't understand how Asians can see, Blacks can tan and brush their hair. Look at me, such a nice milky skin with big round blue eyes!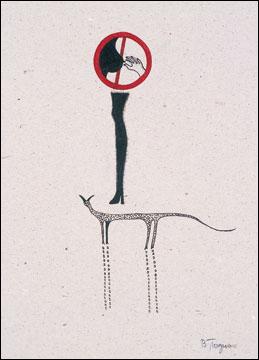 Barthélémy Toguo, 'Das Bett', 1995 série, 21x30 cm