The balance of the perfect "Batida"
The balance of the perfect "Batida"
We are at the Batida workshop. A space in a garages complex in Lisbon. On the outside it's just that. A building with nothing that distinguishes it from the others. Inside there is Pedro Coquenão, or DJ Mpula, or the man who invented Batida. Inside there, this 37-year-old Portuguese man born in Huambo (Angola), which he left with the onset of civil war, an Angolan living in Portugal since then, talks non-stop about all that Batida means. We could even say that we do not need to hear everything he is saying. The speakers release South African music. Scattered throughout the space we see a marimba, extemporary drums took out from diesel cans, Angolan beer "Cuca" bars, photos of Coquenão's travels to Luanda, and drums that, in concert, will be illuminated from the inside as efficient do-it-yourself scenery. All this is Batida.
Batida feat. Ikonoklasta – Cuka
We've known it since 2009 when it launched Dance Mwangolé, a wonderful album extracted from the Angolan archives of Valentim de Carvalho's label and become reality thanks to their intersection with the rhythms and voices that can be heard today in Luanda. Those that rap in the township, those that say what needs to be said.
Dance Mwangolé is the past. Batida's future is now another. Batida, nothing more, is the album title that Soundway, dignified and influent label specialized in republishing African, West Indies or Far East music of the 70s (the African fever in recent years is in part due to it) chose to mark a new phase. After showing to the world the roots, it is now seeking the fruits. It chose Batida. Directly from Lisbon and with a Luandan soul it will leave for the world. It has everything to succeed. Gilles Peterson, influential BBC broadcaster, chose it as "the" album to hear in 2012. The Drowned In Sound website is enthusiastic about the alternative it represents: "Batida, save us from the dangers of indie rock critics." April 20th, it will be headlining the Soundway's 10th year anniversary festival in a concert to be held in London in an area whose location is secret.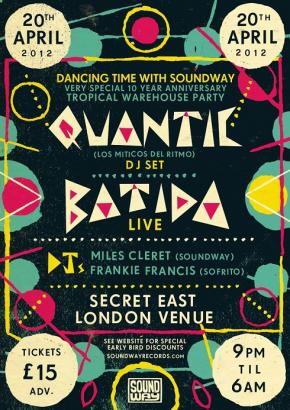 Miles Cleret, the Soundway's founder, confesses his enthusiasm to Ípsilon magazine: "A lot of modern African music does not go back as much as I would like to its roots. And I love the projects that contain classical elements. That is why, when I heard Batida's album, I immediately thought I wanted to release it. It has the vibrancy of African classical music, but is also perfect for the modern dance floor ".
Cleret and Coquenão even started from the same place. The first felt the lack of traditional elements in modern African music and that's what made him approach Batida. The second thought kuduro was lacking of tradition, he saw how "Buraka's synthesis", where tradition is missing, "began to interfere in Angola" and thought to enrich the scene. While trying to interfere, he - who has a past and a present as broadcaster (he worked for Marginal and Voxx, and carries on Fazuma radio, label, promoter and laboratory) - found out he was "making music" along the way - and this is Batida. It is not the only happy coincidence.
Carlos Lamartine featuring Águias Reais's Bazuka is Miles Cleret's favorite Angolan song. Bazuka, "kudurada" by Coquenão, is Batida's essence. A very modern band. Because it is not a band. It is a creation of the author, but at the same time a multiple work, built by different hands. Pedro Coquenão is the creator, the center around which everything revolves - the samples searched in the archives of Valentim de Carvalho's label, the videos he rescued from Cinemateca's archives, finally, all the imaginary. Around him there are: Ikonoklasta, valuable Angolan MC, the essential MCK, author of the recent Proibido Ouvir Isto (Forbidden to Listen to It), Circuito Freixado of Sacerdote and Dama Ivone from Luanda, the producer Beat Laden, Ngongo, descendant of Guineans and Angolans living in Lisbon such as the Angolan Bob Da Rage Sense and - because Batida is the music we listen to but it gains total life on stage - there are dancers, the lighting technician Luis Moreira, the sound technician Bruno Lobato, and Catarina Limão with her videos.
Batida - Bazuka (Quem me rusgou)
In his atelier, Pedro Coquenão explains: "It all started with Bazuka and the intuition of the first idea usually sets the right direction." That song defined Batida's sound: minimal and based on few elements. "Old percussions, without melodic reading and almost abstract, and a very basic beat," the same he heard during the final of a basketball championship in Luanda. A DJ had been called and the public joined the rhythm marking it by clapping. Batida is this: young and old, "kuduristas" and "sembistas" marking a new rhythm. Batida is Coquenão's biography and his sight on the world that surrounds him: "In that final, the President of Angola [José Eduardo dos Santos] came like Cleopatra and the public could only go out after him. Whether it is he, Cavaco Silva [the President of Portugal] or Obama, no one can assert oneself in this way in people's lives. This interference in my so enjoyable routine in Luanda, together with the moment of the DJ, and together with my life experience, everything is there in Batida." In Bazuka, you hear the sample of a man repeating: "Is dos Santos my mother? No. Is Savimbi [the first leader of UNITA, MPLA's confronting movement during the Angolan Civil War] my father? No!" Coquenão: "What is this thing of a nation that is an orphan?"
Join everything we've written above and Batida, in the end, is this: "The need to find my interpretation of what is being Angolan and to be an active part in creating a new image, another kind of Portuguese, European, and African man." Born in Angola, growing in the suburbs of Lisbon, in between Amadora and Carcavelos, Coquenão says to be "a new man always in progress, always in analysis": "Only when you die you do come to a conclusion, inevitably inconclusive." This makes him feel comfortable. He hates the exploitation of exoticism to quench Western eyes, but such a thing, he points out, is impossible with Batida: "There can be no exploitation of exoticism beyond what already exists: a person like me making the music I make is exotic enough."
Angola soulful
Still it may have been, and we exaggerate, too much exotic for Portugal. Dance Mwangolé was released in 2009 and, despite being the new representation of the vibrant sound the country was embracing through Buraka Som Sistema, it did not cause the expected shock/reaction. Praises were sung, Bazuka was passed on the sets of prescient DJs and there were several concerts abroad. Last year, however, Coquenão determined with Farol, the label responsible for editing Dance Mwangolé, to put the album out of catalogue. He had released singles for European independent labels and had started an underground word of mouth. He was preparing to launch a new edition of Dance Mwangolé on an independent online label when he received an email from Miles Cleret. "We really like it. We want to release it." Here we are then, back to Batida. A version close to the original one, an improved version. In between Dance Mwangolé and the album now released, the 16 songs have become ten; MCK appeared to give a motto, rhyming the verses of his Atrás do prejuízo (Behind the prejudice); Ikonoklasta was rescued for a new song, Tirei o chapéu (I took off my hat); and Ngongo gave voice to Makumba, instrumental until then. The ancient elements, such as the contagious guitars or the never-ending rhythm of dikanza (here we call it "reco-reco"), are emphasized. The time that passed has been good for the music created by Coquenão. It enabled him to enhance the synthesis that Batida is.
Ngola Ritmos - Monami
Miles Cleret says not to be an Angolan music expert - which means he may "only" have several boxes of records - but he perfectly knows what's special in it. "Semba rhythms, especially the most joyful, are almost like Colombian cumbia, but faster and with electric guitars. I always use them in my sets because they are a perfect bridge between Africa and South America. Indeed, the guitar sound is almost Congolese, but while the Congolese based their music on the rhythms of the Caribbean, Angolan music is very soulful." He also explains the similarities he finds between the music of Northern Brazil and his favourite Angolan singer, Rui Mingas, and is enthusiastic about with the vision of "ideas traveling and contaminating themselves."
In the near future, maintaining the policy of reprints, the label will release the Ondatrópica, a sort of meeting between Colombian musicians with the British Quantic, the DJ at the Soundway's party that will feature the Batida in London. Thus, this is the future of Soundway. The present has a name. Batida. We have the privilege of knowing him for three years.
Article originally published in Ipsilon, cultural supplement of the newspaper Público.
Translation:
Alice Girotto