Mamela Nyamza: the body as instrument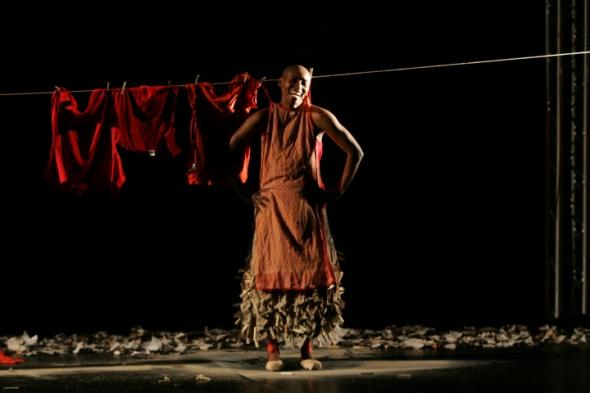 Multiple award-winning dancer, choreographer, teacher and development activist Mamela Nyamza, the 2011 Standard Bank Young Artist Award Winner for Dance, started using dance to translate the world around her as a child growing up in Gugulethu in the 1980s.
Gearing for the National Arts Festival
Nyamza, along with the other Standard Bank Young Artist Award winners, will be showcasing her newest work on the main programme of the 2011 National Arts Festival taking place in Grahamstown from 30 June to 10 July.
The 34-year-old mother, artist and activist will be bringing Isingqala and amaFongkong to the festival. The double-bill features a solo work by Nyamza and a collaborative production with the Adugna Dance Theatre Company from Ethiopia.
In creating Amafongkong, Nyamza says that her intention was to hold an open space to explore the notion of "collaboration" in all its complexities, to see how and where similar and different bodies could meet in movement. The collaboration is supported by Art Moves Africa.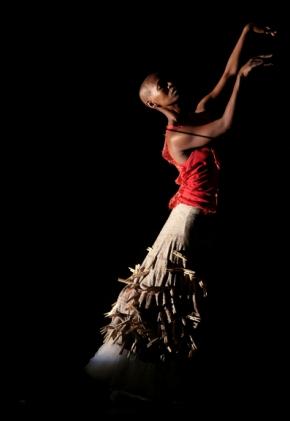 Reaching out with dance
Amidst an intense performance schedule, Nyamza manages a huge amount of outreach work.
She is currently project coordinator for the University of Stellenbosch's Project Move 1524, which uses dance movement therapy to educate and demonstrate on issues relating to HIV/Aids, domestic violence and drug abuse.
Her passion for upliftment and youth empowerment is evident through the various community outreach and dance training projects she has been involved in, from teaching ballet in Mamelodi to doing volunteer work at Thembalethu Day School for the Disabled.
"Art has developed me, and opened a totally different book for me to explore the impossible which is now possible," she says. "Giving back to the community is helping those that come from where I come from, and showing them that this art is so healing, and it can heal a lot of them that are born out of issues just like myself.
"I think doing something with all your soul, you don't think about being drained … At the end of the day you feel so fulfilled that people are listening to your language."
Growing up as part of a large family in Gugulethu, Cape Town in the 1980s "did not give me a choice but to love dancing," says Nyamza.
"There was music and sound, all day long, and even in the streets the noise became the music … I used my body as the instrument to react to all forms of sound, whether it be playing, crying, or watching all sorts of things that one can imagine happened in Gugulethu in the '80s."
Career so far
Nyamza matriculated from Fezeka High School in Gugulethu, where she also attended the ZAMA Dance School, under the Royal Academy of Dance.
She went on to study for a National Diploma in Ballet through the Pretoria Technikon Arts Faculty. In 1998 she completed a one-year fellowship at the Alvin Ailey American Dance Centre, and also participated in intensive choreographic workshops at the Vienna International Dance festival.
In 2005 she attended African Dance workshops in Soweto with Jamaine Acogny, and in 1997 underwent ballet training with Martin Schonberg through the Pact Dance Company. In 2009, she completed an intensive course in dance directing through London's prestigious Sadler's Wells Theatre.
"No one warned me that it would be this difficult to be a dancer in South Africa, and there weren't many black female dancers back in the day who could have advised me on how to make it in this profession," says Nyamza. "So I juggled all of this on my own, not knowing what I was getting myself into. It is by no mistake that I am in the industry, it was meant for me. It actually chose me."
Since graduating she has been a member of the State Theatre Dance Company, lectured dance at the Pretoria Dance Technikon, the Dance Factory and Jazzart Dance Theatre, and was resident choreographer, teacher and vice-principal of the Zama Dance School in 2007.
From 2002 until 2005 she was also involved with various commercial, modelling and corporate projects, including being part of the Face of Woolworths Campaign in 2004, and her ongoing work with the Free flight Dance Company since 2002. She has also presented dance workshops in Brazil and Mexico.
"I love my art, because we have this powerful tool that speaks to all without a word."
Musicals, performances, pieces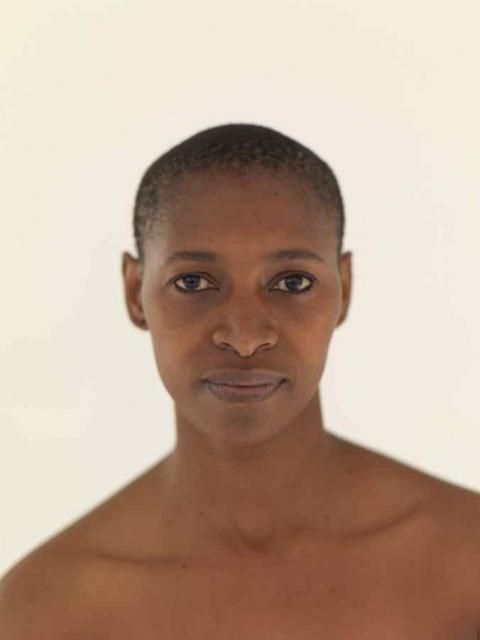 Mamela Nyamza, July 2010. Photo by Ant Strack

Nyamza has been part of various original grand-scale musical casts, including The Lion King in Denhaag, Netherlands in 2004 and We Will Rock You in South Africa in 2006.
In 2008 Nyamza choreographed and performed her own piece, HATCH at On Broadway, the Out The Box Festival and Baxter Dance Festival. She also took the piece to the Netherlands, where she performed it in shelters for abused women.
She also performed the piece at the World Population Foundation, and did informal studio performances of the work in Brazil and Vienna, as well as at selected schools in the Eastern Cape, Durban and Cape Town and at the South African Domestic Violence conference in Johannesburg.
During 2008, she performed in Gugulethu and Khayelitsha on World Aids Day, collaborating with Free Flight Dance Company and Dance For All.
She was selected as the South African representative to present Afro-fusion at the Superstars of Dance competition in Los Angeles, USA. Her work, Kutheni, was commissioned by FNB.
Other pieces choreographed by Nyamza include Reality Check (1999), Umakoti welixesha (2003), Some Of Us Can Change (2006), The Classroom (2007), If Clothes Could Talk (2008), Our Fear (2008), HATCH (2008), Kutheni (2009), I-Dolls (2009), Hatched (2009) and Shift (2009). She was also a choreographer for the reality TV-programme So You Think You Can Dance in 2008.
In 2009 she performed at the FNB Dance Umbrella and also took HATCH to Mexico for Foro Performatica. She attended the 2009 Young & Bright Artist's Conference in Cape Town, and was a commissioned artist for the Baxter Dance Festival.
Even after many years of experience in the South African performing arts industry, Nyamza is thankful for the opportunities to express her artistic views in the way that she wants to. "I now have my own repertoire, and I am so proud of my own achievements in the industry, thankful for all of those who believed in my art."
Article originally published on SouthAfrica.info.