Ayiti pi djanm ak jazz
"Haïti plus fort avec le jazz", "Haiti stronger with jazz" is the theme of International Jazz Festival of Port-au-Prince that will take place in this city between the 19th and the 26th of February.
The Foundation Haïti Jazz is contributing to disseminate the so often unknown cultural face of Haiti through the organization, together with several national and international partners, of the 5th edition of this festival.
The event will involve the participation of international artists coming from different countries like Germany, Brazil, Spain, Mexico, France and Canada; the host country will also be represented by performers living in Haiti and abroad thus strengthening the promotion of the Kreyol Jazz. The festival will be launched with the Brazilian singer Beatriz Malnic, accompanied by the American pianist Aaron Goldberg and will celebrate its closure with Mino Cinelu, Carsten Daerr Trio and Pauline Jean.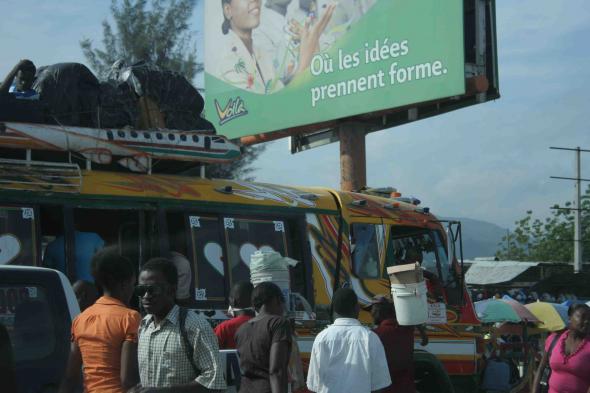 fotografia de Port-au-Prince, de Sílvia Norte
The 5th edition of the International Jazz Festival of Port-au-Prince is an expression of the so alive Haitian art; although is not mentioned in international media headings, it is essential to bear in mind that it does exist, it didn´t fall apart nor was it buried in the aftermath of earthquake. The music, the voudou ceremonies, the painting and a diverse array of handicraft are very much present in the neighborhoods, in the streets and in each Haitian home, being an inseparable feature of this nation´s history whose traditions and culture need to be internationally recognized.
Festival´s Agenda:
Saturday, 19 – 6:00 pm Scène Prestige: Mushy Widmaier . Beatriz Malnic . Aaron Goldberg

Saturday, 19 – 8:00 pm Scène Voilà:Frantz Courtois

Sunday, 20 – 5:00 pm Karibe: Beatriz Malnic . Vanessa & Alex Jacquemin, Jane Bunett

Sunday, 20 – 8:00 pm Scène Voilà: Jaleb

Monday, 21 – 6:00 pm IHA : Claude Carré Trio. Jane Bunett

Monday 21 – 8:00 pm O'Brasileiro: Dizwikara

Tuesday, 22 – 6:00 pm IHA: Vanessa & Alex Jacquemin . Mushy Widmaier

Tuesday, 22 – 8:00 pm Scène Voilà: Jaleb

Wednesday, 23 – 6:00 pm IHA: Eblén Macari . Organik Trio

Wednesday, 23 – 8:00 pm Scène Voilà : Welmyr Jean Pierre Trio

Thursday, 24 – 6:00 pm IFH: Mino Cinelu

Thursday, 24 – 7:00 pm Karibe: Jerez Texas . Carsten Daerr Trio

Thursday, 24 – 9:00 pm O'Brasileiro: Claude Carré Trio

Friday, 25 – 6:00 pm IHA: Organik Trio . Pauline Jean

Friday, 25 – 8:00 pm Scène Voilà : Frantz Courtois

Saturday, 26 – 4:00 pm Fokal: Eblén Macari

Saturday. 26 – 6:00 pm Scène Prestige : Carsten Daerr Trio . Pauline Jean . Mino Cinelu

Saturday. 26 – 8:00 pm Scène Voilà : Welmyr Jean Pierre Trio

fotografia de Port-au-Prince, de Sílvia Norte
Addresses :
Scène Prestige: Parc Historique de la Canne à Sucre, Route de Tabarre

Scène Voilà: Restaurant Quartier Latin, Place Boyer, Pétion-Ville

IHA: Institut Haitiano Américain, Champs-de-Mars

Karibe: Karibe Hôtel: 7, Juvéna, Pétion-Ville

O'Brasileiro: 103, rue Louverture, Pétion-Ville

IFH: Institut Français d'Haïti, 99, rue Lamartinière

Fokal: 143, avenue Christophe, Port-au-Prince
For more information please visit the Festival MySpace: www.myspace.com/papjazzhaiti
Sílvia Norte