Mozambique: Ocupações Temporárias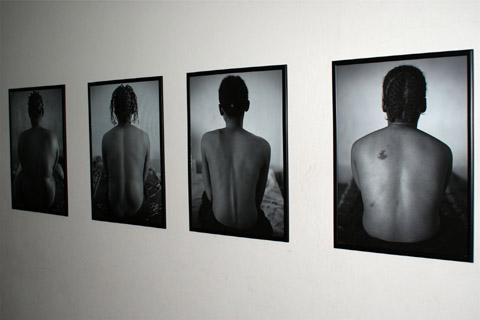 Beyond Boetjan and the South African connection, occupation of one form or another has always been part of the collective psyche of Mozambique. Attempts to explore this, however, are far more recent. A new mixed media exhibition, Ocupações Temporárias (temporary occupations), sees five young Mozambican artists attempt to do just that.
The highlight of the exhibition is photographer/anthropologist Camila de Sousa's 3×4. She spent months with female inmates at the Cadeia Civil de Maputo, a detention centre, and a prison in Ndlhavela. She came out with a collection of photos and installations that use prison to explore the role of women in society, a selection of which are on show at the Medical Faculty of Eduardo Mondlane University in Maputo. Black and white photos hide the faces of her subjects, drawing attention instead to their scars, backs and prison environment. To make use of the campus setting, she dusted off the anatomy room and reframed the formaldehyde-filled jars of uteruses and fetuses to underline her theme, while a 30-minute video installation and a series of colour glamour shots serve to drive home her message that these are women, rather than just another number.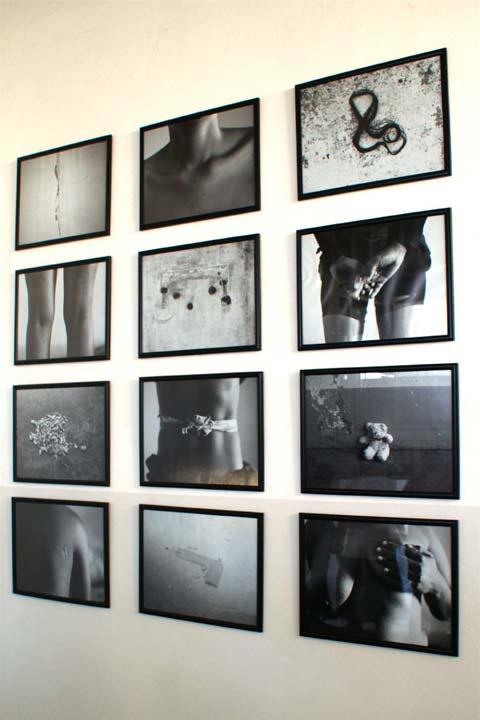 It was no easy task, she says: "There was a lot of bureaucracy, to be able to go in. I'm the first one to go in with a camera, with a recorder. I sat down with them to eat, I was counted as a prisoner. My foundation in anthropology helped me a lot. I went there for three months and didn't take anything – I just talked to them. But then suddenly, they started to open up. One of them came to me and asked me to photograph her breasts, because her husband had cut them."
"These women have not only been abused by their partners, they are abused by this whole patriarchal society. Our legal system is patriarchal. We hear stories of parents who abuse their own childen. We have girls, 15 years of age, living in jail. Her first sexual relation was with a man, 50 years old, and one day, she killed him. But who should be in jail? That's the great question that the project tries to answer."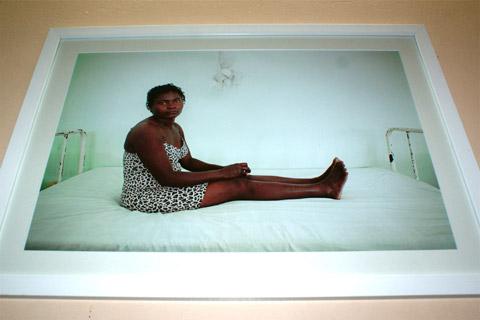 The glamour shots approach her theme from a different angle. "This is about the reconstruction of their fractured bodies. Their bodies are incarcerated, but they still own their sensuality. They are still women, and this is how they want to show themselves. Doing these pictures was incredible, because they ran to their beds to find combs and put on makeup. For an instant, we were in another place. They were outside, living a dream. Later I gave them their pictures and they said, 'This one goes to my husband, and this one to my sister'. The photographs became a form of communication."
The most startling of the series is of a young women reclining on her bed, covered in burn scars. Camila explains: "Her husband was living with other girls. She was 18 at the time and already had 3 children. She had a breakdown. She took all her children, locked herself inside her room and set it alight. She was the only one who came out alive. Her children died. She lives with those scars every day." She now finds herself in jail for murdering her children. "She knows what she did, but that's the question – who is sanctioning these men that live with 3, 4, 5 women at the same time, and she gets punished for that? So we need to question the legal system first."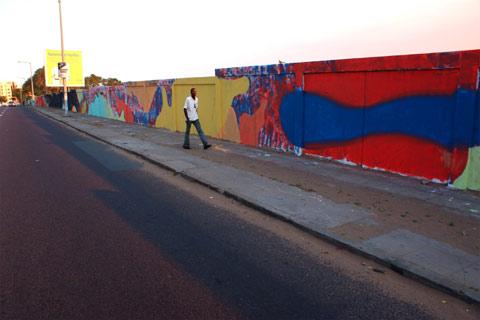 Another highlight of the event is a 100m long graffiti piece – still a work in progress at the time of writing – by Maputo's pre-eminent graf artist Shot B, who is aiming to bring new life to the streets of a city blessed with both incredible architecture and plenty of unused or dilapidated structures. He's the main artistic force working on this perfect canvas on the main entrance to the city, Avenida OUA (OAU). "If you're coming or going from Mutola," he says, "even dudes who are coming from South Africa by bus, this is the main road, the first thing they will see."
"I'm the one who is introducing this," he says of street art in Mozambique that goes beyond the juvenile scrawls that one can find here and there. "There are only maybe three dudes who are doing it, but not so much. You can work here, but you need permission. If it's a house, you speak to the owner. This wall is municipal, they gave us permission. We talked to the right people, so it was quite easy."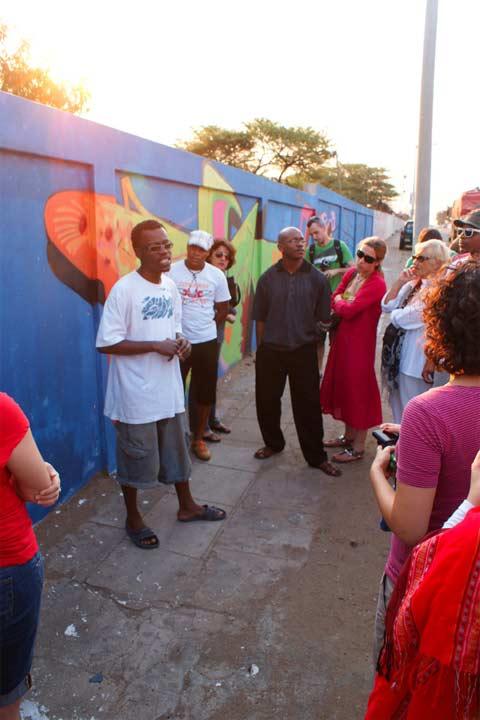 Interest from young people is growing. This huge new piece has seen Shot working with 20 students. "I was only working with the students to help on the background for a weekend. I'm doing everything else. I'll finish it off myself – I have three weeks to do it. You'll find a little bit of Maputo on the wall, in the characters and letters. Maputo is my spot. I'm living here. I'm always working on something new," he adds. If there's one legacy of this exhibition on temporariness that will hopefully last, it's this wave of colour where once stood an endless grey concrete wall.
The five-part exhibition also includes drawings by Holland-based Jorge Fernandez at the famous Cinema Scala and hip-hop activist Azagaia's analogue Facebook wall dedicated to local enigma Jaimito, a homeless hippy known for his detailed public collages that inspired the exhibition's poster design. The final part is a photo exhibition by established local photogapher Filipe Branquinho on the upmarket Avenida Julius Nyerere – a collection of portraits of Mozambicans whose livelihoods/occupations fall into the theme of temporariness – such as car guards, security guards and street vendors. Perhaps ironic, perhaps profound, the art-crowd audience gathered on the street to study the beautiful photos of the same people who, in the flesh, continue to melt into the background a few metres away.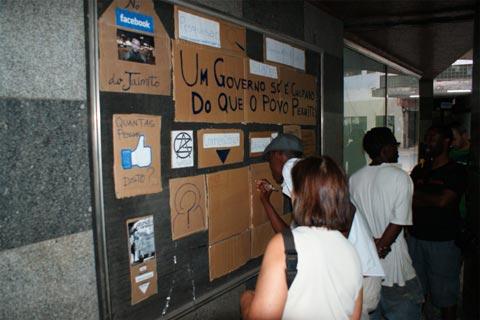 Ocupações Temporárias is the brainchild of Elisa Santos, a Portuguese producer and NGO worker who has been balancing her time between Mozambique and Angola for the past five years. She started the event last year, and its success prompted this second version. And while she too is not Mozambican, her intentions are far more noble than simply wanting to cash in.
"Getting young artists together is the main thing," she says. "You can find a really contemporary thing here in Maputo, because these artists know themselves. They knew of each other, but had never really met before. For example, it might be that musicians don't mix much with visual artists or photographers … Now we have started making these contacts – not just on Facebook but for real, because they live all in the same city.
"I'm not so sure that organised movements really work any more," she adds. "This is different… Young artists just need someone to push them a bit, then they go…"
Elisa and Filipe are both quick to point out that despite their close proximity, there is huge disconnect between Maputo and Joburg, which stalls Maputo's creative growth within Southern Africa, as does a lack of galleries and collaborative initiatives such as this one. Ends Elisa: "People in South Africa think there is nothing on in Maputo, but there is. This is our opportunity to show people that!"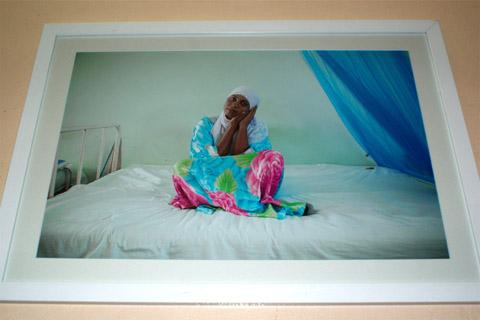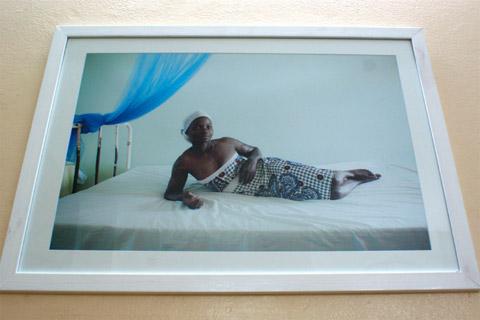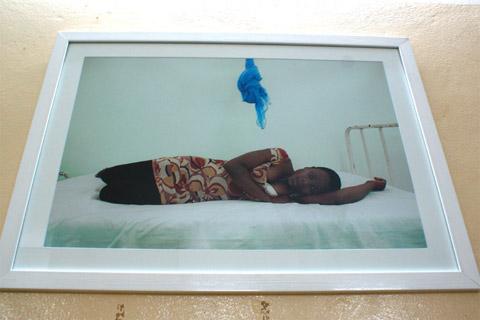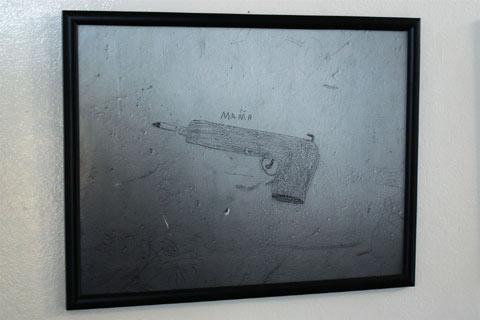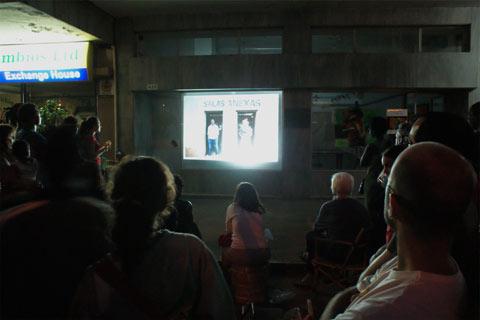 Ocupações Temporárias runs until 2 October in various venues in Maputo. Click for more details.
All images © Dave Durbach.
Article originally published on Mahala.