Marrakech Art Fair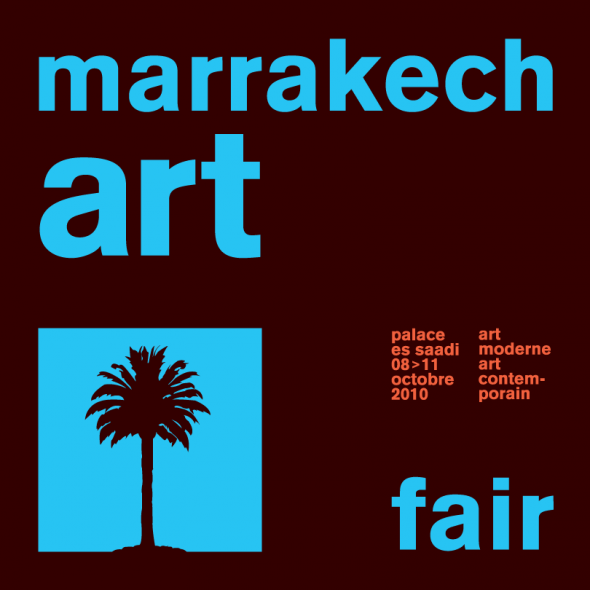 On October 7th 2010 started a series of exhibitions in different museums in Marrakech (Musée de Marrakech, Bank Al Maghreb, Palace Es Saadi…). The Museum of Marrakech, situated in the heart of the old Medina, hosted Resonnance exhibition featuring a number of works by artists of Moroccan origins. Painting, photography, video art, graphic design, all the artistic forms gathered in this collective exhibition to celebrate the rich cultural background that brought into the artistic scene those artists: Mounir Fatmi, Aziza Alaoui, Chourouk Hriech, Mohamed El Baz, Lalla Essaydi, Malik Nejmi and others.
The reflection of the artists double or multiple identities in their works can be noticed through the use of henna, Zellij which were prevailing in the works of Lalla Saydi; the use of colours, Arabic letters, photographs of Moroccan men, children and women, veiled and unveiled, wearing different colours, situated in juxtaposition with other pictures, of the same photographer, which were less colourful, in black and white sometimes unclear and blurred by the movement of the camera.
The black and white was not only predominant in Malek Nejmi's photographs but also in the drawings of Chorouk Hriech where the presence of ships was strong and caught my attention in most of her works, which may be manifesting her constant movement. Finally, Mounir Fatmi excelled in mixing Arab and western cultures in his video 'Mixture' where Arabic letters written on a CD that was turning and playing the music of Beethoven.
Out of this artistic and romantic space and atmosphere, this cultural capital celebrated inside the museums is not detached from the economic capital that is manifested in the price of tickets to enter the museums and the programs and brochures that are sold rather than given for free (as usual) to the audience.