Lonesome Warriors. About Africa at the Olympic Winter Games
The Olympic Winter Games in Sochi, Russia started on February 7 with the Opening Ceremony, where 88 athletes bearing the flags of their respective nations led their national delegations into the Olympic Stadium. When a lonely man representing Zimbabwe entered on position 26, one could have asked two questions: Why is a Zimbabwean the 26th, if there is an alphabetical order? And, probably more interesting, what is a man from the southern Africa doing at Olympic Winter Games?
The first question is easily answered: They all marched in accordance with the Russian alphabet, which seemed to be a bit unorganized when the most nations came in their typical order and suddenly Zimbabwe appeared between Dominica and Israel. The lonely Zimbabwean flag bearer was Luke Steyn, 20 years old, born in Harare. Regarding his background is the answer to the second question. He was born in the Zimbabwean capital in 1993, but his family moved to Switzerland two years later where he learnt skiing and even felt in love with skiing. Steyn started competing in some races, moved to Colorado for studying and came up with the idea to take part at Olympic Games. For that it was quite helpful that his mother is the secretary of the Zimbabwe Snowsports Association.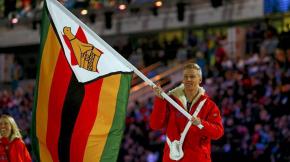 "We got in contact with the Zimbabwe Olympic Committee [ZOC] around June last year. It was a short time frame to get everything organized. So there have been a lot of people who have worked hard in order to get me here.", states Steyn who was the first Zimbabwean athlete at Winter Games at all.
Equally it was the first time for the ZOC to make all the necessary preparations to send forth an athlete to Winter Games. They did everything for a smooth Olympic debut as it was an honour for both the athlete and the country. It has been a goal of the ZOC to find winter athletes and it was a milestone for them to finally promote one. Steyn primarily did not go to Russia to win medals, he went as an ambassador. And he got a lot of supporters in his home. "I know winter sports are new to the country and they don't yet understand all the rules and how it works but it has not stopped people supporting me." The races were shown in South African television to which also Zimbabweans have access. They saw Steyn competing at giant slalom, where he finished in 57th position. In the following slalom event he was disqualified in the first run. Steyn was supported by people in a country that he left in the age of two. But his connection to the country is still there, he injures: "It's in your blood; the connection to Africa will never leave me." He has family in South Africa, he spend all his holidays there and in October he was in Zimbabwe as well. Luke Steyn should be grateful to have gone to Sochi as this is not obvious, even not for an already qualified athlete. The Algerian Mehdi-Salim Khelifi also qualified but he did not receive this support from his country, because they were not motivated to arrange all the organization just for one athlete who probably do not win a medal. Khelifi already started in Vancouver, Canada four years ago. He finished 84th.
Eleven African countries sent participants to Olympic Winter Games in the past. It began with South Africa in 1960 when they competed with four athletes. But it were the last Games for many years for them, as apartheid policies prevented South African participation until 1994. In 1968 Morocco were the second African nation. They sent a team of five alpine skiers who competed in slalom and giant slalom. There is a conspicuousness that the most Africans take part at the slalom events and it is impossible to find a reason. More comprehensible: The most African athletes are from Morocco or at least their roots are from Morocco due to a high migration rate. Even this year we could find two Moroccans on the slalom start list. Kenza Tazi were born in Boston, lived in London and the French Alps, but she started for the northern African country as her father is Moroccan. But Tazi, who just came to Morocco every summer to visit her grandparents, is proud to be sent as a member of their country. "By representing Africa and Morocco, I will show the world through my sport certain values that will then be assimilated with them.", she said and also went to Russia "to uphold the Olympian ideals."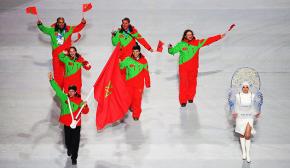 Already known in Morocco is her teammate, Adam Lamhamedi. He unexpectedly won a gold medal at the junior Olympics 2012 in Innsbruck, Austria. Subsequently king Mohammed VI honoured him and Lamhamedi got known in the country. He was born in Quebec, Canada, and was therefore the second participant with roots in America and a Moroccan father. And like Tazi, he is also just 18 years old, but already achieved respectable results. In Sochi Lamhamedi finished the giant slalom 47th and with Tazi (45th) Morocco reached the best African results. More sustainable, however, is his gold medal from Innsbruck. The International Olympic Committee just asked him to put something from his outfit to the Olympic Museum in Lausanne, Switzerland as he won the very first medal for Africa in winter sports.
Every African athlete clearly emphasizes his connection to Africa, even if he never lived there. Logically deciding to start for Africa is always the shortest and easiest way to become an Olympic star. Who would not like to identify with an African country, if it leads to Olympic Games? Considering the story of Togo's Olympic team we then could ask another question: Could it be a good idea to start for Africa without any relation at all? Can we agree with changing the citizenship just to take part at the Olympics for own advantages? Ennio Herrgen and Steve Grundmann, two Germans, planned to compete in cross-country skiing in Sochi - for Togo. They just wanted to know how competitive they could be, as a comparison to other athletes. Searching for a challenge without any chances to get to the German team provoke the new thoughts of changing the nationality. Herrgen and Grundmann chose Togo arbitrarily as their friend Roger Evenamede is Togolese who just founded a ski federation for Togo.
Two Germans without deep identification and a strategic decision - but the Togolese warmly welcomed them. Television, radio, newspapers, they all reported about the idea, the government and the king invited the Germans. And they presented some proposals to help Togo. Humanitarian projects like building an ice rink right in the heart of Lomé - with synthetic floor panels to not consume a lot of energy. It sounded like a win-win situation for both the athletes and the country and no one could say anything against it. In the end it failed due to professional obligations and the difficulty to change the citizenship, but at least the Togolese ski federation was founded and the basic idea was born - and was getting known. Gervacio Madja, already equipped with a Togolese passport, took part at the World Cup in Val di Fiemme, Italy as the first Togolese skier. Although he was the last one who finished, he started dreaming of the Olympics. But also he failed because of an injury.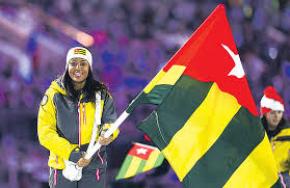 It was time to search for new athletes. Via Facebook the team around Evenamede got in contact with Mathilde Petitjean, a French-Togolese cross-country skier who also had heard of Team Togo. Accompanied by Alessia Afi Dipol, an Italian-Togolese alpine skier, she should start in Sochi and finally the long Togolese way to Olympic Winter Games was successful. Petitjean, 20, finished 68th and Dipol, 18, was on position 55 at the giant slalom. Steyn, Tazi, Lamhamedi, Petitjean, Dipol - five Africans took part in Sochi, all born in the 1990s, with a lot of new experiences at their first Olympics and a hopeful future. Kenza Tazi just summarizes: "I think I have spent the most enriching three weeks of my life." Africa at the Winter Olympics is not a strange idea. It is worth to support it. The next Winter Games in 2018 will take part in Pyeongchang, South Korea.