We Want No Fucking One For Fresident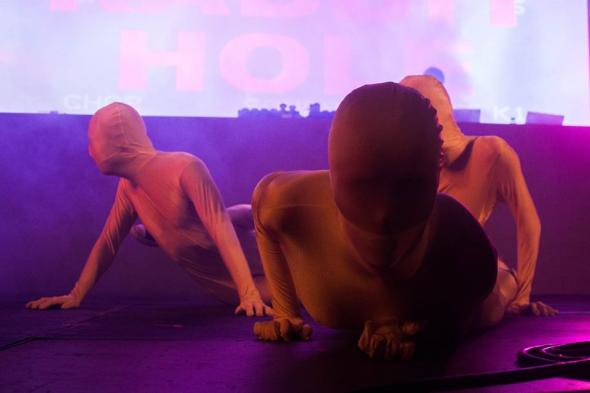 Foto de João Viegas (Rabbit Hole)
We want a black dyke for president.
We want a person with AIDS for president and we want a trans person for vice president and we want someone with no health insurance and we want someone who grew up in a place where the earth is so saturated with toxic waste that didn't have a choice about getting leukemia. We want a latino faggot for president who saw their best friends die in a mass shooting. We want a president that had an abortion at sixteen and we want a candidate who is a part-time hooker. We want a differently abled refugee for president. We want a president with no airconditioning, who has stood in line at the clinic, who stole their last meal and has been unemployed and was sexually harassed and gaybashed and deported.
We want someone who has been in love and been hurt, who respects sex, who has made mistakes and learned from them. We want someone who has bad teeth, someone who has eaten hospital food, someone who crossdresses and has done drugs and been in therapy. We want someone who has committed civil disobedience.
We want an alien chimera who vomits instead of speaking. A president with a prosthetic that is a rusty sex machine who dreams of killing electric sheep. We want a dead body from a monster that exploded in someone's minimal cuisine, a pandemic of disphorias that swarm, swirl and jeez. We want liquidity and fluidity, new primordial soups in the presidency. We want for president a cyborg and vorpial blades, kittle and pools of petrochemicals.
IN FACT WE WANT NO FUCKING ONE FOR PRESIDENT. WE DON'T WANT ANY-FUCKING-
THING FOR PRESIDENT. WE WANT ABOLITION OF SUCH POWERS, AUTHORITIES AND HIERARCHIES. WE STRIVE FOR THE ABOLITION OF GENDER, RACE, CLASS AND ANTHROPOCENTRISM. WE WANT A CATACLYSM, ANOTHER END OF THE WORLD.
May we free ourselves from our biological conditions and bodily limitations and seek emancipation from the cultural codes, perpetrators of a sense of inadequacy.
May we free ourselves from the muck of neo-liberal powers hauling for queer assimilation, laws and regulations - over a totalitarian idea of a WE, a naif idea of a unified US. What are those but clusters of privilege and domination, blindness and citizenship?
We claim for a rejection of a natural authenticity to unleash an alien storm, doubt and uncertainty. A striking storm from which all subjectivities shall not remain unaltered…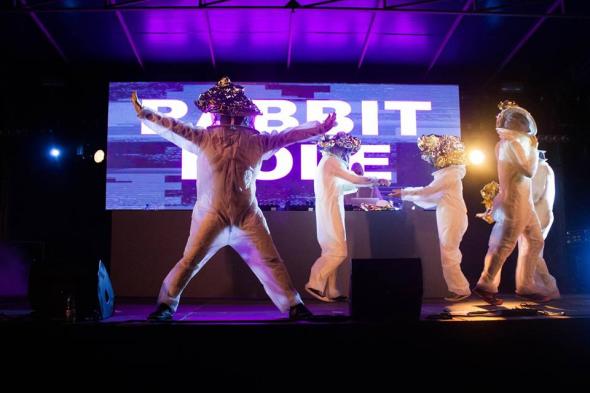 Foto de João Viegas (Rabbit Hole)
Manifesto written and adapted by Pedro Marum
With quotes and inspired by Zoe Leonard, Laboria Cuboniks and Additivists
Manifesto presented in the homonymous performance by the artistic collective Rabbit Hole
Performers: Francisco Belard, Joana Sousa, Luis Odriozola, Mariana Nobre Vieira, Pedro Marumand Sara Leite
*Rabbit Hole is a creative platform, born on the 12th of February 2012 with the goal of promoting the existence of a space where expressive freedoms may be shown and shared, through the organization of events designed for that purpose. These events incorporate cinema and video art, performances, music concerts, debates, encounters, and parties. With the aim of promoting a safe space for the inclusion and expression of alternative and non-normative communities, RH´s team works together with emerging artists from a non-commercial panorama, questioning issues such as the limits of the body and human interaction, the exploration and exploitation of sexual and gender identities, or the status quo of contemporary cultural and social values.