René Tavares: "(Un)finished"
Opening the Bozart art gallery in the Lisbon circuit of contemporary art, new paintings and drawings by the young santomense artist, René Tavares, around a theme that transverses his work: The Tchiloli.
A theatric performance of Renaissance heritage reinvented by the people of São Tomé and Príncipe, to the point of becoming a symbol of resistance to the former Portuguese colonial dominion, Tchiloli is now recognized as one of the richest cultural traditions of that country, being in progress its application to immaterial heritage of mankind.
René Tavares works precisely on that tradition, reactivating it with a contemporary look with his paintings and drawings, and also with photography as a starting point and research for his pictorial work or as the final object in a personal style developed in recent years.
His drifts start therefore with the São Tomé and Principe colonial history as a referent and mixing it with the current reality lived by the artist in European and African geographies.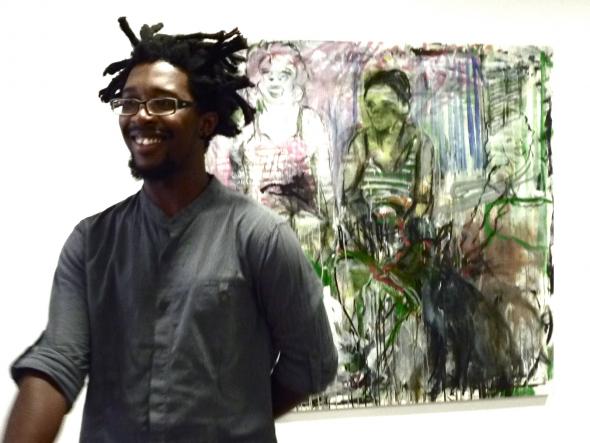 In them we meet characters of both Tchiloli and also those involved in the daily life of the Islands - with particular emphasis on the representation of children playing in the street and women doing their household chores -, in scenarios whose technique between drawing and painting summons other "miscegenation" (as he ironically says) in the same symbolic space.
René Tavares translates lines, dashes, blots, a personal synthesis of his own identity always in process ("unfinished") set in constant movement in between past and present references.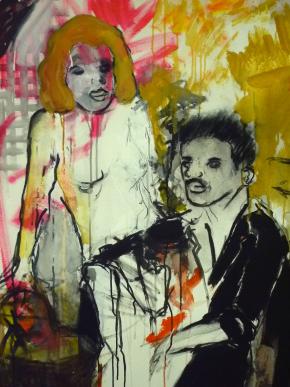 Interested in deepening the permeability of frontiers among story's, languages and techniques and share that exploratory path. He is and artist that reflects through his work is own experience of contemporary displacement among the several post-colonial contact zones.
René Tavares was born in São Tomé and Principe in 1983 and graduated in the National School of Fine Arts in Dakar, Senegal. At the same time, participated in several workshops in Tela D'Arte art gallery, in São tome, led by the artists Seyni Gadiaga and Débora Miller, and in 2002 the workshop of painting and drawing of finalists of the Fine Arts Faculty of Lisbon University. Exhibited in São Tomé, Paris, Bordeaux, and Évora, Oeiras among other cities and in 2008 in the V Biennale International of Art and Culture of São Tomé and Príncipe. He won in 2009 a scholarship to develop his fine arts research in Rennes, France. He lives between São Tomé and Lisbon.