"What are you willing to die for?" The presence of contemporary African art in Poland. Geração 80 at the Malta Festival.
"If it hadn't been for World War II, African countries wouldn't have been able to liberate themselves from colonial empires" [Diouf]. This observation, made by Mamadou Diouf – a Senegal-born Pole, activist and legend of the Warsaw music scene, during a debate organized in June 2019 as part of the 30th Malta Festival in Poznań seems to be a provocation rather than an objective statement of facts. The average Pole is unable to imagine that this cruel conflict, which began in Poland, could bring anything positive for humanity. In a country so profoundly affected by this war, Diouf's statement is surprising, almost shocking.
A deepening of reflection on ourselves through provocation was likewise the aim of a curatorial project by the Angolan artist Nástio Mosquito realized during this year's Malta Festival. The project, entitled Army of the Individual, consisted of the presentation of performance-concerts by Mosquito himself and the screening of documentaries, feature films and short films by authors such as Sérgio Afonso, Mário "Fradique" Bastos, Ery Claver, Gretel Marín, and Kiluanji Kia Henda, all belonging to Geração 80 – a generation of artists born in the 1980s, during which Angola was overwhelmed, with a few interruptions, by a civil war that lasted until 2002. The project was complemented by screenings of key Angolan films by an earlier generation of directors, such as Pocas Pascoal [Por aqui], Maria João Ganga [Na cidade] and Mawete Paciência [Rastos]. Mosquito also invited performance artists from other parts of the world to his project, including Priscila Rezende and Benjamin Abras (Brazil), Li Ran (Shanghai), Alice Joana Gonçalves (Portugal), Vic Pereiró (Spain), Radouan Mriziga (Morocco) and Kelly Schacht (Belgium) ["Idiom"].
In a country with a thousand-year history of armed conflicts, uprisings and guerrilla warfare, talking about war and peace was nothing new. Mosquito's original proposal was to look at our history from the position of Africa. As Diouf proved, a change in optics allows for greater objectivity in evaluating even the most dramatic events. Referring in his curatorial statement to the history of Poland, Mosquito recruited viewers from Poznań to join a one-man army whose aim was to fight for peace with all available means and to engage them in an argument for a better course for the future ["Army"].
African art – a new paradigm of curatorial practices in Poland
Over the last few years, contemporary art created by artists from Africa has been slowly making its way into Polish museums, cultural institutions and galleries. In 2015, the Museum of Modern Art in Warsaw hosted the exhibition "After Year Zero. Universal imaginaries – Geographies of cooperation", which examined the participation of culture in anti-imperialist and decolonization processes [Busch and Franke]. It included works by Kudzanai Chiurai (Zimbabwe), Qes Adamu Tesfaw (Ethiopia) and Kiluanji Kia Henda (Angola), which were also displayed during the Malta Festival. Contact with their works, which raise questions about historical and contemporary colonialisms, was one of the first opportunities for Polish audiences to learn about contemporary art created in Africa.1
The project Army of the Individual was an extremely important event in the history of the Polish museology. It was not only the first presentation in Poland of art created by Angolan artists; it also became the first contemporary art project curated by an artist from Africa. Firstly, the presence of Nástio Mosquito in Poznań raised the question of whether Angolan culture could be read in Poland. Was this art perceived by the inhabitants of Poznań in a similar way as in other European countries? What purpose, apart from broadening the horizons of the local audience, can or should the realization of a curatorial project by an artist born in a different historical, social and cultural context serve?
"Viva Polonia, Viva Angola"2 – A common past.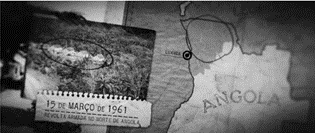 Mário Bastos - Fradique, Independência, 2016, film documentary
On the sixth day of the Malta Festival, a film by Mário Bastos alias "Fradique" entitled Independência [Independence] was shown. Completed in 2015, the documentary tells the story of Angola's struggle for liberation from Portuguese colonial occupation. The film was screened with a full auditorium. The course of the thirteen-year-long conflict in Angola (from 1961 to 1974), which was the longest war of liberation on the African continent, is known relatively well to Polish viewers. Reports from armed confrontations with the Portuguese appeared regularly in the Polish press. The Angolan independence fighters and, above all, the MPLA – Movimento Popular de Libertação de Angola (the People's Movement for the Liberation of Angola), founded in 1956, were described in the Polish press as allies of the socialist countries [Bielecki]. In press releases preceding the proclamation of the independent state of Angola, the MPLA was presented as the only anti-colonial, anti-imperialist, intertribal and nationwide movement that could fully identify with the "progressive aspirations of Black Africa" [Słomkowski November 3, 1975].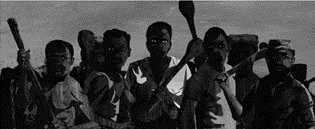 Under the dictates of the USSR, which was strengthening its position in Africa, the Polish government sympathized with Angola and its independence aspirations [Słomkowski]. After Angola's declaration of independence on November 11, 1975 – a national holiday in Poland commemorating the regaining of state independence in 1918 – Poland established diplomatic relations with the government of the People's Republic of Angola [Codogni]. The message sent from Henryk Jabłoński, Chairman of the Council of State of the People's Republic of Poland, to Agostinho Neto on the occasion of his taking up the office of the President, expressed enthusiasm and appreciation for "the heroic struggle of Angolan patriots for independence and territorial integrity" [Jabłoński]. In a speech during his trip to Poland in April 1977, President António Agostinho Neto stressed that the goal of an independent Angola was "to create a system that will eliminate human exploitation" [Neto and Jabłoński]. Poles, who were severely affected by World War II, and Angolans, who were liberated only after bloody battles, were, as Neto emphasized, "fighters of the same cause" [Neto and Jabłoński].
The images of the fratricidal Angolan civil war that followed the liberation struggle were known to the Polish audience thanks to the book Jeszcze dzień życia (Another Day of Life), from 1976, written by Ryszard Kapuściński, a reporter for the Polish Press Agency (PAP) [Jeszcze]. Described by the author himself as his "pierwsza prawdziwa książka" ("first real book") ["Ryszard Kapuściński"], the work has been re-printed in Poland eight times.
The film Independência (Independence), consisting of interviews with participants, revolutionary leaders and political prisoners, as well as animations, photographs and archival footages, was a response to the need to tell the recent history of Angola [Geração 80]. It emphasized the commonness and the multi-generational nature of the struggle for sovereignty. The film also stressed the importance of the role of women and the diverse nature of their involvement. The images of young Angolan women with a small child in one hand and a Kalashnikov in the other were interspersed with quotations from letters and from the diary of Deolinda Rodrigues – a poet-writer, martyr murdered in 1967 in the struggle for freedom, and founder of the women's faction of the MPLA – Organização da Mulher de Angola (OMA – Organization of Angolan Women) [Rodrigues Francisco de Almeida].
The screening of Mário Bastos' film elucidated to the Polish public that the painful histories of the two countries' struggles for national liberation can act as a bridge between Poland and Angola. In a country that experienced two bloody wars, it is not hard to condemn the brutality of the Portuguese or to identify with the Angolan fighters. Madonna with a Kalashnikov fits into the ethos of the fighting Polish Mother – the solitary educator of the future soldier – established after the Partitions of Poland [Mickiewicz].3 In a country marked by Martial Law, introduced in Poland in 1981, it is easier to understand the tragedy of fratricidal civil war. Likewise with the experience with Socialism: the disappointment caused by the confrontation of reality with Communist ideology and propaganda, the impact of the Soviet Union's imperialist ambitions, and the hardships of everyday life are all common features of both countries' pasts. Both nations also share the experience of emigration. The adventures of Alda and Maria fleeing to Lisbon in 1980 from the Civil War, shown by the director Pocas Pascoal in Por aqui tudo bem (2011) [Por aqui], is the story of a young Polish women seeking refuge abroad during Martial Law (1981–1983).
A common "liquid" present
The moving and poetic films of Geração 80, which lie between documentary and fiction, tell stories of the grey everyday life of contemporary Angolan people. They illustrate the thesis of the Poznań-born sociologist Zygmunt Bauman about the tangible suffering associated with the experience of post-modernity [Ponowoczesność], with confrontations with its "fluidity" – the experience, fragmentation and episodicity characteristic of modern, globalizing societies – which directly leads to feelings of uncertainty, transitoriness and confusion [Liquid Modernity]. The works of Angolan directors and artists reveal the continuity of social problems, of the pain and exclusion which did not cease to exist following the end of colonialism or end with the signing of a peace treaty that ended the long civil war. They only began to take on a different, more contemporary – more camouflaged and subtle – form. Metaphorically, sparingly and often only fragmentarily depicted, the protagonists of Geração 80's films drift in a permanent "state of transition" – they experience a provisional "liquid love" and "liquid fear" in a "liquid age of uncertainty" [Bauman 2007], whose "dizzying pace of change takes away the value of everything" [Bauman Życie 2006, 170].
A meticulously portrayed individual very often functions in Geração 80's films as an image of a community or a whole generation. Very carefully constructed frames – produced with painterly finesse worthy of Dutch masterpieces and a particular attention to detail – tell stories in a poetic way about getting entangled in the prosody of life. Each time we feel we are close to the characters on screen. In the film Lúcia no céu com semáfrors by Ery Claver and Gretel Marín, we accompany the inaccessible or, in reality, absent Lúcia during the most intimate scenes of her existence. Her closely framed and fragmentarily depicted body allows the viewer to get closer and sympathize with her. We can watch the "fluidity" of her existence: Lúcia is still a prisoner of today's society, and its stereotypical expectations towards women. She becomes passive and mute. Há um zumbido, há um mosquito, são dois [Há um], shot one year earlier by Ery Claver presents a picture of a young man who, like Lúcia, is painfully lost in the hustle and bustle of the city by night.
The experience of progressive globalization processes and contact with the "big world", and above all, with the former "West", brings disappointment to both Poland and Angola. A leap from harsh colonial domination to Baumanian "liquid surveillance" often becomes the subject of ironic criticism, as in the case of Havemos de voltar authored by Kiluanji Kia Henda. A stuffed sable antelope that decides to break away from the rigid framework of her museum existence, ends up as a decoration in a nightclub owned by rich foreigners. The film is a metaphor of a failed escape to freedom, which turns into a new kind of enslavement. The antelope is a symbol of Africa, Angola and the newly oppressed contemporary woman. The "escape" of an antelope from the national archives, where it was being exhibited, recalls a religious procession taking place in the urban landscape. Carried by young men, the antelope passes by graffiti with left-wing associations, a recollection of the idealistic slogans from the fight for freedom. Its bitter ending reminds the Polish viewer of the story of disappointment contained in the performance entitled Ziemia niczyja – No-man's Land by the Teatr Ósmego Dnia theatre group from Poznań [Ziemia]. Just like the Polish fugitives, who emigrated illegally to Western Europe and were doomed in the new reality to constant bowing, the antelope-Angola or Angolan woman can only enter the post-modern, liquid world by accepting her subordinate role.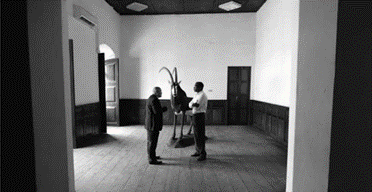 Kiluanji Kia Henda - Havemos de voltar, 2017
In the films produced by the Geração 80, the globalization processes transforming Angolan society are also a source of very personal dramas. The documentary film by Sérgio Afonso titled Do outro lado do Mundo from 2016 deals with Angolan-Chinese relations. Its main plots are centered around difficult intercontinental love [Do outro]. A young Angolan woman Paulina is a present-day Madame Butterfly, waiting with increasingly-fading hope for her Chinese partner, who was employed in a road construction project, by whom she has two sons and who has returned to his homeland. Her story of a "too distant" love is similar to the personal dramas of her Polish peers, who were the first ones to experience the effects of mass economic emigration after the opening of labor markets in the countries of the European Union. The clash between the desire for idealistic romantic love and the grey everyday routine or the social, economic and cultural realities hostile to this feeling, is the experience of Chinese-born Sofia and her husband Inácio – a young Angolan whom she met during his studies in Shanghai. Being the contemporary equivalent of Shakespeare's Romeo and Juliet – but also the incarnation of Zula and Wiktor from Paweł Pawlikowski's melodrama Cold War, about an impossible love entangled in political contexts [Zimna] – the lovers fight for their feelings in spite of the worlds in which they grew up, racist stereotypes, social norms, their own complexes and economic difficulties.
Recruitment to the Army
"Yesterday I killed a friend," Nástio Mosquito confessed to the audience during his No.One.Gives. A.Mosquito's.Ass. About My Gig. ["No.One.Gives"]. Announced as "the best karaoke performance in the world." ["No.One.Gives"], and playing with the conventions of a performance-concerto, this performative project could only be defined as a permanent provocation using different shock strategies and adapting to new circumstances similarly to a chameleon changing colors. The public asks about the method, not the reason for the murder.
Nástio Mosquito, who has been making a brilliant international career for several years, is for the Polish viewers primarily a rising star of the contemporary art scene. The Poznań audience first wants to get to know the artist and his sensitivity better – the story of a private relationship is secondary here. For Poles, living in a country not directly involved in European colonialism4 and borders closed off for almost fifty years, African culture seems to be paradoxically a "Western" import, while young African artists exhibiting their works on several continents are (especially for Poznań's inhabitants) the first league of contemporary "global" art.
The fact that Poland is still in many ways different from the former European "West" seems to be obvious not only to the audience, but also to Mosquito himself. In an interview given during the Malta Festival, the artist stressed that in accepting to work for the festival he had not been motivated either by financial gain or personal career development ["Armia" 33].5 The artist's idealistic confession "I care about Poles" ["Armia" 34] takes us into the climate of Angolan-Polish relations in the 1970s. The declaration of personal commitment, however, has a rational basis for Mosquito. In his curatorial manifesto, the artist recalls January 28th, 1573, the day of the signing of the Warsaw Confederation – the first legal act on religious freedom in Europe, guaranteeing unconditional and eternal peace between all those who differed in their faith ["Armia" 35]. The artist also reminds us of the history of the potato, a Latin-American newcomer who advanced to be an indispensable part of Polish culinary culture. Becoming an example of a happy intercultural and intercontinental integration, the Polish-naturalized potato is a proof that "both Poland and Poles know how to receive migrants" ["Armia" 35]. The artist's statements seem to be a conjuring of reality in a Europe embraced by the so-called "immigration crisis" and in the face of the attitude of some Polish politicians openly demonizing foreigners.
The call for a return to the tradition of Polish tolerance ["Poland?"] is made by means of an artistic language specific to Mosquito, characterized by establishing a dialogue with the audience using oxymorons. The verbal paradoxes are qualitative ("respectable thief", "consequent Blablabla"), quantitative ("Army of the individual") and temporal ("constant indignation") in character. The artist has constructed a kind of a semantic swing: the truth is between the two words used to form the oxymoron – we can choose on which side of the segment we are willing to define ourselves. The formulation of thoughts through the combination of opposing concepts into pairs can be explained by the artist's biographical location between two continents. In the 1950s, the Argentinean thinker Rodolfo Kusch, who tried to define the core of America's relationship with Europe, developed the concept of "mixed consciousness". The term allowed him to describe the particular sense of simultaneous closeness and distance that Americans experience towards Europe, its history, culture and system of values [Kusch]. By questioning the Eurocentric way of thinking, and thus laying the foundations for South American decolonial theory, Kusch emphasized that an Argentinian born on the American continent is and is not a European at the same time. The illogicality – as read from a European perspective – becomes one of the components of American identity [Kusch]. Mosquito, as an African and a European, defines himself, like Kusch, through a permanent duality, as a "dysfunctional plural existence" ["Armia" 33]. The artist questions the Eurocentric perspective and the "logical" way of formulating thoughts. Dialectical thinking according to the scheme of the thesis-antithesis-synthesis is outdated and unproductive for him.
The permanent self-definition of his art through oxymorons also brings Mosquito closer to Zygmunt Bauman, in whose "liquid" reality there is no room for oppositions, antithesis or hard statements: everything softly "liquefies". [Tożsamość 49], and thus blurs and merges. As the theorist wrote: "The liquid cannot retain its shape and if it is not poured into a vessel, it will change its form constantly, under even the slightest force. In a liquid state of concentration, one can never expect a durability" [Bauman 2004 50]. In this sense, Mosquito is an artist who liquidly eludes definitions. His attitude can also be deciphered by Kapuściński's readers as an attempt to transfer the Angolan "confusão" – "a word-key, word-synthesis, word-all" – to Poland. [Kapuściński 2017 114]. According to the reporter, this described the specific cultural, social and political context of the country, the state of mind – collective and individual – and a kind of fatalism of which we are both victims and perpetrators [Kapuściński 2017 114–115]. Older viewers may recall the song "Fight for Peace" from the album titled Białe Murzynostwo (White Black Folks) recorded in 1987 by Krzysztof "Kaman" Kłosowicz and The Big Bit, and reedited in 2014 [Kaman & Big Bit]. It nostalgically takes us back to the 1980s, when the image of Africa became for young Polish musicians and artists of the counter-cultural scene, a symbol of the "third way", beyond the Cold War's binary divides.
On the second day of the Malta Festival, Nástio Mosqutio's videos were screened. In works such as Fuck Africa (2015) or Hilário (2016) – often maintained in the convention of music videos from previous decades – the artist, or sometimes an invited actor, impersonates all the possible stereotypical imaginaries about Africans [Banks; Mosquito What Are You]. The characters created by Mosquito are often exaggerated, even annoying. Their confusing and provocative way of conducting a dialogue hinders the reception of the artist's message. The viewer who first encounters Mosquito's films and his specific sense of humor may not be sure whether the narcissistic transvestite, politically incorrect pseudo-intellectualist, pretentious African-American, or muscular suit-bounded upstart, should be taken seriously by him or her. It is only by being more acquainted with Mosquito's work that we can decipher his intentions and understand that when the artist states that he doesn't care about anything, he cares the most.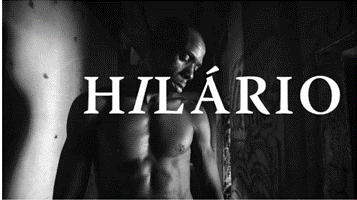 Nástio Mosquito - Hilário, 2016
The program of the Maltese Idiom was inaugurated by Mosquito's audio-visual collage-happening titled Waginokracja / Vaginocracy. It consists of private photos and amateur video recordings documenting moments of human birth. Being conceptualized by the artist as a "tribute to human dignity" [Mosquito Waginokracja], this work sees a rescue for humanity in the feminine element. "One day, by the will of God, we will all be women" [Belanciano], the sociologist Vítor Belanciano writes, expressing his hope for a better tomorrow in a text in the folder for Vaginocracy. Birth, however, is for Mosquito primarily a zero point, a moment of confidence comparable to the decree of the Warsaw Confederation in 1573. It is a time when all kinds of prejudices, racisms and exclusions have not yet taken place. The recollection of these two moments taking place on different levels – historical and individual – is an invitation from the artist to rethink contemporary Europe and Poland harassed by xenophobia, nationalisms and fear of the "Other".
London critic Matthew McLean wrote in his analysis of Mosquito's work about the artist's conscious use of unoriginal "poor images" [McLean] 6, whose pedigree is low-budget B-rated movies, boring images of the TV news, pictures of dormant and grimy blocks of flats, and trashy images of everyday life, shouting with colors. Hackneyed representations borrowed from the past become for Mosquito, similarly to the avant-garde works of art analyzed by Boris Groys, "a weak, transcendent artistic gesture". [Groys]. Mosquito partly resigns from being a creator of innovative images in favor of more "universal" – "weak" and "repetitive" [Groys] representations, understandable to a wider audience. During the performance-concert No.One.Gives. A.Mosquito's.Ass. About.My.Gig, held four times in Poznań, each time according to a different formula, a neo-idealist Mosquito conducted an intellectual-psychological-artistic juggling exercise in order to suddenly at the end of the performance overwhelm the viewer with the most important and often inconvenient questions, which might have seemed trivial at the moment of their articulation: "What are you willing to die for?" or "What is the attitude of Poles towards a potato?" ["Armia" 35].
"And can a rebel be happy?"
The presence of Angolan artists at the Malta Festival can be seen as an attempt to transfer Piotr Piotrowski's postulates to the festival grounds. Inspired by the book Provincializing Europe by Dipesh Chakrabarty [Chakrabarty], Piotr Piotrowski – a Polish art historian from Poznań – raised the issue of building horizontal relations between world regions considered as "peripheral" in hegemonic and Eurocentric narratives about culture [András]. In his book Global approach to the art of Eastern Europe, published posthumously, Piotrowski put his theory into practice by juxtaposing art created in distant countries and regions of the world, such as Eastern Europe, India or South America [Piotrowski]. By looking for points of contact among them, he drew analogies between artistic strategies developed by the artists from the above-mentioned parts of the world, and between their approach to the canonical art of the European "West". His post-utopian postulate – "Peripheries of all parts of the world – unite" [Piotrowski 28] could also be a slogan of Mosquito initiating the Polish-Angolan dialogue. It was the sense of "peripherality", as analyzed by Piotrowski, and their ambivalent attitude to the figure of Europe that allowed Polish viewers, who had a very similar painful experience of exclusion from the "First World" as the Angolans, to identify themselves with the heroines and heroes of Geração 80's films.
By implementing his "Maltese" project, Nástio Mosquito inscribed himself instinctively, however, surprisingly smoothly, into the Polish cultural context. The artist has become a contemporary incarnation of Stańczyk7 – a royal jester who makes jokes and mocks us and himself, in order to make a viewer think and to help him reach the deepest truth of life. Mosquito could enter this role because he himself was foreign to the Polish cultural background. As Bauman observed, a parvenier, or newcomer, becomes in postmodernity a contemporary hero that can change reality [Ponowoczesność 113–131]. While recruiting to his Army of the Individual, Mosquito warns the Poznań audience "Utopia is not a purpose".8 He does not offer any final formula to solve the contemporary ills of the art world and of our everyday existence.
The Angolan performer might as well be an actor of Poznań's Theatre Ósmego Dnia (Theatre of the Eighth Day) creating socially engaged spectacles, whose "principle is ambiguity and doubt" [Kalemba-Kasprzak]. The permanent questioning of oneself and everything around and also a deliberate non-conformity to general formulas in order to extend one's freedom, is a common feature of Mosquito's work and that of the already cult-theatre group Teatr Ósmego Dnia. The attitude of Mosquito in provoking the audience to dialogue reminds one of the initial search of the Poznań actors, who "once started with a 'cursed' question: 'man was born a rebel but can a rebel be happy?'" [Kalemba-Kasprzak]. In a liquid world of post-truths, Mosquito – the jester and hero – can certainly not be calm. Questioning the language of contemporary culture and stereotypes about the African continent, contesting today's societies – both Polish and Angolan ones, and criticizing the globalized art world, the expectations of the art market and cultural institutions is a 24-hour task. This is why Mosquito's art is programmatically uneven. It is thanks to the fact that his art is both thrilling and boring, innovative and banal or average that brings it so close to life. The artist has no intention of enchanting the audience, or offering it a fascinating visual spectacle of new forms. Instead, he helps the spectators to think, at least for a fraction of a second, about life's motivations and about the fate of a contemporary potato – about what would be the future of Poznań, Poland, Europe, Africa, the world and, most of all, what in actuality is the future of our dreams.
List of cited works
András, Edit. "Provincializing the West: Interview with Piotr Piotrowski", Artmargins, October 8, 2012, https://artmargins.com/provincializing-the-west/.
Banks, Grace. "Is Nástio Mosquito the coolest guy in art?". True Africa, September 1, 2015, https://trueafrica.co/article/is-nastio-mosquito-the-coolest-guy-in-art/.
Bauman, Zygmunt. Ponowoczesność jako źródło cierpień. Wydawnictwo Sic!, 2000. English edition: Postmodernity and its Discontents. New York University Press, 1997.
–. Tożsamość. Rozmowy z Benedetto Vecchim. Gdańskie Wydawnictwo Psychologiczne, 2004. English edition: Identity: Conversations with Benedetto Vecchi. Polity, 2004.
–. Płynna nowoczesność. Wydawnictwo Literackie, 2006. English edition: Liquid Modernity. Polity, 2000.
–. Życie na przemiał. Wydawnictwo Literackie, 2006. English edition: Wasted Lives. Modernity and its Outcasts. Polity, 2004.
–. Płynne czasy. Życie w epoce niepewności. Wydawnictwo Sic!, 2007. English edition: Liquid Times: Living in an Age of Uncertainty. Polity, 2006.
–. Płynna inwigilacja. Rozmowy. Wydawnictwo Literackie, 2013. English edition: Liquid Surveillance: A Conversation. Polity, 2012.
Belanciano, Vítor, "Waginokracja", Waginokracja / Vaginocracy, folder of the Malta Festival, 2019.
Bielecki, Stanisław. "Angola: Twierdze w dżungli" (Angola: Fortresses in the jungle), Polityka, vol. VIII, no. 41, October 10, 1964, unnumbered page.
Busch, Annett, and Anselm Franke. After Year Zero: Geographies of Collaboration. Museum of Modern Art in Warsaw, 2015.
Chakrabarty, Dipesh. Provincializing Europe: Postcolonial Though and Historical Difference. Princeton University Press, 2000.
Codogni, Paulina. "Afrykańczycy w Warszawie w latach 1945-1975" (Africans in Warsaw in the years 1945-1975). Afryka w Warszawie. Dzieje afrykańskiej diaspory nad Wisłą, Paweł Średziński and Mamadou Diouf, Fundacja Afryka Inaczej, 2010, pp. 114-130.
Diouf, Mamadou. Speech on the debate "Obrazy wojny: Konrad Piskała, Mamadou Diouf, Iwona Kurz". Kultura wojny w czasie pokoju, June 22, 2019, XXX Malta Festival, Poznań.
Do outro lado do Mundo. Directed by Sérgio Afonso, Geração 80, Tchiloia Lara, 2016.
Geração 80. "Making of Independência". Geração 80, https://geracao-80.com/independencia.
Groys, Boris. "The Weak Universalism", E-flux Journal, no. 15, April 2010, www.e-flux.com/journal/15/61294/the-weak-universalism/.
Há um zumbido, há um mosquito, são dois. Directed by Ery Claver. Geração 80, 2017.
Havemos de voltar. Directed by Kiluanji Kia Henda. Geração 80, 2017.
"Idiom. Program: Armia Jednostki". Malta Festiwal Poznań, https://malta-festival.pl/pl/program/idiom.
Independência. Directed by Mário Bastos "Fradique", Geração 80 i Associação Tchiweka de Documentação (ATD), 2016; https://geracao-80.com/independencia.
Jabłoński, Henryk. "Depesza H. Jabłońskiego do A. Neto" (H. Jabłoński's telegram to A. Neto), Trybuna Ludu, no. 262, November 12, 1975, p. 1.
Kalemba-Kasprzak, Elżbieta. "Poznańskie »Ósemki«" ("Poznań's Eights), Kronika Miasta Poznania, no. 3, 2000, pp. 290-298.
Kaman & Big Bit. Białe Murzynostwo, Stowarzyszenie "Wolność i Pokój", 1987.
Kapuściński, Ryszard. Jeszcze dzień życia (Another Day of Life). Czytelnik, 1976.
–. Jeszcze dzień życia (Another Day of Life). Czytelnik, 2017.
–. "Ryszard Kapuściński o książce »Jeszcze dzień życia«" (Ryszard Kapuściński about his book 'Another Day of Life'). Ryszard Kapuściński. Pisarz, Reporter, Poeta, October 28, 2010, https://kapuscinski.info/ryszard-kapuscinski-o-ksiazce-jeszcze-dzien-zycia.html.
Kusch. Rodolfo. La seducción de la barbarie. Análisis herético de un continente mestizo. Editorial Raigal, 1953.
Lúcia no céu com semáfors. Directed by Ery Claver, and Gretel Marín. Geração 80, 2018; https://geracao-80.com/cinematv.
McLean, Matthew. "Żartowniś, polityk, kaznodzieja / Joker, Politician, Preacher". Magazyn Festiwalowy / Festival Magazine, Malta Festival w Poznaniu, 2019, pp. 46-55. First published as: McLean, Matthew. "Joker, Politician, Preacher. Nástio Mosquito", ArtReview, September 2017, pp. 91-99, https://artreview.com/magazine/2018-2006/artreview_september_2017_issue/.
Mickiewicz, Adam. "Do matki Polki" (To the Polish mother). Goniec Krakowski, no. 204, August 30, 1831, p. 784; https://polona.pl/item/goniec-krakowski-dziennik-polityczny-historyczny-i-literacki-1831-nr-204-30-sierpnia,MjIxMDc5ODc/1/#info:metadata.
Mosquito, Nástio. "Armia jednostki / Army of the Individual", Magazyn Festiwalowy / Festival Magazine, Malta Festival w Poznaniu, 2019, pp. 32-37.
–. "Nástio Mosquito Interview: What are You Willing to Die for?« Nástio Mosquito interviewed by Christian Lund at Danish Art Workshops in Copenhagen, Denmark in March 2017". Louisiana Channel. Louisiana Museum of Modern Art, 2017, https://nastiomosquito.com.
–. "No.One.Gives. A.Mosquito's.Ass. About My Gig". Malta Festival Poznań, https://malta-festival.pl/pl/program/no-one-gives-a-mosquitos-ass-about-my-gig-nastio-mosquito.
–. "»Polska? To była cholerna mekka kosmopolitycznego świata! Wracam do tej tradycji«. Z Nástio Mosquito rozmawia Natalia Szostak". Interviewed by Natalia Szostak, Gazeta Wyborcza, no. 126, May 31, 2019, http://wyborcza.pl/7,112588,24845997,polska-to-byla-cholerna-mekka-kosmopolitycznego-swiata.html.
–. "Waginokracja / Vaginocracy", Magazyn Festiwalowy / Festival Magazine, Malta Festival w Poznaniu, 2019, p. 42.
Na cidade vazia / Hollow City. Directed by Maria João Ganga. Integrada Producoes, François Gonot, Animatografo, 2004. 90 min.
Neto, Agostinho, and Henryk Jabłoński. "Polska i Ludowa Republika Angoli sojusznikami w walce o postęp społeczny i sprawiedliwość. Przemówienia na spotkaniu w Pałacu Rady Ministrów" (Poland and the People's Republic of Angola's allies in the fight for social progress and justice. Speeches at a meeting in the Palace of the Council of Ministers). Trybuna Ludu, vol. XXIX, no. 98, April 27, 1977, p. 2.
No.One.Gives. A.Mosquito's.Ass. About My Gig. Performed by Nástio Mosquitio. Scena pod Minogą, Poznań, June 27, 2019.
Piotrowski, Piotr. Globalne Ujęcie Sztuki Europy Wschodniej (The Global Approach to Eastern European Art). Rebis, 2018.
Por aqui tudo bem: Alda et Maria (Ici tout va bien). Directed by Pocas Pascoal. LX Filmes, 2011. 94 min.
Rastos de sangue. Directed by Mawete Paciência. B. Max-Produções, Samkfilmes, LS. Entertainment, 2012. 90 min.
Rodrigues Francisco de Almeida, Deolinda. Diário de um exilio sem regresso. Editorial Nzila, 2003.
Słomkowski, Zygmunt. "Angola i niepodległość" (Angola and Independence), Trybuna Ludu, no. 261, November 11, 1975, p. 2.
–. "Angola. Jaka niepodległość?" (Angola. What kind of independence?), Trybuna Ludu, no. 254, November 3, 1975, p. 7.
Steyerl, Hito. "In Defense of the Poor Image", E-flux Journal, no. 10, October 2009, https://www.e-flux.com/journal/10/61362/in-defense-of-the-poor-image/.
Świecki, Andrzej. "Angola – 1978", Życie Warszawy, no. 292, December 9-10, 1978, p. 4.
Wittels, Krzysztof. "Polskie marzenia o koloniach: Angola" (Polish dreams about colonies: Angola). Afryka.org, December 11, 2010, http://afryka.org/polskie-marzenia-o-koloniach-angola/.
Ziemia niczyja (No-Man's Land). Directed by Lech Raczak. Teatr Ósmego Dnia, 1991.
Zimna wojna (Cold War). Directed by Paweł Pawlikowski. Opus Film, 2018. 88 min.
This article was first published with the title "'What are you willing to die for?'. Obecność współczesnej sztuki afrykańskiej w Polsce. Geração 80 na Festiwalu Malta" / "'What are you willing to die for?'. The presence of contemporary African art in Poland. Generação 80 at the Malta Festival", in the review Czas Kultury [Time of Culture], Poznań (Poland), no 1 (224), year XXXV, 2020, pp. 196-207.
1. Up to 2015, contemporary art created by artists from Africa – with the exception of some exhibitions by a Polish artist originated from Kraków, Barbara Goshu, and her husband, the Ethiopian artist Worku Goshu, has been absent in Poland. Knowledge of African art was reduced to ethnographic exhibitions, organized mainly by institutions with significant African collections. They largely confirmed the stereotypical image of African cultures, reduced to traditional artistic craftsmanship, animism, magic and the close-to-nature life of rural communities, rather than the dynamically developing African metropolises and diverse cultures operating with a contemporary artistic idiom. In 2008, the Museum of Western Pomerania in Szczecin – an institution that holds one of the largest collections of African exhibits and display items in Poland – organized an exhibition entitled W afrykańskiej wiosce (In an African Village). It displayed a reconstructed settlement in Burkina Faso. An exhibition held in 2013 and 2014 at the Seweryn Udziela Ethnographic Museum in Kraków under the title Skrzyżowane spojrzenia. Afryka. Studium obiektu (Crossed Looks. Africa. Study of the object) presented fifteen figurative sculptures. In March 2019, the State Ethnographic Museum in Warsaw hosted the exhibition Technologia magii (Technology of the Magic), devoted to apotropaic objects, magical rituals and folk customs of communities from countries including Zimbabwe, Nigeria and Congo. None of the ethnographic exhibitions organized thus far in Poland has been devoted to the art and culture of Angola.
2. "Viva Polonia, Viva Angola" announced the inscription on a board situated in the main square in Moçâmedes, the capital of the Namibe province, on the occasion of a visit by the President of the Council of State of the People's Republic of Poland [Świecki].
3. In 1795, the Polish-Lithuanian Commonwealth ceased to exist due to three territorial divisions to the country by the Russian Empire, Habsburg Austria and the Kingdom of Prussia. Multiple Polish uprisings organized in the nineteenth century were harshly suppressed by the three partitioning empires. Poland gained independence only in 1918.
4. Shameful attempts to establish Polish coffee plantations in Angola made by the Polish social organization Liga Morska i Kolonialna (Maritime and Colonial League) during the interwar period and the commercial activities of the partnership Polangola are little known to the wider public and were as harshly criticized during the Communist period. In 1929, the Maritime and Colonial League began negotiations with Portugal with a view to signing a trade agreement that would allow Poles to settle in Angola. The Polangola partnership established at this time was to deal with trade [Wittels].
5. "…Before I do start my extremely ambiguous, empathic, and consequent Blablabla it is important to clarify that I do not engage with this opportunity to curate the Malta Festival in favour of my fee, my career, nor for free access to the local brothel…" [Mosquito, "Armia" 33].
6. The term "poor images" was borrowed by the German theorist Hito Steyerl [McLean; Steyerl].
7. Stańczyk (c. 1480–1560) was a famous jester at the court of the Polish kings from the Jagiellonian dynasty. He became a symbol of sceptical political wisdom. He was remembered as a man deeply concerned about the country's fate or even a prophetic figure, predicting the end of Jagiellonian rule.
8. "Utopia is not purpose" says the inscription of a graphic work included in the brochure for Mosquito's project for Poznań ["Armia" 36].