"Behind the Rainbow" de Jihan El Tahri
BEHIND THE RAINBOW
Behind the Rainbow explores the transition of the ANC from a liberation organization into South Africa's ruling party through the evolution of the relationship between two of its most prominent cadres, Thabo Mbeki and Jacob Zuma. Exiled under apartheid, they were brothers in arms. Under Mandela they loyally labored to build a non-racial state. Now they are bitter rivals. Their duel threatens to tear apart the ANC and the country, as the poor desperately seek hope in change and the elite fight for the spoils of victory. Behind the Rainbow features key interviews with ANC current and former leaders, including Jacob Zuma, Thabo Mbeki, Kgalema Motlanthe, Pallo Jordan, and Terror Lekota.

About the Director
Egyptian-born Jihan El-Tahri holds a Master of Arts degree in political science from the American University of Cairo (1986) and has worked as a journalist (Washington Post, Financial Times, Reuters and others), a writer and a filmmaker (BBC, France 2, M6, HBO and others) since 1984. She has produced and directed numerous documentaries including House of Saud (Emmy-nominated) and Cuba: An African Odyssey. Her work is characterized by an in-depth knowledge and understanding of complicated political matters in the Middle East and Africa, of which her latest film, Behind the Rainbow, is a perfect example. Jihan is also a member of the Executive Bureau of FEPACI (Federation of Pan-African Cinema) and is the Secretary General of the Guild of African filmmakers in the Diaspora. She currently lives in Paris, France.

Jihan El Tahri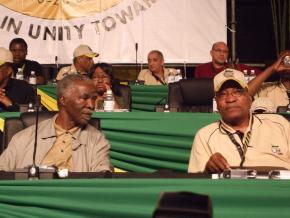 Mbeki et Zuma en 'Behind the rainbow'