Ebo Taylor & The Bonze Konkoma on Tour - January 2011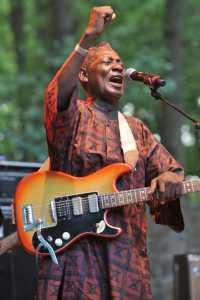 Ebo Taylor (picture by Wim Heutink)
One of Ghana's most prolific musicians, arrangers and composers of the last 50 years, ace guitarist Ebo Taylor will be back on stage with his band Bonze Konkoma. 
After their succesful debut last summer the group is back in Europe once more. They will be playing five exclusive concerts starting on Saturday the 15th of Jan in Frankfurt, Germany.
Frankfurt – Brotfabrik - Sat 15.1.2011
Nijmegen – Dornrosje - Wed 19.1.2011
Antwerp – Zuiderpershuis - Thu 20.1.2011
Amsterdam – Tropentheater - Fri 21.1.2011
Utrecht - RASA - Sat 22.1.2011
Bonze Konkoma, a 13-piece outfit, brings a unique and vibrant blend of Highlife, Afrobeat and Jazz, for which Taylor digs deep into Fante-Akan music like Asafo or Adzewa.
In musicians' circles, Ebo Talyor´s name and style resonates with those of his Nigerian contemporaries Fela Kuti and Tony Allen. His performance will showcase once more the creative spirit and artistic accomplishment of this outstanding Ghanaian artist and bandleader.
Ebo Taylor – guitar, lead vocal
Willie – bass
Henry Taylor - guitar
Ebo Taylor Jr. - keyboards
Possible Prempeh - bass drum (Konkoma Drum Ensemble)
Kwame Takyi – tenor drum
Atta Electric – snearl drum
Ebo Koree – konkon
Mame Ekua – vocals, perc.
Aba Tawiah – vocals, perc.
Sarah Esi Baawa - vocals
Benjamin Osabotey - trombone
Osei Tutu - trumpet